AYA 12 Bore Round Action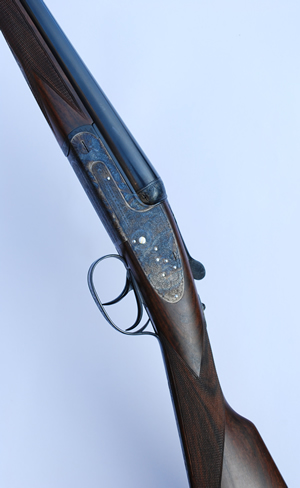 20 Bore Version Shown Left
Well, here is something for traditionalists – a round bar AyA No.2 12 bore. The AyA No. 2 has long been one of the UK's favourite game guns. The round bar version, though it has not been around for that long, is already proving very popular in both 12 and 20 bore. This is no doubt down to its svelte looks and traditional styling and manufacture. Edward King, the Managing Director of long-time AyA gun importers ASI of Suffolk notes: "The AyA No.2 in 12 or 20 bore embodies the essence of the classic English game gun in terms of balance, looks and handling." Anyone who knows the guns would have difficulty arguing with that. One might add that the reason the guns are so close to the English ideal is because of much hard work by ASI themselves.

ASI have a long involvement with AYA. In the early 1960s, the King brothers, who started the firm, took a classic Holland and Holland Royal sidelock to the AyA factory for evaluation. It was their intention - novel at the time - to have the Spanish gumakers make a similar gun. And so it transpired, English styled AyAs have been a tremendous success ever since. But, one cannot sit on one's laurels. In the late 90s ASI - who continually monitor the manufacture of their core product - sent the first sketch of a round bar sidelock to Spain. It was based on the classic lines of a Boss. A prototype was built, and, as Edward King told me: "round bar guns now form a major part of our business. Within a season of their introduction, they were selling as well as the square bar guns."

First impressions of the test gun which has 28" barrels, double triggers and weighs it at 6lbs 12oz. are well up to AyA's standard in quality of finish. Balance is is good too. There is weight between the hands, and the muzzles are not too heavy when the gun is brought to the shoulder. The stock is nicely formed with a classic straight grip and there is a traditional splinter forend to match. The action body is well proportioned with attractive, quite bold, scroll engraving as usually seen on a No.2. The action is also colour case hardened. The blacking of the barrels is competent, metal-to-metal and wood-to-metal fit are good.
The 2 ¾" (70), Fleurs de Lys steel proofed, barrels are chopper lump and well put together. Tubes are pretty true (Spanish guns do not always pass muster in this department) and internal and external finish are good. A traditional concave rib is well laid, and there is a metal bead of sensible size at the muzzle. Barrels flats and lumps are neatly finished. There is a keep pin for the extractor screw (it's a nice touch, but it makes removal of the extractors a bit fiddly – you need two turn-screws instead of one).
AyA are moving with the times in other areas, the bore diameters are both marked at 18.5mm, a little wider than they used to be and better for it. The barrels are designed to cope with steel shot as noted. Chokes are quarter and half and the barrel wall thicknesses are over 30 thou. This is an issue that will become much more important to shooters should steel shot be forced upon us in the future. Some best London guns were made below 20 thou (30 would be standard now in a best 12, though). It strays from my testing brief, but I will note here that if you are buying old English guns you must get them measured up. I would be most reluctant to buy anything with thin barrels now. That said, I have a pair of Westley's where one tube is 19 thou. The magic figure for the gun trade, however, is usually 20 thou. But, bear in mind barrel wall thickness is not everything. You must consider what dimension the gun was likely made at, its overall condition, and any potential for hidden defect such as rust under the rib. If in doubt, bite the bullet and have the gun re-proofed. Meantime, I never subject my old guns to heavy loads.
The action of the AyA is made from a forging. Save for minor modification and the Boss-like shapes, it is of classic Holland and Holland type mechanically speaking with Southgate style ejectors (the favourite of the gun trade because of their reliability and ease of regulation). The intercepting sear locks are nicely presented when removed (and the inletting impresses too). The locks have eight pins and gold line cocking indicators as befit a quality gun. The No. 2, like most AyA doubles, also boasts disc set strikers and a Purdey style, 'button' topped, sliding safety. It is automatic in action as it should be on a game gun. The cross-pin is replaceable and there is a beaded edge to the trigger guard – another nice touch. If I was to be really critical, I might note that the trigger blades are a little large and would have benefited from a more filing up. I liked the good-sized and well shaped thumb-piece on the top-lever, though, and the trigger pulls were good.
On the aesthetic front this gun certainly scores highly (especially if you are a traditionalist who likes the classic pattern English gun). One can also rest content with the mechanical specification. AyA's in my experience are very reliable guns – they score better in this department than some less well known Spanish guns. The thing that impresses me is when I see cheap models by this firm – boxlock non-ejectors like the old 'Yeoman' still going strong after 30 years constant use and not much servicing. The  No2 itself also has a reputation for long, trouble-free, service.
The AyA's stock is made from good walnut showing pleasant figure. It is of classic straight hand form as noted. This not only looks great but facilitates the use of double triggers. The grip and comb are well proportioned and the stock dimensions are excellent save for a slightly eccentric measurement to toe (which was a bit pronounced on the test gun). The length of pull is 15". Drop dimensions are 1 3/8 and 2" – very near the classic shelf dimension of 1 ½" and 2" – and there is ¼ or so of cast for a right-hander.
Shooting Impressions
I shot the AyA at the West London Shooting Ground who were also kind enough to lend it to me from their stock. They have a magnificent layout with high and mid-towers and all sorts of exciting simulated game stands including some challenging grouse butts. It's all set within 20 minutes of central London as well. I love the place and have been going there for very nearly 40 years! The AyA shot well. It was of ideal weight and had a good spec. I would have like a little more length at heel and a little less at toe, but, it did not make much difference, the gun broke just about all driven birds thrown at it without the expenditure of much effort. How much does traditional quality cost?
RRP 20 Bore Version £5540