The Positive Shooting Method
Welcome to the POSITVE SHOOTING SYSTEM, Mike's unique, simple, method for shooting clays. Mike developed it afer 30 years of instruction.
Mike on Positive Shooting
A number of years ago, I began writing a series of magazine articles under the series title POSITVE SHOOTING. They evolved into a book that happily has been quite successful and even spawned a DVD of the same name. Articles, book and DVD were all based on my experimental observations of top clay pigeon shooters. My hunch, later confirmed by observation, was that most successful shots do more or less the same things when they shoot – intuitively or deliberately.
They consider the target before shooting it. They position their body to a 'sweet spot' where the bird will most easily be broken (or consider a compromise position or moving the feet in the case of doubles as the target presentation dictates). They position their muzzles carefully and they use their eyes well to pick up the target as it comes into their field of vision by directing their eyes into the zone where the target is first seen as a blur. 
The POSITIVE SHOOTING SYSTEM is all about preparation and routine. It integrates thoughts and action. It suggests that one should set oneself up consciously according to a very specific, but simple set of rules. It advocates the positive visualisation of a kill before calling for the target. Once one has called for the target, there is only one conscious task – with certain exceptions at long range or with unusual presentations – one must focus on the bird and nothing but the bird and by so doing unlock one's extraordinary natural abilities.
In my opinion such an unconscious approach to forward allowance only works when it is combined with the rituals of preparation and provided one shoots with good balance and timing. Moreover, I was never pedantic, there are a number of excellent shooting methods – different forms of maintained lead, swing-through, pull-away etc. – and the sophisticated shot should be familiar with all of them. No-one is going to put in a winning score on a sporting course without having several strings to their bow. One needs a core technique – and I would advocate Positive Shooting as effective as any other.
I am biased, of course, but I believe it is an elegant, economical, way to shoot. It co-exists with the other shooting methods. It works. Its principles of intelligence gathering and preparation, moreover, may be used with any method of applying forward allowance. The principles of visual contact, balance and rhythm also hold true with any shooting method too.
It is always a special challenge to teach from a book or DVD, it is hard enough face to face with a student! It is not my intention that Positive Shooting should be viewed once and then put aside. I would rather that you considered it section by section, and having taken it in intellectually try it. Shooting is about both thinking and feeling.
I hope, moreover, that you may be inspired to visit a good shooting school, or, indeed, me! I am always happy to meet my viewers and readers and you can email me at positiveshooting@gmail.com or ask any questions on my facebook page.
Mike Yardley
Get more clay shooting tips here.
Buy Mike's POSITIVE SHOOTING DVD and get the simple secrets you need need to become a better clay shot. It's perfect for anyone just starting to shoot but more experienced shots will also find it invaluable. Simple stuff that works.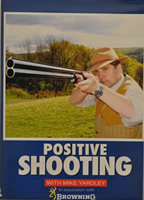 £29.00 £19.99 + £2.99 postage and packaging
WEBSITE LAUNCH PRICE FOR A LIMITED TIME ONLY
IN POSITIVE SHOOTING top instructor Michael Yardley demonstrates the technique he has taught to hundreds of students. POSITIVE SHOOTING highlights the importance of mental and physical preparation for shooting, and presents the viewer with a simple but devastatingly effective technique for shooting sporting and skeet type targets. Neither maintained lead or swing through, it involves applying three fundamental principles, good balance, good rhythm, and above all else, good visual contact with the target. 

The DVD is packed with material of interest to the shooter. As well as instruction in the POSITIVE SHOOTING technique, there is information on other techniques, tips for specific targets, expert advice on gunfitting, gun selection and not least safe gun handling. One feature of the DVD is that a miniature camera has been attached to the gun for some scenes, so the viewer can really understand the different methods of shooting. 

The POSITIVE SHOOTING DVD sets new standards in instruction. It is not just another shooting DVD, but a professional production which will create a datum by which future shooting videos are judged. Michael Yardley was in a unique position to position to make this DVD, apart from being a highly qualified shooting instructor, he is a qualified experimental psychologist and regular broadcaster on BBC and independent television.