Shooting Abroad
I love to shoot abroad. When you take a gun a foreign country you usually have the privilege of being a traveller rather than a tourist. You will see the country and its people in a different light. You will almost certainly make friends through the great brother and sisterhood of shooting. And, you have the opportunity to connect with the natural world – sometimes in the most majestic circumstances (though, every time I step into a wood or tread a moor, I feel that I am doing something which is positive and re-charging to the spirit). Don't be put off hunting abroad, it is much easier than you think, and, need not be that expensive, but do get references from any hunting provider (and the best are those provided by people you know personally).
Mike's Latest Trip - Hunting in Africa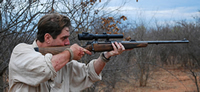 You may be aware that I have something of a passion for Africa and try and get to the 'Dark Continent' once a year if the opportunity arises (which means if I can cut a good enough deal and not to feel too guilty about the expenditure). I have had some real adventures in Southern and Eastern regions over the years. Read More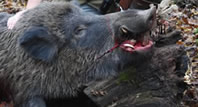 One of my favourite pastimes is shooting pigs, wild boar that is. I have shot them in Poland, Croatia, France, Africa and Australia so far. I have yet to shoot them here, or in the States, but I look forward to doing so. Down under was my first experience, some twenty or more years back. You may have heard the story, but I cannot resist the temptation of telling it again. Read More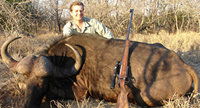 For some shooting in Africa is the ultimate adventure, for others, the ethics of shooting big game (even plains game) are questionable. Well, let me start by pinning my colours to the mast. I shoot in Africa, and it has been a wonderful experience for me. I have knocked around the 'Dark Continent' quite a lot over the years. I have trekked through Tanzania and Zambia, climbed Kilimanjaro (last year with a team from Bahrain), Read More
Guns and Cartridges for Safari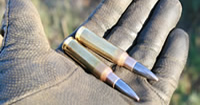 The guns and cartridges that you might take with you on an African safari is a big subject and everyone has an opinion – including a lot of people without the experience to merit a useful one. So, let me start straight out by saying, that I am not the most experienced safari hunter in the world, but I have been on something over 20 safaris to the Dark Continent and shot most things including problem elephant and buff. Read More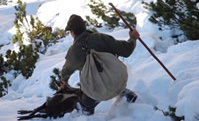 The pursuit of the chamois has always been surrounded by a certain mystique – the image of the courageous, enduring, jaeger pitting his wits against the living and sometimes malevolent mountain for an elusive and slightly magical quarry.  Although the Ice Maiden eventually gets him in her cold embrace, Hans Christian Anderson's young hero, Rudy – who decided to pursue chamois rather than something more mundane in life – has always had my vote. Read More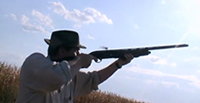 Serbia is one of the world's best kept secrets. I shot there twice last year, once for birds, and once for boar. Both experiences were arranged through Bogdan Srejic's Lasarotta hunting, and both were positive. I would rate Serbia's bird shooting as some of the best in Europe if you're interested in wild quail or high volume pigeon shooting... Read More
The Best Rifle Cartridge Calibres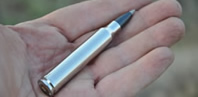 1)     .22 – The world's favourite cartridge, the.22 rimfire must be one of the most underrated of all rounds, available in all sorts of versions – .22 short and long rifle being the primary modern variants. There are BB caps, the old long and .22 magnums too, not to mention, highly effective subsonics. The cartridge originated with Flobert and was first ... Read More
Guns Are as American as Apple Pie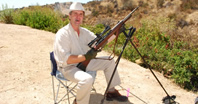 Why are attitudes to guns so different in the US to the UK? Well, a cursory glance at the situation there might suggest it is just because there are just so many guns in the States – the FBI is on record as stating that there are 200,000,000. Yup, two hundred million, guns in the US and they are owned by about eighty million people ...Read more
Hunting Impala With a Muzzle Loader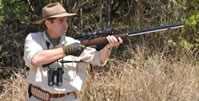 Muzzle-loading for game has introduced me into yet another new shooting world. I reckon it took me two years before I became moderately competent with a flintlock front-stuffer. I shoot in Western Pennsylvania (where a flinter is mandatory). One has to learn to change the stone, work up loads, finding the right patches and "guess the grains." ... Read More
British clay shooters are becoming increasingly adventurous in where they will go to shoot. Serious competitors in the international disciplines have always been jetsetters by necessity, but in more recent times many clubshots have been venturing abroad too. Portugal has been a popular destination for holiday shooters and so has the USA (any trap shot who has not made a visit to the Grand American has certainly missed something special).