Benelli M2 Essential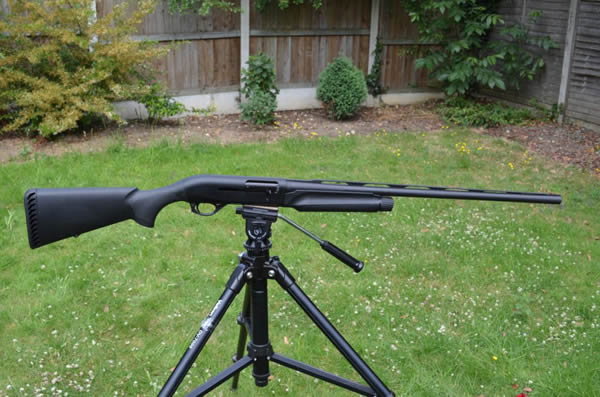 This month we are looking at one of the clever Benelli inertia powered semi-automatic shotguns. Our spotlight is on a basic black synthetic stocked model, the M2 Essential. Some might say it looks a bit militaristic, for others black is the only colour! It certainly looks smart and functional at first glance, and 'black guns' seem in fashion – most makers offering black, synthetic stocked, repeating shotguns and rifles these days. Our M2 is has a simple stock without bells and whistles (a model made especially for GMK the British importers), there is also a 'ComforTecb' version with chevrons in the butt to reduce recoil and APG and Max 4 camouflage models (also equipped with the ComforTech system) as well as all sorts of extended mag FAC variants. Our M2 is a shotgun certificate version and has a crimped magazine tube and a normal capacity of 2 + 1. There is a fixed long mag 7+1 FAC M2, and one may also get with an FAC a gun with an un-crimped standard magazine (3+1) and the possibility of various add-on mag tube extensions which can bring full capacity up to 9 shots. There is even a 'practical shotgun' 10 shot gun with a military style picatinny sight rail. Now, while talking about all these high capacity options, I cannot resist telling you a story, I was in Tunisia a while back hunting mountain boar. It was quite an exciting business, I missed one at three yards when it took me by surprise when I was lying flat down on a hill side, the bang, happily, turned it and I eventually shot it in the temple. Another hunter armed with a 9 shot Benelli M2 – and Benelli M2s were definitely the gun of choice there – had just had a close encounter too. He shot his – and these 'Barbary' boar are especially large, fierce and fast – with the ninth shot! He had connected with only 3 or 4 slugs, the final one dropping the beast by his feet. Brown trouser stuff... (Google wounded Tunisian boar and you will get an idea).
Anyway back to our gun, it is built around the famous Benelli action. This, of course, does not use gas like most semi-autos (which are in essence pump-action guns in which gas is bled off forward of the chamber to cycle the action – an idea developed in World War II for what came to be known as assault rifles). Rather, the Benelli, most cleverly uses inertia energy. The mechanism, which has evolved significantly, is most intriguing. At its heart is a breach block with a rotating bolt head. Between the two is a short, strong, coil spring. The bolt head locks into the barrel and remains stationary relative to it until after the gun is fired. As the rest of the gun moves back under recoil, the main mass of the bolt effectively moves forwards tensioning the spring. The bolt head unlocks as pressure reduces to a safe level in the barrel and goes back extracting the cartridge case and ejecting it as the bolt assembly moves rearwards. The working parts are re-energized by means of a "rat's tail" – a hinged rod – attached to the rear of the main breech block impinging against a long spring contained in a tube in the butt (like many semis). This causes the working parts to return forward into battery loading another cartridge (assuming one is in the mag). I might mention that there is another earlier type Benelli inertia operating mechanism as seen in the SL80 guns, and is still in production in the Benelli Premium Plus model and was also seen relatively recently in the plain but good Beretta ES100. The mechanism has also been used by Breda. This has a simpler bolt head which slides forward but does not rotate, when the bolt head is forward in this action it has a locking block which rises and locks it. The old mechanism works very well too but is more cartridge sensitive (the test gun should work well with all 70mm loads of 28 grams and above). I like the old guns too, especially the Breda Ermes 2000 which gets my vote as one of the best semi-autos ever made, along with the Benelli M2 and the Beretta 391/303. The 28" hammer forged barrel of the test M2 comes with 5 chokes. It is magnum (76mm/3") chambered and fleur-de-lys proofed. The tube is stress relieved too by cryogenic freezing. The interchangeable chokes are of longer type pattern and have a more gradual constriction than many. They have also been cryogenically (sub 300F) frozen. Benelli claim this changes the molecular structure, destressing the tube and improving its inner surfaces reducing friction and minimising the build up of lead and plastic residue in the barrel. Who am I to argue?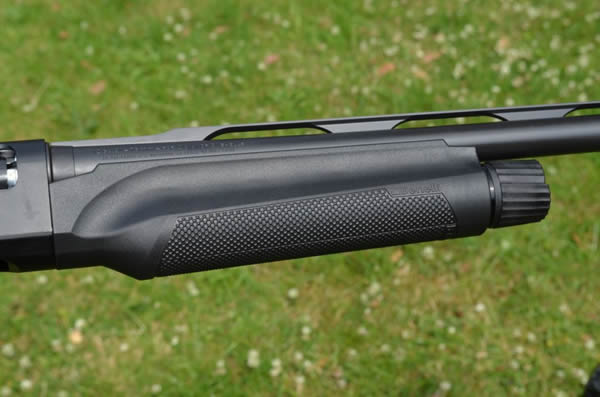 The stock on the M2 may be plain, but it is well shaped. The short forend offers good purchase. The grip radius is quite tight, but the grip is comfortable and secure with stipple like checkering moulded in. The comb shape is good and there is a partially vented pad. The stock dimensions are 14 1/2" for length, and 1 3/8" and 2 1/4" for drop at nose of comb and heel respectively. Like the ComforTech model (which I would probably opt for) this M2 offers the option of shims to change drop and cast and the pad simply plugs in at the rear. Shooting Impressions I have a lot of time for Benellis. They are a brilliant semi-auto, especially as a field gun. My general impression is that they are very well engineered and usually function flawlessly provided you use the right cartridge. This one did not miss a beat. Weighing a smidgen over 7lbs, recoil was fine with 28 gram loads and not unpleasant with 32s. This is a basic model available with a 28" barrel and a stepped rib only. The FAC variant with the uncrimped (3+1) mag is the same money – a comparatively reasonable £1,125 (a significant saving on other M2s which otherwise start at about £1,400). This is a gun well worth considering if you are searching for a quality semi-automatic without spending a King's Ransom. Tech spec. Make: Benelli Model: M2 Essential Bore: 12 Barrel: 28" (no options on this model) Chamber: 3" fleur de lys proof Chokes: Multo – five supplied Rib: raised Weight: just over 7lbs RRP.: £1,125