Beretta Silver Pigeon I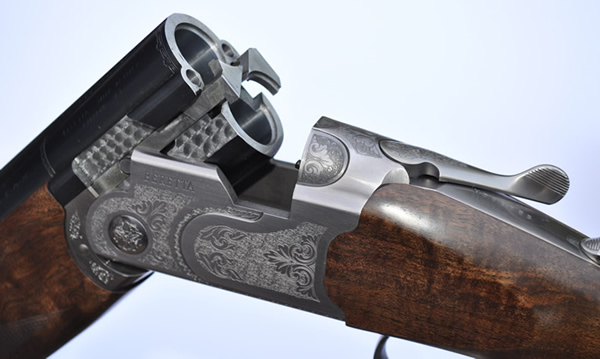 I am a Beretta boy, I must own half a dozen of their guns, and am always fascinated to see how this industry giant firm responds to market trends. Let's not pull the punches, these are difficult days for manufacturing industry, and the Continental gun trade has had particular problems (not least in selling its wares into the UK with the new hike of VAT to 20% and a still poor pound euro rate). It must be said, though, that, thus far, our market has proved remarkably resilient. This applies in particular to Beretta recently. They have had to deal with all sorts of firms 'trespassing' on their traditional territory in recent years, but the Brescian Behemoth has fought back hard.
Their new 'Universal', fixed choke, competition gun has an RRP of £1,460 with 28 and 30" barrel options. And, now there is the new Silver Pigeon I at only £1,385. It offers (in 12 bore only until later in the year when a 20 bore will be introduced), 26, 28 or 30" barrels and multichokes. It comes with a narrow 6mm rib, and might be designated a game gun by some because of this. It would make a useful sporter too. Indeed, I often recommend 'game' guns to people who want to shoot clays. Frequently, they are very similar, but offer a little less frontal weight than a so called 'sporting' sibling from the same stable with no real difference but a wider, heavier, rib.
I suspect GMK/Beretta would see the new Silver Pigeon I as a bit of an all-rounder whatever it's rib spec – and, one offering the average, cash-strapped, punter the option of a new gun with three year guarantee at the very time when he may be considering buying secondhand. First impressions are that it is, well, a Beretta. It does not look like an economy model as some of the old Essentials and Onyxes once did. It is a traditional silver actioned Beretta OU with some pleasant floral and scroll engraving of new design. It comes with five multi-chokes. The stock is well proportioned, made from good looking, real, wood, and, nicely finished in oil with traditional chequering panels. The usual Beretta almost-a-Prince-of-Wales grip and Schnabel forend are there. Nothing is wrong with either.
Generally, I would say less may be more. I like the styling and presentation here a lot. The gun comes up well. It feels a little heavy for a field gun at 7lbs 10 with 28" tubes (but the weight would be ideal for sportng clays, skeet, or use with heavier loads on the marsh). I have learnt, moreover, that a gun that feels a bit weighty when mounted dry may excel when actually shot. The reverse is also true, a very light gun may feel great in the shop. But, beware! It may kick like a mule when you actually use it. [Purdey learnt this lesson long ago and hence you will find their guns are a little heavier than some other best makers. You may not notice it, however, because their guns are so well balanced.]
As for the dry handling of the test gun, it could not be much improved. The point of balance is no more than 1/8" forward of the hinge pin. The gun gives an impression of being solid throughout. There is none of that hollowness that is noticeable in some budget guns from lesser makers. Beretta products are amazingly consistent, it is not by accident that they are chosen by so many shooting professionals (look at the racks at any high volume shooting school if you doubt it). And, no small deal, they are backed up by one of the best service departments in the business. Malcolm Grendon, the workshop manager at GMK, is an extremely skilled gunsmith, and the team with him includes Mark Course, one of the best stockers in the trade.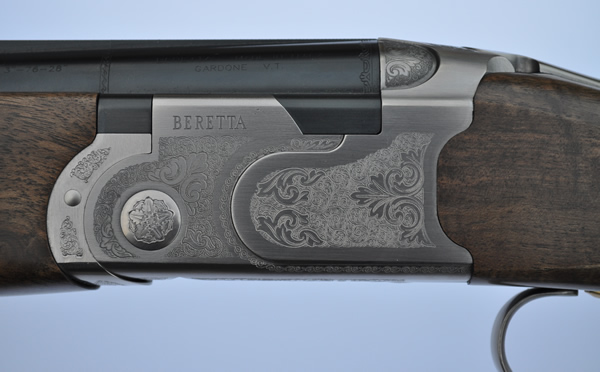 This all makes buying a new Beretta a very safe bet. Now, back to our test gun. The hammer-forged barrels are well presented, they are made on the monobloc system from Beretta's famously tough tri-alloy steel and chromed internally. They have superior Fleurs de Lys proof marks for 3" (76mm) carteidges (2 ½, 2 ¾ and 3" shells may all be safely fired through the gun). Chokes are of the shorter Mobil type and well machined as one expects (they were particularly tight fitting, however, which did slow down choke changing a bit). Joining ribs are solid and the, the ventilated sighting rib is narrow as noted. There is a metal bead at the muzzles which will offend no-one.
New engraving and an improved action finish apart (there has been a change of recipe in the plating to increase the nickel content to give more traditional silver look), the action is completely familiar. Replaceable stud pins are used for hinging and classic Beretta conical bolts for locking in circular bites. The trigger is of inertia type with an internal bob-weight and there is the usual barrel selector on the safety. The trigger blade is well shaped and gold plated. Pulls are adequate with a little creep in evidence. Ejectors are powerful and nicely timed. Action furniture, like the action body, is nickel plated. It all looks both durable and good.
The stock is also familiar in all aspects (and generally good). The wood was not flashy, but it had a fairly dense grain structure – much better than on some less expensive guns. Length of pull is 14 3/4" with the standard 18mm pad fitted (12, 23mm options) – so one might go a little longer or shorter without gunsmithing simply by changing pads. The drop as measured on the test gun is a little low at 1 1/2" (front of comb), and nearly 2 1/2" (heel). I did not notice the gun coming up especially low when mounted, and would also mention, that this gun may be atypically low at heel – the official Beretta measurement is 57.5mm which is just over 2 ¼".
Shooting Impressions
You are not going to go wrong if you buy a Silver Pigeon 1. It is made with integrity, has all the features most people need, and should last a life-time if given minimum attention. It's build quality is impeccable too, and, it shoots well. Is it a better buy than a second-hand gun? Well, it depends on what is on offer, old Berettas hold their value well for a reason – they are virtually indestructible unless grossly abused. There are some great buys out there at the moment too. Nevertheless, if I was advising someone inexperienced to buy a gun, I think I would have to suggest buying new - and, moreover, buying something just like this. A lot of peace of mind comes with a new gun and a good guarantee. This is offers a lot of gun for the money – indeed, it offers outstanding value on today's market. Is it perfect? No. Open the bores a bit and reduce barrel weight (why not go Optibore?) and you would have a world beater if you could bring it in at a similar price.