Bettinsoli Diamond Line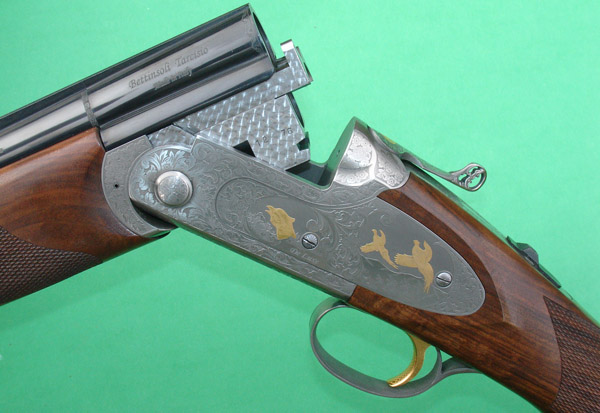 The test gun is a 30" Bettinsoli Diamond Line over and under, with a silver action with some gold bird inlays combined with open scroll work. I found it on the shelves of the West London Gun Room who often help with our gun tests, bless 'em. Bettinsolis are  imported to the UK by RUAG of Liskeard in Cornwall, another well respected and long established firm. First impressions of the Diamond Line are good - especially considering its extremely competitive price. The RRP is just £870, although this gun was ticketed for substantially less at West London (you'll have to phone West London for the latest price – we are all victims of currency fluctuation at the moment).

Bettinsoli, who make over 10,000 guns a year, have a reputation for offering attractive looking, well specified, guns at very reasonable prices. They're not Purdeys, of course, but nor can you expect them to be at well under a grand. Looking at ours, one notes a full pistol grip, Schnabel forend, single-selective trigger, and monbloc barrels which are 3" chambered. The wood is straight grained (but with the grain going nicely through the grip), checkering is laser cut very well and there is a traditional oil finish rather than varnish. There's not much to knock. The wood was a bit light and might have been stained down a bit, but there was little wrong with the form of the stock or its finish. Picking, I would note that I was not especially fond of the curved chequering panels on the forend.  As for the action, there is a pierced top-lever which I thought gilded the Lilly a bit, but one can certainly live with it.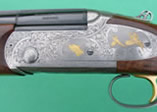 Generally, the gun looks extremely good for its money and one wonders just how some makers continue to make serviceable, attractive, guns at such competitive prices (which, of course, must include a margin for wholesaler and retailer). It is all down to the Italian CNC revolution. Punch in the numbers, out come the guns. Well, its not quite that simple, but computerised machining has made all sorts of stuff possible that wasn't. Cheaper guns are better than they were with finer finish and better tolerances, high end guns have less hand-work than they once did. Looking at Italy, one seems firms like Bettinsoli, Sabatti,  and FAIR catering for the budget market, B.Rizzini and Fausti moving up towards Beretta and Perazzi territory, and, at the pinnacle, Fabbri, who began the computer machining revolution in the 1970s and make today – almost entirely by machine – what is arguably the best gun in the world and probably the most expensive with a starting price of 100,000 Euros without engraving!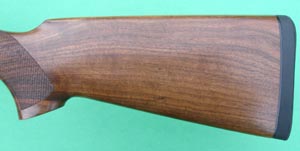 Back to the Bettinsoli, weight is 7 pounds 11 ounces – a good weight for an all-round 12 bore over and under. Balance is just forward of  the hinge-pin as is typical of most machine made 30" over and unders. Bringing the gun to shoulder presents no unpleasant surprises either. The barrels are quite lively – something I have noted on other Bettinsolis. With regard to the balance a little lead shot and putty in the butt might improve it. I often make adjustments to client's guns by adding a little weight in the stock which, magically, usually makes the gun feel lighter (it is easy to do when a gun has an easily removable pad or butt plate).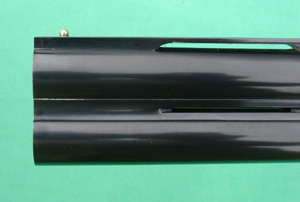 The barrels are well presented. The fact that they are 3" (76mm) chambered inspires confidence too. The 10mm sighting rib is vented, as are the joining ribs. There is a conventional metal bead at the muzzles which I favour (it is tougher than anything else and does not dominate vision) . The barrels bear Italian proof marks. Blueing as noted was exceptionally good. Internal and external finish was very good at the price point. Bores are both 18.4mm which is a little tighter than my preference but, arguably, preferable in a gun that may use fibre wad cartridges as well as plastic ones (when only using the latter, I like an 18.7mm bore because I find it tends to pattern well and reduces felt recoil).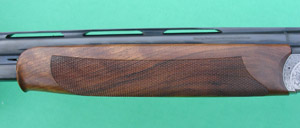 The stock had good standard measurements.  Drop was ideal at 1 ½" and 2 1/8". Overall length was 14 1/2" with a ¼" extra to heel and toe. I find that a reduced toe measurement (the usual standard is + 3/8" relative to the centre measurement) works well for most middle-aged men. 'Man boobs' can be an impediment to easy mounting otherwise! The grip has not palm swell, and the shapes of grip, comb and forend were all adequate.

Technical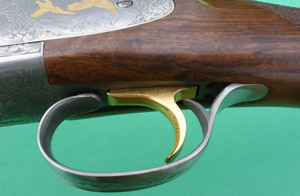 This gun is not going to set the world alight technically.  Its design is conventional and based on the usual Gardonne pattern for cheaper and mid market over and unders – i..e the barrels have bifurcated lumps which hinge on stud pins, and are locked up to the action by a full width bolt which comes into a bite beneath the bottom chamber mouth (a design perfected long ago by one John Moses Browning). The Bettinsoli has a selective inertia-operated trigger. The blade is plain steel and well shaped with a strengthening piece to the rear. The mechanical design and finish were sound. The trigger pulls, however, were not especially good (I would pay a few pounds extra with any cheaper gun to get a gunsmith to regulate them properly – it makes such a difference to shooting).


Shooting Impressions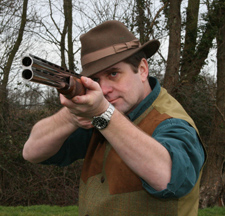 I shot this gun briefly on the stands at  the West London ground – mostly at driven birds. I found the trigger pulls let it down a bit, frankly. Apart from that, which is something which can be dealt with easily as noted previously, the gun was reasonable. It is always hard to make comment about budget guns that is fair, one has to consider the price. This gun has all the basics right. Sort the trigger pulls and you would have a very useable new gun for well under a £1,000.  I might also add, that as an experienced shot, I am very picky about trigger pulls. I want them just right (I think they are as important as gunfit to good shooting). But, a beginner or intermediate level shot most likely, won't even notice the pulls, and might find this a very good gun indeed. If only Birmingham could have carried on to make serviceable, fairly priced, guns like this. But that's another story....

My thanks to West London Shooting Grounds.

Tech Spec

Make: Bettinsoli

Model: Diamond Line

Bore: 12

Barrels: 30"

Rib: 10mm ventilated

Weight: 7lbs 11oz.

RRP: £870 (and £1,000 for the deluxe version with side-plates)

We like

The Price

The Specification

The Finish

We Don't like

The Trigger Pulls
***