Blaser F3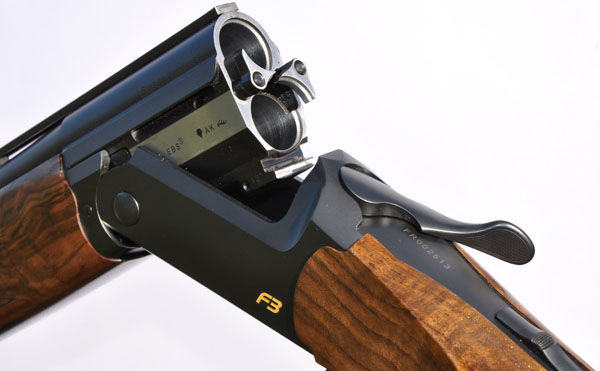 Blaser are not quite the new kid on the block, but they have not been making shotguns for anything like as long as firms like Beretta and Browning. Based at Isny Allgau in Southern Germany, they are famous for their rifles, especially their straight pull designs like the R93 and
R8 which are increasingly popular with the stalking community. When the F3 shotgun first appeared, a decade or so back, I went to the launch at the Dornsberg shooting ground in Germany with Karl Smith, of Beechwood Equipment (who were then the Blaser importer, now it is Open Seasons run by Rupert Haynes). John Bidwell was at that original launch. He had acted as a consultant to the German firm and had just agreed a sponsorship deal with them. It seems to have worked well for all parties (John has now won no less than 5 World FITASC veterans titles and two similar European titles).
The gun itself, the F3, which is tested here in mildy modified Mark II form, was innovative and most interesting. It was a completely new design and unlike anything else on the market. It was notable for a very low action profile, fast lock time (which was partially the product of a unique inline hammer system), and, an intriguing mechanical trigger (involving a horizontal inertia block and a pendulum). There were back-bored barrels, long forcing cones and (Briley) extended chokes, and a clever balancing system involving weights which are treaded onto an extension of the stock bolt (rather better than my usual putty and lead shot under the pad or butt-plate).
There were 28, 30 and 32" versions on offer from the outset. The intriguing concept was that all the barrels weighed same. If you fancied a change, you could do it without altering the handling qualities drastically. This was an appealing an idea in theory (my own preference, though, is to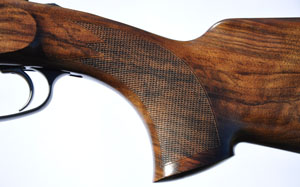 have a slightly different – more forward – balance with longer barrels). Barrel construction was monobloc, and all F3s were 3" proofed for steel shot. They were chrome lined too and back-bored at .735 (which is exactly on the money from my experience as far as competition guns are concerned). The bridges for the rib were laser welded to the upper barrel - the idea was that sighting ribs could be swapped. The rib, moreover, was interchangeable (though only one type was available initially, now you can have a taper or a parallel design). The finish on the action was Teutonic grey with plasma nitrating on the surface of the barrels.

We will continue with a little more of the technical spec shortly, but first, let's look at the new F3. What's different? It looks much like the original model. The test gun has a smart but plain black action (with F3 in yellow to the lower rear of each action wall), 30" barrels and a 10.5-8.5 taper rib. Plasma grey remains an action finish option, as do various deluxe grades of adornment including profusely engraved side-plated models. First impressions are generally positive with a very good standard of finish notable. The standard gun and the professional model as tested have an almost severe elegance which is much to my puritan taste.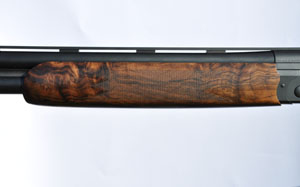 Importantly, I noticed the barrels on the test gun were better presented than they had been on early guns (which had problems with internal rivelling relating to the laser welding of the rib posts). The stock was a little different too. I'll be honest and say I did not really get on too well with shooting the early F3s. In my opinion, they seemed to all shoot a bit low. I was not sure whether this related to their stock measurements, I couldn't pin it down precisely. It may have related to the angle of the rib relative to the bore axis.

The stock of our new F3 is notable for being made from good quality, well figured, walnut which is nicely finished in oil with good chequering. You can choose three different sets of basic stock measurements. If you do not specify, you will get the dimensions on the test gun, which has an LOP of 14.6" including a rubber and plastic-heeled pad (game guns have a black plastic butt plate and a capped Prince of Wales grip). The other options for drop are 1.6" at comb and 2.2" at heel, and 1.5" and 2." There is no extra cost involved should you order one of these. Cast is slight - 1m 3mm at heel and toe respectively (and please excuse me mixing measurement systems). The grip design is full and quite acutely angled but comfortable. The forend on the test gun is my favoured pattern – rounded but not too bulbous or big (which keeps the hands close to the barrels).

Technical

Even re-examining, I am struck by how radical and how low the F3 action design is. The firing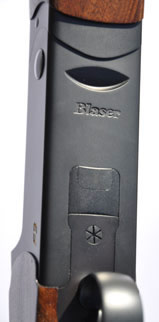 pin centres are quite close (and the muzzles are set close together too as noted. There no conventional hammers or tumblers, the hammers slide inline as noted. The curious but clever single trigger requires 4 pulls rather than the conventional (though 2 of them are imperceptible). The design was developed by a talented Russian gunsmith called Sergi Popikov. Whatever you look at is a little different to the norm. The barrel selector is to the front of the trigger inside the bow of the trigger guard (as it is on some other guns admittedly). Ejector springs and those which power the sliding hammers are cocked on opening the gun. As a consequence, the F3 requires little effort to close, but, is isn't noticeably hard to open either.

Shooting Impressions

This was the best shooting F3 that I have yet shot. It was set up quite high – I saw quite a lot of rib (more than I would normally want on a sporter) – but it didn't seem to put me off at all. The gun was 'with my eye' as I call it. It shot naturally. I just had to look at the birds, keep the barrels moving, and the F3 did the rest. Felt recoil was good. The trigger pulls were good and the mechanism reliable. It was a well sorted gun and its modular construction – just about every major component – stock, action, forend, rib – provides interesting possibilities for those with an experimental mind-set. Frankly, I just like a gun which works. This one does. Whatever small gremlins the Mark I Blasers may have had seem to be well on their way to being sorted. Watch out for a new trap gun soon (although skeet and trap models are already in the line-up).

Tech Spec

Make: Blaser

Model: F3 Competition Professional

Bore: 12

Chamber: 3"

Barrels: 30" (28 and 32" options)

Rib: 10.5-8.5mm taper (10.5mm parallel option).

Weight: 8lbs approx.

RRP.: £4950 Game version £ 4750 (including an ABS case which will take an extra pair of barrels and 5 Briley Spectrum colour-coded chokes). Starting prices for basic models are from £4,130)
***