Boxall and Edmiston Sidelock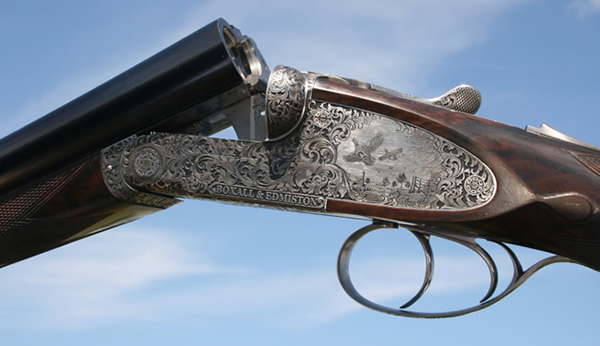 This article first appeared in the field. Subscribe here
I test a lot of guns but I do not test as many British ones as I might because the British trade has taken a terrible hammering in recent generations. The problem has been the decline of the artisan (and his time consuming and ever more costly work), and, the rise of the machine made gun abroad. Happily, things are changing; high tech gunmaking is establishing itself on these isles now. It began with London firms like Holland & Holland and Purdey applying techniques for both cost consistency and cost advanatge. Now the machine revolution has moved on to Staffordshire, Birmingham, Suffolk, Lancashire, not to mention Scotland. We have realised, meantime, that the costs of running multi axis CNC kit is similar here to Brescia these days, and, and that there is a good potential market for British products at the right money.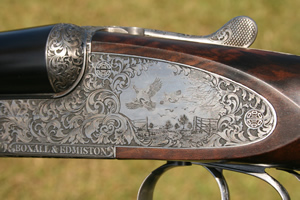 The test gun is a pinless sidelock of apparently classic form, it is the latest model by Boxall & Edmiston (a partnership of Peter Boxall late of Holland & Holland and Jaguar, and, James Edmiston who once owned Stirling Armaments). Earlier in the year, we looked at a side-plated boxlock by this new company and were impressed. The new sidelock, like its sibling, is the result of ultra fine tolerance machining combined with a surprisingly high proportion of traditional bench work (the gun is stocked and finished conventionally and the barrels are struck up and regulated in time honoured fashion). Boxall & Edmiston has a declared policy of trying to foster craftwork – and craftsmen – alongside developing its sophisticated manufacturing processes.
The test gun costs £25K. This is not lose change, but, it is a lot less than a London gun of similar type. How are the costs kept down? Principally by the machining of the action (as in London) and laser cutting the engraving (as is increasingly common practice abroad). The specification of the gun also includes monobloc rather than chopper lump barrels (though this is not obvious as the joints between tubes and monobloc are TIG welded). Peter Boxall notes, moreover, that chopper lump barrels might be an option in the future (and one that would add 2K or thereabouts to the bottom line).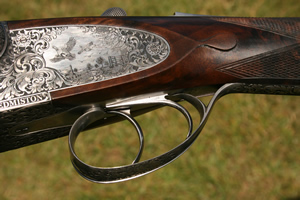 What of first impressions? The gun felt good between the hands with a little weight forward. Proportions of action, barrels and straight hand stock all look right – though more sculpturing of the action near the knuckle would be a possibility. The action bar is quite square – reminding me of a vintage Westley Richards. The pinless presentation of the locks – a best gun touch – is an option which accentuates the bold engraving (standard pins visibly coming through the plates are available if requested). Peter is at pains to point out that this is a work in progress and that most of the details could be changed. One, has to start somewhere, though.
I think he is being modest to boot. This gun, as it stands, is certainly attractive with its fine finish, good lines, and full coverage engraving which looks almost chiselled. The deep cuts made by laser – and it takes no less than a month to do this with preparation (almost as much time as hand work) – are intriguing when examined with magnification. There are no angles to the side of the cuts and no burring as when using a traditional graveur or chisel. Only very experienced eyes would notice. This remarkable process developed by Boxall & Edmiston – but inspired by what is happening in Gardonne – can easily incorporate any motif the client might want (the scrollworl here is designed and executed in house by Christopher Thorpe).
Technical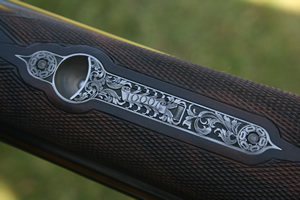 This is essentially a Holland style intercepting safety sear sidelock with Southgate ejectors – the favoured pattern of the English trade as we have often noted. There are no disc set strikers. The front trigger is not articulated, but both trigger blades were most elegantly shaped. There is not an easy opening feature, though one can be added. Unusually, there is detachable draw on the bridge of the action table (as in many rifles and the B&E boxlock). This reduces the load on the cross pin. Another interesting feature (and also seen in the boxlock) is an improved ejector system with  diamond shaped ejector legs eliminating the need for flimsy supplementary guides.
If I was to pick, I would note that the function of the auto safety was not especially positive, and the trigger pulls were not quite perfect in the test gun – but these are minor issues and acceptable in a prototype (the previous gun tested passed on both counts with flying colours). The actual existence of this gun, meantime, and all the skill sets that have gone into its design and manufacture are a triumph of British engineering, the hurdles that have been crossed quite remarkable.
Shooting impressions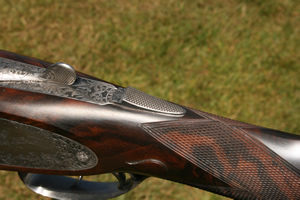 The gun was sound in the shooting department. It weighed 7lbs with 30" barrels – enough to be steady, not so much as to impede easy swing. The fixed chokes were quarter and three-quarters. I shot a new B&E boxlock (with 28" tubes) on the same day. Putting something over 70 cartridges through both, I missed two clays birds. One could hardly complain! The stock shapes promoted control, felt recoil was relatively mild. The handling of both guns was fine. If anything, I preferred the 28 barrels (as I usually do in a 12 bore side by side) though I usually hanker after more length in a 20 or over and under.  
This Boxall & Edmiston has integrity. There is no other English sidelock near its price. I like the fact that the firm not only have a flexible mind-set ("you want that changed – no problem"). They are making a well finished, well designed, British sidelock at a cost that will not necessarily require a second mortgage.  I often find myself advising people to buy second-hand these days if they have a capital budget and are looking for value. Here is a serious and sensible alternative if you want a gun of quality made to your exact specification.
http://www.boxallandedmiston.co.uk/