Browning 725 Review by Mike Yardley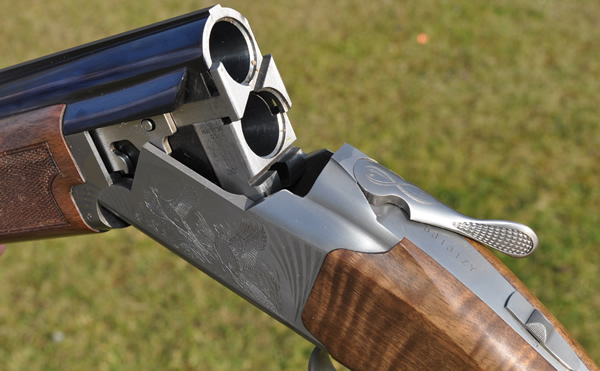 Manufacturers have a habit of making cosmetic changes to guns and presenting them as new models. This month's test gun, whilst familiar in some respects and showing a clear heritage, is an entirely new gun with some interesting, indeed, novel features. It is from the Browning stable and is called the 725. We are familiar with the 525 (and there has also been a very similar 625 available in the States) but this gun represents a new generation of Brownings. It will be marketed in tandem with the 525s for the moment.  If I was to make a rough comparison it would between the Beretta Silver Pigeon on the 600 series action and the new Prevail and Perennias based on that firm's new SV10 chassis.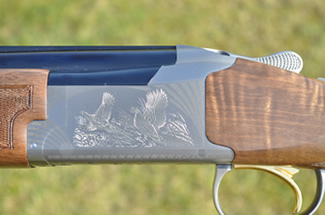 From a distance, meanwhile, you might be forgiven for thinking that there was not that much different about the new Browning, but, you would be mistaken. The action is significantly lower (though it retains a full width cross pin and a traditional wide Browning Superposed/B25 style locking system). The barrels are significantly lighter too, not to mention back-bored (wider in bore diameter than the average 12 – though this was not an introduction on the 725). They have extended forcing cones and 3" (76mm) chambers proofed for steel shot. There is minimal 'tromboning' at the muzzles to accommodate the new 'Invector DS' sytem chokes. [Although Back Boring is not a new feature to the 725, the barrels are new in the fact that they are tapered (narrower at the muzzle) and this feature has also moved the balance point back approx 10mm.]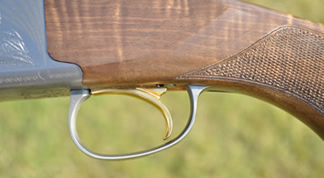 There is a new mechanical trigger system offering a crisper, lighter, pulls (about 3lbs) and reduced trigger movement and lock time. There is an inertia safety sear incorporated in the mechanism too. And, an 'Inlflex II' high tech polymer recoil pad which is not only exceptionally light with excellent recoil absorption characterises but 'non-stick' too and available in a variety of lengths (which allow for alterations to butt length with minimal work). It is better shaped than many as well.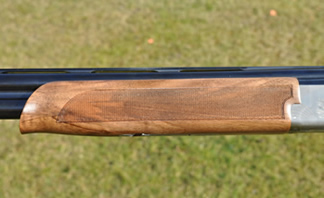 Aesthetically, the 725 has an action which is not only lower in profile, but which has reshaped shoulders and fences, and, a remodelled top-lever. Decoration on the hunter is game birds and some modernistic radiused lines to the edges reminiscent of a sun-burst. It is quite attractive, the birds are well enough done, and the adornments in good taste, but it would have been more dramatic if the engraving was a little deeper. Something like the embellishment on a Grade V Miroku would work really well – mind, you, at this very reasonable price point, it may not be possible.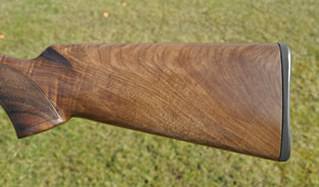 The stock of the new gun was made from good quality, quite dense, walnut. It had a full pistol grip which was not excessively radiused (with a palm swell on the sporter, without on the 'Hunter' as featured here). There is also a Schnabel forend with a subtle bill to its end, and, a Deeley lifting-latch forend fastener. Checkering was well cut and practical (offering good purchase). Dimensions and stock form were good, and the oil finish is what most of us will want.
Technical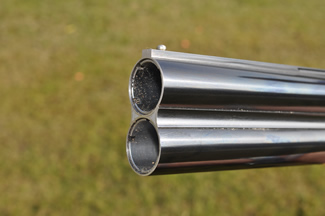 The most important change to the 725 is the trigger in my opinion. Operating on a mechanical rather and inertia principle, it made the gun feel different in use to its predecessors, the trigger was one of the few weak points of the 325/425/525. A mechanical trigger has always been my preference in game gun as it is not ammunition dependent (if you like light loads you can use them without issue – not always the case with inertia systems which may require a change of spring sometimes to work well with squib loads).  Trigger pulls are factory preset in the game gun in the region of 1.5 and 1.8 KG (1.4 and 1.6 in the Sporter).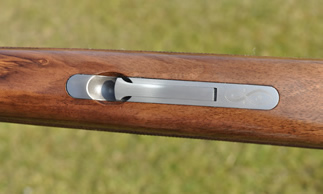 The changes to barrel profile and chokes are also very significant. Browning barrels have always been well made, but in Japanese made guns like this with multi-chokes they could be too heavy. This is no longer the case. There is a significant weight reduction (improving general balance and bringing it closer to the hinge pin). And, the new, long (80mm), DS (Double Seal) thin wall chokes have threading at the muzzle end and brass sealing rings at the base to prevent gas seepage between chokes and barrel walls (a perennial problem in most multi-choked guns). The chokes themselves – which are not interchangeable with 525 and previous Browning shotguns – are made from the same steel as the FN 50 calibre machine gun, so ought to be pretty tough!
Shooting Impressions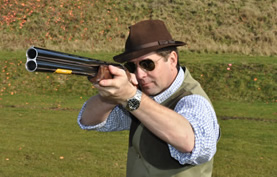 I had the chance to give this gun and its sporter sibling a unique field test at the magnificent Bodony estate west of Budapest. It was an extraordinary two days of shooting with nearly 1,000 quality birds shot on the first day, and over 600 on the second. I have a preference for heavier guns and did most of my own shooting with the 30" sporter rather than the 28" game gun pictured. Using Winchester 32gram Ranger cartridges I downed 23 birds birds straight on one, quite testing, drive, albeit with a second barrel or two.
I can't really say more than that (other than it was witnessed!).  I found the 725 very natural to shoot with. The 28" Hunter model weighing in just over 7lbs recoiled a little more than the 7 lb. 10oz. 30" Sporter, but this is a brilliant new design with noticeably improved trigger pulls and a very clever choke system with improved gas seal. The form of the guns was good, though it would be nice to see a completely plain action version or deeper engraving. As a shooting machine, though, this is one of the best that I have shot at live game for a long time. If you want something for high birds and spring clays look no further. And, it will probably set you back less than 2K. As they say in the USA – outstanding! I am told a Prince of Wales gripped English version is on the way too with a parallel game forend. This will be launched at IWA and on sale before the beginning of next season.
Sporter £1895
Game £1850
Importer/distributor BWM