Churchill Perazzi 30" Review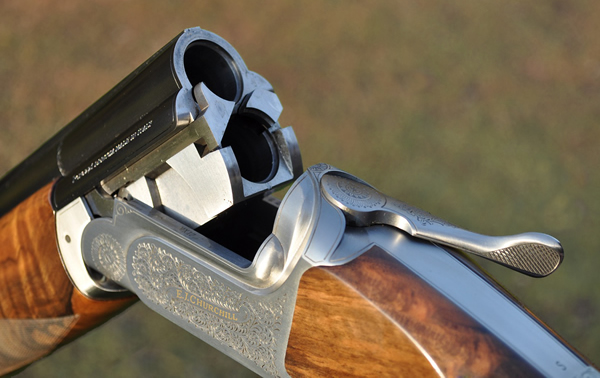 E.J.Churchill have had a very considerable success with their Continental range of sidelock side by sides made in association with Arietta of Spain. Now, they are launching no less than three over and unders, two built abroad, and a new Imperial model over and under made in England. Cutting to the chase, the subject of our test is a 30" gun that Churchill's have had made in association with Perazzi – one of Brescia's most famous makers. This is quite coup, as I don't think Perazzi have ever allowed someone else's name to appear on one of their guns before.
Churchill, as one might expect, have been careful to create a gun with a specification that will appeal to British market. The new Churchill Perazzi boasts a semi-pistol grip, a rounded forend, and, a narrow, 6mm, vented sighting rib. Joining ribs are solid (at least where visible). The whole package hits the scales at 7 pounds 9 ounces. Solid, but not excessively so – especially if the gun is to be used with heavier loads and higher birds as intended.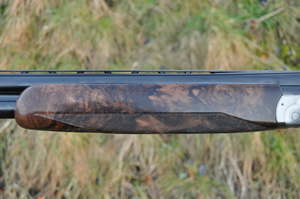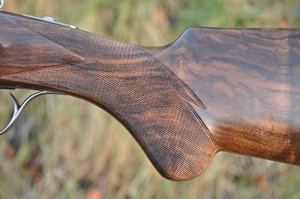 Apart from an atypical specification, the Churchill Perazzi is distinct in having a nickel plated and fine scroll engraved and action bearing the Churchill name in gold on either action wall. The tasteful scroll engraving extends on to the belly of the action, and there is a little on the top-lever, but the forend iron is left bear. The overall effect pleases the eye, enough engraving to be noted (made all the smarter with the gold inlaid lettering) but not so much as too look flash. It made the gun standout from the pack.
The gun feels good in the hands when picked up as well, it is no lightweight, but it comes to the face and shoulder well, and is both pointable – thanks to the thin rib – and steady. Grip, comb and forend all feel comfortable, with first and last providing good purchase into the bargain. One might, perhaps, have shaved the forend a little to reduce its bulk and width – and there is the wood there do it if you want – but the comb is nicely tapered. The semi-pistol grip, notably, was not too tightly radiused. A full pistol grip which is acutely angled can be a real disadvantage on a game gun because one cannot hold it up comfortably in the near vertical ready position on a driven day – one has to cock the right wrist too much (assuming a right-hander of course). This can be tiring. For game shooting, I always prefer a semi-pistol on an over and under and a traditional straight grip on a double trigger side by side.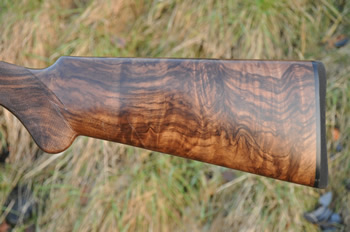 The shelf dimensions of the test gun were good as well. Length of pull was very sensible at 15" (allowing for easy modification in either direction to suit anyone within the normal range of height and arm length). 14 7/8 and 15" are becoming a new standard. The butt is finished off with an inoffensive, fairly thin, rubber pad. The drop was 1 3/8 and 2 1/16" at the nose and heel of the comb respectively. This might be a whisker high for some, but is certainly better than anything too low (and it is all academic anyway because you can order, without added cost, whatever measurements you want). There was a bit of cast for a right hander on the test gun. Its stock, meantime, showed excellent figure, and, the oil finish and chequering were well done.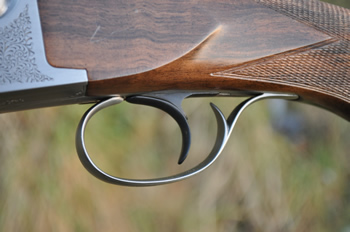 The gun is based on Perazzi's MX12. It has a fixed lock action and is powered by helical rather than leaf springs. Perazzi also, famously, make a gun with a detachable trigger lock, the MX8, which has been much copied by others (Kemen, Perugini and Visini, and, most recently, Purdey with their new Sporter). A fixed lock design has one advantage over a detachable type, it may be made less bulky to the rear (requiring no box). As a consequence, less wood needs to be taken from a potentially weak area of the stock. All things considered, I think a fixed lock is preferable, though it would be nice to combine this type of design with traditional leaf springs.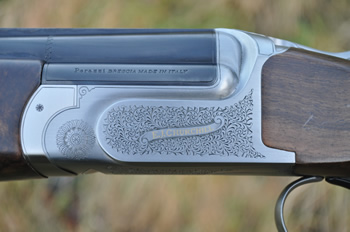 The Perazzi action dispenses – in all its variants – with a full width hinge pin and replaces it with stud pins at the knuckle in the manner of a Woodward or Beretta. Perazzis also have Boss style 'draws and wedges' on the inside of their action walls and monbloc. The primary locking system is Boss inspired too, with square section bolts emerging from the action face and mating with bites either side of the chamber mouths. It's all good and well proven. No quibbles here.
The monobloc barrels of the test gun were well presented. They were equipped with a 6mm ventilated rib as noted, and solid joining ribs for most their length. Workmanship was excellent and tubes were straight. Beneath the forend, joining ribs are absent - a common weight saving measure today. I can't in all honestly say that I like this practice, but Perazzi are not the only firm to do it. Chokes were fixed at 3/4 & full (but might be regulated to whatever you want). The forcing cones are longer than average, but the barrel bores were relatively tight at 18.4mm. My preference on game gun would have been 18.6mm. The barrels bear Italian proof marks for 2 ¾" (70mm) cartridges.
Shooting Impressions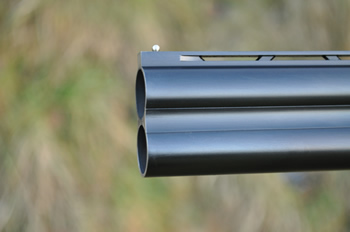 I shot a number of new Churchill over and under guns on the day I tested this one. As well as a 32" version of the Churchill Perazzi, I also had the opportunity to try two new Churchill over and unders made by Damas in France (the new Imperial was not available on the day). All were good, but the Damas made guns, both 30" and also built on an Italian action design (if they had a facebook page the relationship status might be described as 'complicated') and the 30" Churchill Perazzi were the stars.
With machine made over and unders, I find that 32" (with some notable exceptions) can often be too long for a game gun. I like extra barrel length but not at the expense of lively handling. I noted on the 32" Churchill Perazzi, moreover, a slight harmonic on firing which was not present in the 30" gun. This really intrigued me, but I will not dwell on it. I was impressed by just about all aspects of the shorter gun. It shot very well. It soaked up recoil. Trigger pulls were good, and, the stock shapes and aesthetics much better than the norm. It wore the Churchill name well, and at £9,999 included tax it was not that expensive by modern standards. Churchill will do well with this gun, especially with those who might be looking for something to shoot high birds with that might do double service on summer clays as well.