Fausti Pro Comp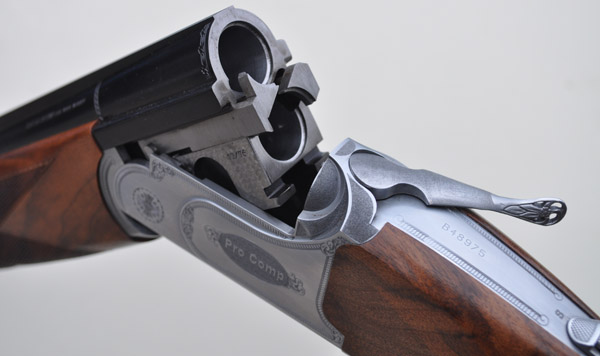 Fausti are based in the Brescia region of Northern Italy like many other gun makers. They are a relatively big firm and make 6,000 over and unders a year and, unlike most others, still make quite a few side by sides as well (which account for about 20% of total production, i.e. 2000 or so). Fausti are also different because the company is owned and run by three, rather glamorous, sisters – Elena, Giovanna and Barbara. They are friends of mine – you could hardly fail to like them when you meet them – and I have visited their factory on a number of occasions and even made a film about it.

For more videos on the Fausti factory as well as Mike shooting a Fausti click here
Like many other modern Italian makers Fausti combine new and old methods in their approach to gun making. They are part of the Italian gun-making renaissance and have made a big investment in high-tech machinery. You will, however, still see long, naturally lit, benches in the factory with experienced craftsmen working in time honoured fashion with smoke lamps and files. The factory in all its departments is a hive of activity, but the bench workers impress me especially. Indeed, it never ceases to amaze me just how quickly artisans in Italy and Spain work when you are used to the slower paced British trade. Then, one might note that our most prestigious gun makers turn out less than a hundred guns a year (which makes you wonder how they survive even when the guns may cost £50K or more each) and the Italians turn them out - in all sorts of qualities - by the thousand.
All of which brings us to the test gun, which concerns a 12 bore Fausti Pro-Comp model intended for clay busting. It has an RRP of £1,450 – which puts it into Browning and Beretta territory – and was kindly provided by the Sportsman Gun Centre for testing.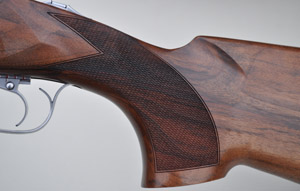 ['The Sportsman' as most call it, has big retail outlets in Devon and Dorset and is also the UK Fausti importer. As well as their very active retail business they are major wholesalers to the gun trade.] 
The Pro-Comp has 30" barrels, an adjustable trigger and a full combed stock with palm swell. It hits the scales 8lbs which is a good weight for a serious sporter; one needs a bit of weight to soak up the recoil in a gun which is intended to fire a hundred or more shots in a day routinely. First impressions are that it is a business like competition gun. It is quite chunky, a bit like an old, silver action, Beretta 682.

I am not quite sure about the aesthetics of the action. The shapes are fine, and the fences and side panels well done. The scroll engraving is to my taste too, but, I thought the name of the gun in a stippled oval to the middle of the action wall was a bit too bold. I think a plain action with scroll borders would have been better. I might also note at this stage that Fausti make a very smart scroll engraved Sporter called the Windsor with an excellent RRP of £1,250 (although it has a fixed trigger and the wood is not quite up to the standard of that on the Pro-Comp).
On with the test. The barrels of the test gun are monobloc, where two tubes are put into a block piece which carries the ejector extractors and hinging lumps (bifurcated in this case – i.e. machined into the sides of the block like a Beretta and not projecting from its base like a Browning). The workmanship is all competent. The joining of tubes to monobloc is good. The gun bears Italian proof marks for 76mm (3") cartridges. This is an indication of confidence by the manufacturer in their product, though, of course, there is no need for a 3" chambered competition gun. It could be a useful feature if you were to take it into the field or, in particular; on to the foreshore (long chambers give much more versatility with non-toxic cartridges).

The Pro-Comp has a 10mm vented sighting rib, and vented side ribs. The foresight is a red, translucent, rod in a steel carrier. It is not large. The barrels are multi-choked. These are of the shorter type and not unlike the original Beretta style. Five are supplied (cylinder, quarter, half, three-quarters, and  full). Looking at the bores of the gun, I noted that the forcing cones are of medium length and that the bores themselves were well presented without rivels or other marks. The bore diameters were quite tight, however, at 18.3mm (the Italian norm is 18.4 or 5).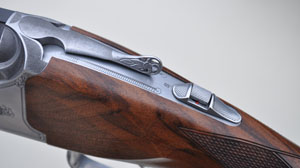 This business of bore size is most interesting and a bit perplexing. My usual experience is that guns with bigger bores have slightly less felt recoil, but, this is not always the case. I had, for example, an old, re-sleeved, Webley pigeon gun with extraordinarily tight bores which did not kick excessively. I suspect that its excellent stock design was part responsible for this (it had a little drop and an especially good profile). Generally, though, open bored guns seem softer. Some argue that wider bores improve pattern too.  I believe they may do, but most notably in heavy payload, large pellet, cartridges. Nevertheless, in the States, sporting, and, in particular, trap guns are routinely over-bored by various specialist companies. Are big bores better? Here is where it gets complicated. My friends in Spain who shoot competitively swear that tighter bored guns penetrate better. When I have better empirical data, I will let you know! 

The action of the Pro-Comp is interesting. It combines, as many Italian guns, elements of Beretta and Browning. The stud pin hinging arrangement is like a Beretta or Perazzi (and hence like an English Woodward from where they both got the idea). The bolting mechanism where a wide, flat, bolt comes out of the bottom of the action face and engages a slot bite beneath the bottom chamber mouth is Browning-like (and thus a little higher in the action wall than some). But, just to be different, the Fausti has an extra bolting system. On the sides of the monobloc you will note wide slots, and, on the inner walls of the action, there are corresponding projections which engage with them. This is a simplification of the system seen on a Boss over and under. It is clever, though, and it all adds up to a very strong action/barrel assembly when the gun is closed.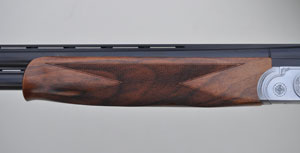 Another feature of the action that I especially liked was the adjustable trigger. This requires no key, one merely depressed a button on the left hand side and may slide the trigger blade (which is very nicely shaped too) to one of four positions. The trigger mechanism is of inertia type and the action is powered by coil springs (although Fausti still use leaf springs in their side by sides). About the only other thing worth noting of the action is that there is a barrel selector of Beretta style (but rather larger) combined with a safety in the usual place on the top strap to the rear of the pierced top-lever.

The stock of the test gun is quite full in the comb and there is a hand filling, quite acutely angled, pistol grip with palm swell. The wood, walnut, has some figure and is well finished and well chequered with neat diamonds and borders created by a laser process (which has done much improved the chequering on mid-range guns in recent years). The length of pull was 14 3/8" with a thin black pad. This is a little short, but, there is 14" or so of wood, so one would get up to 15" with another pad. There was an extra 1/8" at heel, and a 1/4" at toe (dimensions ideal for most middle-aged men of normal or fuller build). Drop was a 1 3/8 to the front of the comb and 2 1/8 to rear. This is about ideal and corresponds to my advice to the Fausti sisters a couple of years ago (when they had asked me about ideal standard measurements). Many Continental guns, meantime, have too much drop at heel.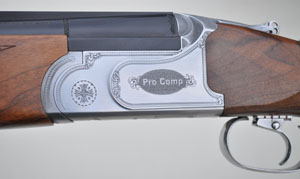 If I was to really pick, I might note that wood might have benefitted from staining down a bit. The forend on the Pro-Comp is of Schnabel pattern. There is absolutely nothing wrong with it, but a rounded design – provided it was not too bulbous – would also have suited the gun well. I prefer straight sided forends because they do not restrict hand position. If you adopt George Digweed's style of altering hand position on some occasions depending on target presentation, you will need one.

Shooting Impressions

I shot the Pro-Comp at Southern Counties with Terry Palfrey of the Sportsman Gun Centre staff. Terry is a keen shooter with a special interest in sporting. He has been a AA shot, but his averages have slipped back a bit recently because he has not been shooting as much. We both thought that the Pro-Comp, which balances just in front of the hinge pin balance, was a neutral gun to shoot with a steady quality to it. Trigger pulls were better than average. Recoil a little higher than expected considering the weight. The grip was a large big for me, but it suited Terry who has bigger hands. We did not shoot the gun as much as we would have liked because of fading light, but, this is clearly a gun with potential. 

Tech Spec

Make: Fausti
Model: Pro-Comp
Bore: 12
Chamber: 3"
Barrels: 30"
Chokes: Multi (five supplied cylinder - full)
Weight: 8lbs.
RRP.: £1,450