Fausti Royal Sporter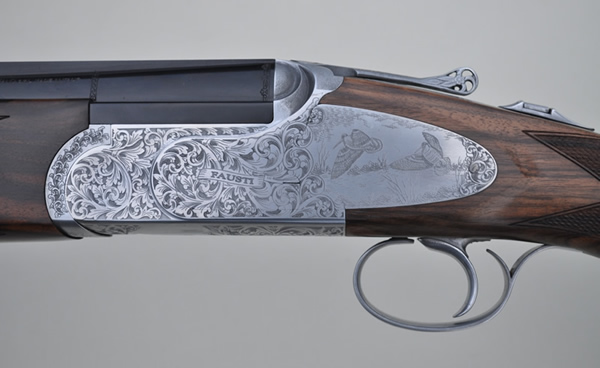 This month we are looking at a side-plated over and under gun made by Fausti and supplied to me by the excellent Sportsman Gun Centre in Dorset. I know the Fausti sisters well. They're friends of mine, and I have visited their factory in Brescia (Northern Italy) several times (and am on the way there again soon). I regularly shoot a 30" side by side of their manufacture, moreover. I've been impressed with it. It has done sterling work in Africa on pigeons as well as game and clays at home.
For more videos on the Fausti factory as well as Mike shooting a Fausti click here
OK, I have declared a bias! But, the gun trade is a small world and one cannot help but make friends. First impressions of this Fausti gun, intended, as a sporter, are good. I've noted the side-plates (not always my favorite thing), the rest of the spec includes 30", multi-choked, barrels, a 10mm sighting rib and vented joining ribs. The gun hits the scales just over 8lbs, a good weight for a serious clay gun. It has quite a full pistol grip with palm swell and a Schnabel forend (a rounded forend would have suited it well too, provided it was not too bulbous). The wide scroll engraving is particularly attractive and the game scenes, machine applied, are well done. I especially liked the woodcock on the left side of the gun. The action is coin finished and the trigger guard and (pierced) top lever have been favoured with the same treatment. It all looks good.

The Fausti appears to be quite a lot of gun for the money (the ticket price is £1,599). Like most things out of the Fausti factory – which produces nearly 10,000 guns a year – this is a stylish weapon, deluxe finished with particularly good wood, pleasant engraving and sharply cut chequering (probably done by laser). Put the gun under the magnifying class and there are no unpleasant surprises. Finish is generally above average with deep bluing and really good wood to metal fit. Metal to metal fit is competent too.

What about the handling? Bring the Royal to the shoulder and one notes a slightly muzzle-heavy balance. The 10mm flat and parallel rib is inoffensive. The gun is quite pointable with its 30" tubes (the only sporting length available, but a Royal game gun is available in 28" form in both 12 and 20bore). It does not feel especially lively, steady is how I would characterise the Royal (which is no bad thing in a sporter and, an excellent quality in a skeet gun).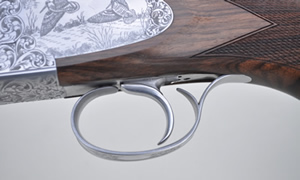 This Fausti shows again what can achieved at moderate price with modern production methods. The Fausti factory I might mention – and you can see it for yourself if you look at the film on the internet – combines CNC high tech manufacture with traditional artisan work. The basic action design is the usual Gardonne type combining trunnion hinging with Browning style bolting beneath the bottom chamber mouth. But, there is one variation on this well proven theme. The Fausti has an extra bolting system which is simple but clever.  Probably inspired by Boss and Perazzi, there are recesses machined into the sides of the monobloc which engage with corresponding protrusions on the inner action walls. As I recall (don't bet on my memory), they call this the 'Quad Lock'. The action, meanwhile, employs helical springs throughout and a barrel-selector come safety of Browning style on the top strap.

The barrels of Royal are well made on the now near universal mono-bloc system. They have 76mm (3") chambers and bear Italian proof marks struck in Gardonne. Both bores are stamped at 18.2 – this is quite tight in my opinion. The Italian norm is 18.4 and my preference is 18.6 or 7. I favour of slightly wider bores as I believe that they reduce felt recoil (some say at the cost of penetration – something I wish to test in the near future). The bores of the test gun were otherwise well presented, though, with well machined chambers and forcing cones that were not too short. I liked the rib, and there is a red, rod-type, fluorescent foresight at the muzzles which is not too big and therefore not too distracting. I have, however, developed a prejudice for plain metal beads in recent years to reduce the ever-present temptation to look back at the barrels.

So, this gun, which is well made, is not quite the norm, and more interesting for it. It not only has nice lines, but it is decorated in good taste (generally a Fausti strength). As for the handling, I usually advise 30" as the right length for novice and intermediate sporting shots. 32" guns should be considered experts tools as far as sporting is concerned. They allow one to be precise on harder targets, but one has to have developed technique and, in particular, well developed upper body strength to get the best from the longer guns. Many people are over-gunned with a 32, and are better equipped with a 30".

The stock of the Royal is cut from well-figured walnut. The grain is straight and strong through the grip as it should be, but, there is some nice root figure in the main body of the stock. The form of the wood-work passes muster too, my only quibble concerns the palm swell – they're just not my thing. Nevertheless, I found the gun comfortable to mount and the standard dimensions were pretty good. Length is 14 5/8" with a thin black rubber pad. There is an 1/8" extra to toe and ¼" to heel. The drop was 1 3/8" to the front of the comb and 2 1/4" at heel – pretty normal. There is a bit of cast for a right-hander. I liked the no-nonsense oil-style finish. The snabel forend is inoffensive (although I would have preferred a slimmed beaver-tail as noted). And, in an ideal world I would have had a less acutely angled pistol grip. The forend and grip were perfectly adequate, however.

Shooting Impressions

I did not have the opportunity to shoot this interesting gun as much as I would have liked. I had driven to the excellent Sportsman Gun Centre at pretty short notice and was running out of daylight during the test. That said, the Royal displayed no vices and comfortably shattered the dozen or so clays I pointed it at. It is a well specified, well priced sporter. It would also make a good English skeet gun, and, it might be used for high birds or wildfowl with heavier than average loads too thanks to its weight and long chambers. Fausti, meantime, is a name that British shooters will be hearing more and more of. They make good guns at fair prices.
My thanks to Emma, Terry and all the team at the Sportsman Gun Centre Dorset.
Tech Specs

Make : Fausti
Model: Royal Sporter
Bore: 12
Barrels: 30"
Rib: 10mm
Chokes: Multi
Weight: 8lbs 3oz.
RRP.: £1,599