Fausti Side by Side 28 Bore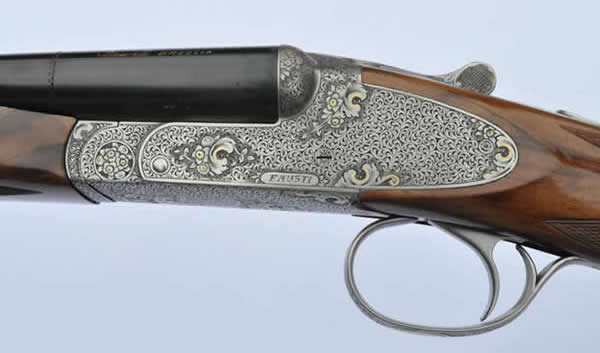 This gun is an especially elegant little side by side created by the Fausti sisters and their team of gunsmiths in Brescia. It's a special gun and a product – I hesitate to say a typical one – of their custom shop. The Fausti story, concerns three sisters who inherited a gun factory and determined to inject a bit of style, and, let's be frank, sex appeal, into the concern. Thus far, only the company's more pedestrian models have been imported into the UK. Good though some of these are – I have one of their 12 bore side by sides that has done sterling service – they are nothing like the elegant, 5 lb. 3 oz., 28 bore presented here (which comes with an extra set of .410 barrels).
First impressions are excellent. I like the gun because it is typical of the feisty sisters themselves. They can (and do) make guns which match traditional British preferences. But, this one is made as they like, with a form of decoration to their taste. It was originally designed as a display piece for exhibitions and similar. I wouldn't call it 'girlie,' but it has refined quality and achieves an aesthetic harmony with its good wood, and, sumptuous, tight scroll engraving with delicate gold highlights. On a bigger gun, it might be over the top, but I think as an example of the Fabulous Faustis' oevre, it's near perfect. Your girlfriend might want one just like it, but she might not get it once you've tried it!
More prosaically, I watched the prototype of this new Fausti action develop some years ago – the firm have always made a significant number of side by sides as well as over and unders (there total production is 8,000 odd guns a year, 20% side by side). The 28 bore action was a new project and one into which the sisters put a great deal of passion. I have noted the test gun was a 28. In fact, it started its life with .410 barrels on the new 28/.410 action. When I first admired it in the factory, I suggested to the Faustis that they added a set of 30" 28 bore tubes - maximising its functional potential as well as its beauty.
The test gun, a best boxlock with sideplates and single trigger, handles perfectly with the long tubes. Balance is a whisker forward of the hinge pin (bang on with the .410 set fitted). Both sets have tight fixed chokes, and flat file cut ribs with brass beads. Longer barrels  are definitely the way to go in a small bore – they make light guns more controllable. Is this gun too light? You might think so at 5lbs 3oz. but with the 30" 28 bore barrels it works extremely well as the shooting impressions section will shortly confirm.
As for the rest of the gun, the detailing is A1. I liked the function of top lever and (non-auto) safety. The trigger blade was well shaped and plain steel. The gripping surfaces and the comb were all especially good. The forend is of subtle (and super) beaver-tail pattern not unlike some Purdey's. The grip itself is oval in form. The stock shapes are typical of the Fausti house – subtly different to English forms – but very good (not something I say often). The gun had very little cast. The wood had figure, though. It was quite light, and oil finished to a high standard with hand cut chequering. The only think I was not sure of was the thin orange pad (easily changed).
Technical
The Fausti  as noted is a side-plated boxlock. It is a modified Anson & Deeley design with Purdey lumps and is notable for being a small bore that is both an ejector and has an efficient and reliable single trigger. The latter is of mechanical pattern and the pulls were crisp showing no creep. Barrels are monobloc with excellent joins. As in Fausti's 12 bores, the stock is attached to the action by means of a stock bolt rather than a breech pin (as in most over and unders).
I have mentioned I thought the pattern of the forend near perfect, a subtle, narrow and not too deep, beaver tail that does not remove the hand far from the line of the barrels, it is matched to well angled straight grip. The forend, meantime,  is attached by means of an Anson rod.  The button was a little bigger than the average which did not spoil the delicate proportions but allowed for improved purchase and control.
Shooting Impressions
I shot the gun at the West London Shooting School. After nailing some easy birds, I moved to one of the ground's middle-height towers. The Fausti did not disappoint. In fact, it smoked everything that came to me at various angles – incoming, quartering and far right and left. It shot better than any 5lb 28 bore might be expected to do (which I put down to the longer barrels and very slightly muzzle forward - Purdey like - balance).
I was feeling weak and rough on the test day (having been bitten by a Lyme tick walking up grouse in Perthshire). The Fausti was effortless – just the gun needed – easy to point and surprisingly precise.  The single trigger was flawless. The only thing the gun lacked was an auto safe (easily added). The stock tough straight, suited me. This was the best shooting light 28 bore side by side that I have shot by a wide margin. It is an affordable fantasy too. Prices start from about 4,500 Euros for a plain gun with a single set of barrels. The gun tested would cost upwards of 10,000 Euros with a single set of barrels. Those interested should contact Fausti directly.
Ed. Not that my opinion counts for much but I have shot this as well and I thought it was fantastic - J.Yardley