Starting Shooting and Getting a Licence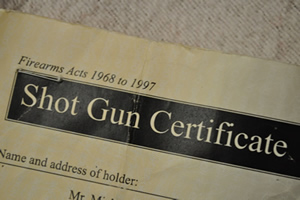 So you want to take up shotgun shooting, where do you start? It can be quite a daunting prospect for the uninitiated. The first thing to do is to find a club or a commercial shooting ground where you can Have-a-Go. I would also advise buying some shooting magazines. Shooting is one of those sports that some people take to immediately, others find their passion grows with their skill. It is not quite as hard as learning to play the violin and not quite as easy as learning to ride a bike! It does require discipline and some dedication but ultimately it's great fun.
Once you have shot a few times at a club or at a shooting school (or even in a field with an experienced, safety-aware, friend, all legal considerstions being satisfied), you may decide to take a course of lessons. This is money wisely spent as a good instructor will teach you safe gun handling, check your eye dominance and gun fit requirements – vital considerations – and, generally, speed you on your way. To apply for a licence you will need to have somewhere to store the weapon safely – usually a steel cabinet that may be bought from a gun shop or specialist supplier. You can also get them on ebay.
You will also need to get an application form for a shotgun certificate from your local police firerms licensing departmernt (phone HQ), or, you my be able to download one. Do not be put off by this, the process is relatively straightforward.
On the form you will need to enter the following details
Name
Address
Nationality
Date and Place of Birth
Occupation
Employers address
Height
Your addresses for the past 5 years
Any convictions no matter how trivial - e.g. speeding tickets
Any medical conditions
Your current GP and permission for the police to access your medical records
Details of where you will store the gun
Now you will need to find a counter signatory. This person must have known you for two years.  They cannot be a relative, police officer, police civilian or a firearms dealer.
If you have any problems phone up police headquarters and ask to speak to the firearms licensing department directly. They are specialists and are usually very co-operative. You may have two visits from the police, it depends on the area – one from a crime prevention officer to look at your gun safe and another from a firearms enquiries officer to consider the details of your application.
Be absolutely truthful when you fill it out the paperwork, mention all the speeding fines and anything else that is required. Breaking a 30mph limit will not prevent you from getting a license nor will past criminal convictions provided the Chief Constable thinks that you are no threat to public safety (but failing to disclose past convictions is an offence). The police just want to make sure that you are a normal person, warts and all, and not a potential psycho.
Return you application with the 4 passport photographs and the £50 fee (which may increase soon - indeed the whole licensing system is being considered by Parliament).
Theoretically, you do not have to prove good reason for a shotgun at the moment, but you can rest assured that you will be asked why you want one anyway. There are two sensible answers – clay shooting or live quarry shooting. You do not have to be a member of a club or have permission to shoot over a specific piece of ground as with applications for firearm certificates (where good reason must be substantiated). You would be well advised to have considered carefully where you intend using your shotgun though.
Issuing the certificate will usually take some time (possibly some months) which will give you an opportunity to decide what sort of gun you will need.