Guerini Challenger Gun Test by Mike Yardley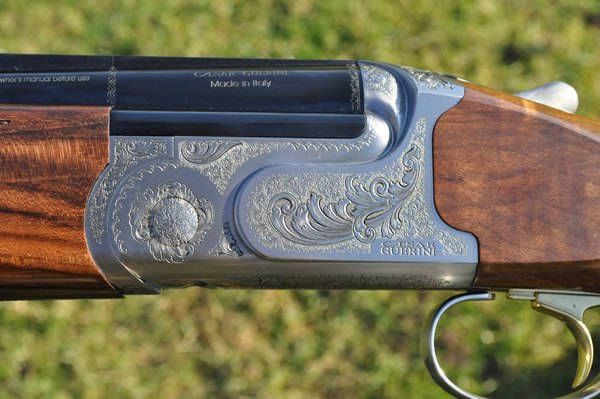 When a new competition gun appears it is always something of interest to clay busters. We have seen quite a few new guns in recent years, and, with the exception of the recent Browning 725 (and previously the Cynergy), most have been pretty pricey. The test gun, a Guerini Challenger 32 is not cheap, but, with an RRP of £2,495 it is not out of reach to ordinary mortals either (and the less embellished Summit is £2,035. Perazzis and Kemens, great guns though they are, are three or more times that money these days (although they do offer bespoke build built into the price). The only close competitor might be the drop lock Zoli Z gun which is more costly too, or, the excellent Grade V Miroku MK38. The Challenger, however, (like the Summit) also comes in a high rib version which has been attracting considerable attention on the clay circuits.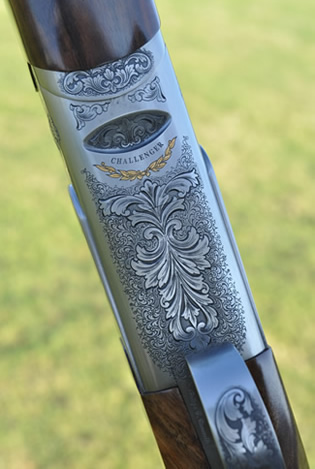 Guerini have been going from strength to strength since they appeared in the UK in 2005. You certainly might be forgiven for mistaking the new Challenger from being a product of a more expensive stable, moreover. Guerini guns typically offer solid mechanics and a lot of finish for their price point. This one is no exception. It's all part of the miracle of computer technology which is not only applied to the mechanical aspects, but, to decoration too. There are many new laser processes being developed to engrave. Some are so good that it is hard to tell laser from hand cut engraving now (the difference if you look hard is that lasers can only cut down – there is no side cut). I think it is great, guns like this look much better than their equivalents of a generation ago. And, they are getting better and better, and being made to ever finer tolerances. Even the great London names make their guns primarily by machine these days.
First impressions of the test gun are that it is attractive, well engraved, nicely stocked and quite big! This is a 32 which hits the scales at 8 pounds there is a 34" version on offer too, though the 30s and 32s are usually my preference. The barrels on the Challenger are monobloc – seeing anything else now is the exception (although Browning held out with demi-lump until half way through the 425.) The barrels are equipped with extended multi chokes. The 10mm ventilated sighting rib and the side ribs are ventilated. The tubes are straight (not to be taken for grant as I have too frequently noted). Internal and external presentation is good.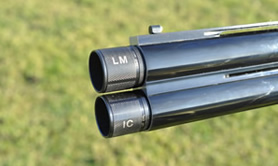 The internal bore diameter is 18.6mm. This is wider than many Italian guns, and my preference in a competition gun (it really does seem to reduce felt recoil although comb shape is also important). The barrels of the Challenger weigh 1530 grammes. This is surprisingly light (many gun approach or exceed 1600 grams) and contributes to good handling qualities. The factory multi chokes are quite long and contribute to a slightly forward balance. The gun feels right, though, and the barrels are certainly not too heavy (or, indeed too light).

Action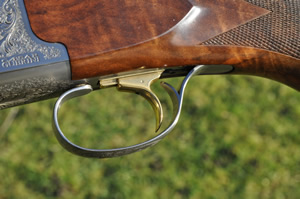 The Challenger's action is especially striking because of its well executed scroll engraving (which I would guess is cut by laser but tweaked by hand). There is a combination of fine scroll, and fleurs-de-lys themed acanthus. It looks good. There is a little laurel leaf gold inlay on the gun's belly under the word 'Challenger' which comes over as a quality touch. Workmanship is good all round, although, mechanically, there is nothing revolutionary here – trunnion hinging, Browning bolting, and coil springs to power the hammers. These are less prone to breaking than v or leaf springs though, the finest trigger pulls are usually associated with the latter. All controls on the Challenger fall to the hand well, meatime. I liked the good size safety thumb piece and positive barrel selector. Shaping and finish on the action are excellent. The adjustable trigger is gold plated (not normally my thing, but attractive here because the gold is semi-matt).
Woodwork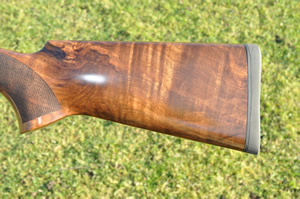 The Challenger's stock was made from a well figured, piece of walnut that was well chequered and finished in what looked like oil. There is a full pistol grip with quite a tight radius and palm swell, and, a a full but comfortable comb. The grip fills the hand, but was a little big for me. The stock dimensions were good. Length of pull was 14 3/4". Drop at comb just a whisker under 1 3/8", and drop at heel near the industry average for and OU at about 2 1/8". This, as Mr 'Average' in gun fit terms, suited me fine. A fairly thick black rubber pad is fitted. This is has some concave to it's sole which is a positive (especially for those shooters who, like me, mount the gun on or near the ball of the shoulder joint). One very useful feature is the facility to instantly remove the stock by means of a long key (supplied) inserted through a hole in the middle of the recoil pad. If I had my way every modern stock-bolted OU would incorporate this feature.
Shooting impressions


I shot the Challenger with Kevin Gill at Fennes shootong ground in Essex. I know the ground well, and usually, start most of my test on low 2 at skeet which is my datum bird before moving on to more challenging stuff – no pun intended! I was looking forward to shooting the gun – I always have a special interest in 32" sporters. Their subtleties genuinely intrigue me – small differences can have a huge effect. This gun was smooth to shoot, it pointed well too, and broke the birds consistently though neither of us was in the mood to shoot because of unseasonally cold weather. I was not especially fond of the palm swell (some will like it) but in all other respects I thought it a winner. The price is definitely right too.

My thanks to Lyalvale Express for supplying the cartridges used in this test
We like

The solid build quality
The engraving
The pointability and handling

We don't like

The palm swell

Technical specification

Make: Guerini
Model: Challenger
Acrion type: trigger-plate
Bore: 12
Barrels: 32" (with 30 and 34" options)
Chamber: 2 3/4" chamber
Choke: Multi, 8 supplied – cylinder, skeet, ¼, light mod, mod (1/2), improved mod (3/4), light full, full
Rib: 10mm parallel with centre channel with mid sight
Weight: approx. 8lbs
RRP: £2,495