Guerini West London Special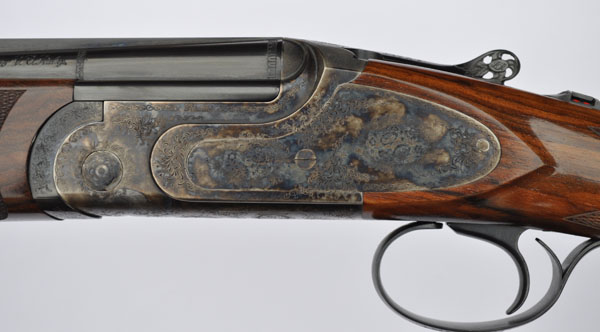 Well, I am a fan both of Guerini guns - as imported into the UK by Kevin Gill and Mike Mansfield - and of the West London Shooting Ground. So putting the two together was bound to bring about something fruitful. Enter the new West London specified Guerini game gun. West London's busy Gun Room sell a lot of Guerini's and this is the result of one of the country's most famous shooting schools making a few suggestions to a dynamic relatively young company willing to listen. First impressions of the test Guerini are really A1. As tested in 20 bore 30" barrel form, it has a 'colour case hardened' sideplated action with very smart Purdey Rose and Scroll style fine engraving as seen in the normal Essex model. There is also another new special West London Model based on the silver actioned deep scroll engraved Maxum.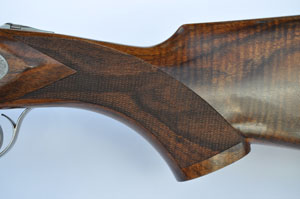 Several features set this special model apart, it has a solid sighting rib with a 9 to 7mm taper (introduced on some other Guerinis now, including their top of the line guns). There is a full pistol grip of particularly elegant proportion (it's not too big, nor too acutely radiused, nor is there an ungainly palm swell). And, a round tip, Boss style forend, instead of the more common (and less practical) schnabel complements the well-conceived grip. Another change, a cosmetic one, but of value, is an oval in the stock. This is a change which improves the appearance of the gun and makes it stand out in the rack from its standard cousins. All things considered, for an RRP under 3K, it's a great looking gun with a super specification. For the money it is exceptional, as good as anything out there in my opinion, and, far better than most. Heavy praise, I know.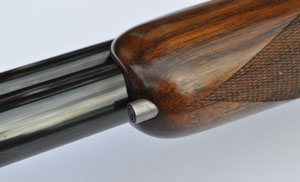 This more than just a styling exercise, detailing on a shotgun is everything. The features mentioned (with the possible exception of the grip because Guerini make a very good semi-pistol pattern as well) really do make this a superior sporting weapon. The Guerinis have now proven themselves in the field. I shoot 32" Guerini 20 bores and am immensely pleased with them. William Evans have based their exclusive St James model on the Guerini 9they've just introduced a new 12 bore version, having hit the market with 20). The EELL Beretta set the pace with side-plated, deluxe, over and unders years back, Browning, who have long offered ritzy sideplated B25s, and now have their less expensive, Japanese made, side-plated Heritage model as well (a little angular in looks, but another top seller). Guerini, meantime, have been tremendously successful with their Maxum and Essex side-plated models, not to mention the newer, ritzier, Apex, Forum and Forum IIs. These guns have bitten into a difficult market place, and with good reason. The Maxums, and Essex models in particular offer a great deal of bang for the buck.

I asked West London Manager Jonathan Irby about the background to what he calls the West London Gun Room Special, "We liked the basic look of the Guerini Maxum and Essex models but felt the looks and handling could be improved by making a small but significant change to the forend and some small cosmetic changes elsewhere. So, on our guns, the forend is now slimmed to a traditional English over and under game style. It makes the length of the wooden part of the forend that the hand can comfortably hold just over ten inches.  This is significantly longer than most schnabel equipped guns and favours those who prefer a longer hold or who have bigger hands. We also think it looks MUCH better!"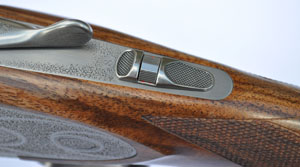 What about the technical stuff? There is not much to report here, just a well proven mechanical design, good quality materials and excellent quality of finish and form. The barrels on the test gun are monobloc. They are 30" long as noted and equipped with solid, taper rib, multi chokes and struck with Italian proof marks for 2 3/4 (70mm) cartridges. The action is familiar; we've described something similar many times in these pages. It is notable for quite a low profile – achieved by using split, trunnion-type hinge pins and bifurcated barrel lumps – combined with Browning style lock up (which makes the 12 bore version a little deeper than a Beretta). Clever styling makes it look a little lower and more svelte than others of similar design. The single trigger is of the inertia type and there is the usual combined safety and barrel selector.

The gun is stocked in very presentable walnut and the measurements are pretty close to the modern norm. Length of pull is 14 7/8", there is ¼" or so of cast for a right-hander, and the bend (sometimes called drop) of the comb is 1 ½ and 2 3/8" from the rib axis (a little low at the rear in my opinion, but easily modified for those who require something higher). The stock has quite a glossy oil style finish - but West London offer traditional English oil applied by their gunsmith as an option. This enhances the grain of the wood and is more durable than anything else. They also offer to smooth off the chequering (which is exceptionally uniform and almost certainly laser cut) which makes the gun feel more refined in the hand.

Shooting Impressions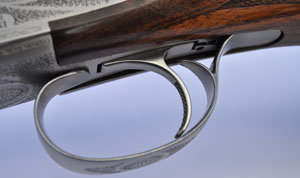 I shot the gun at West London, which is always a treat though I have been breaking clays there for forty odd (ouch) years. It is pointable, and swings well. The grip, comfortable comb, and near ideal forend design make the gun very controllable – you have much more purchase than in some less well conceived designs. The solid rib puts a little more weight forward, but this just seems to steady the gun. It is predictable and pleasant to shoot. It looks great. What more do you want? You certainly could not ask more for the money. Jono tells me they are selling very well he has both 20 bores and 12s in stock, including a pair of Maxum engraved guns in 12, and 3 consecutive numbered 12's and a 20 Bore in bore in the Essex style as featured. Prices are £2965 per gun, and  £2845 respectively. For under £9,000 you could have a trio and join the ranks of King George V and the Maharajah Dunlap Singh. Now, that's a Christmas present for the man who has everything!