Gun Mount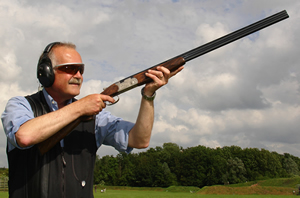 It has often been said by those that know how to shoot well that you must have a good gun mount as a foundation of everything else. Many who work at the retail end of the gun trade, for example, will tell you that they can immediately get some idea of a customer's shooting ability when they first watch him (or her) mount a gun in the shop. Experienced shooting instructors note the same thing. For example Chris Bird, Chief Instructor, at Holland & Holland once commented: "Actually one starts making judgements before the gun even comes out of the gunslip, but the first mount and preparation for it – clearing the gun properly and closing it with due care - tells most. It's a good gauge to experience and ability.  The starting position of the butt, where it comes to in the shoulder, control and timing..."
POINTS TO WATCH FOR WHEN MOUNTING (Chris Bird)
Left hand working well
No right hand lift
Guns mounted to eye
No element of head dropping on gun
The eye is locked on to target and the gun is brought up between
No breaking of visual connection between target and eye by moving head around too much...
Not obsessive about shoulder pocket:

"slightly in from shoulder joint" ... 
Skip to 1 minute in - Clip is from Mike's new natural shooting video available here
The gun mount is all of the swing behind the target....body moves first...left hand takes barrels to back edge...complete mount and follow through....
Focusing on target and mounting to it...allow the target to govern your timing...especially when they train on clays to shoot game...
"if game shots train on clays it is imperative that they learn that their target governs your timing. So that when you are in the field whether a pheasant is faster or the roosting pigeon is slower the translation from clays to game is much easy and is dealt with instinctively...the potential error is to be taught just to kill the clay with a specific lead of 2 6 – they have learnt to break the clay not shoot the target..."
You must focus on the target and mount the target to
For more detail on gun mount see Gun Mount For Clay Shooters