Hunting Impala with a Muzzleloader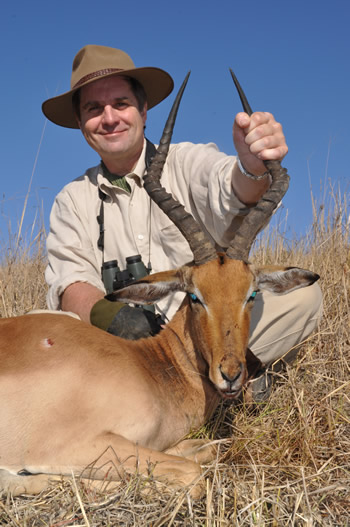 Muzzleloading for game has introduced me into yet another new shooting world. I reckon it took me two years before I became moderately competent with a flintlock front-stuffer. I shoot in Western Pennsylvania (where a flinter is mandatory). One has to learn to change the stone, work up loads, finding the right patches and "guess the grains." It is a whole art and science on its own! My reproduction gun is of later colonial style and good for 100 yards (but I would prefer to be inside 75). It's a surprisingly efficient hunting tool, moreover, capable of 2" groups at 75 yards. It is certainly quite good enough to do the business although of fairly ancient pattern. 
Anyway, that is where I was at with muzzleloader until a recent trip to South Africa gave me some hands-on experience of a whole new generation of muzzleloading guns – 'in-lines'. Like most things in firearms, though, the concept is old – the firstin-line, a hammerless flint lock gun, was made by Stanislaus Paczelt, of Prague in Bohemia about 1730. I had handled new generation in-lines in US gunshops, but never shot one on range, let alone on a hunt. Well, now I have had the chance to put that right. And, I was, metaphorically, blown away. The in-line muzzle-loader is a serious piece of kit that may be considered side by side most modern rifles. 
The guns I shot in RSA, made by Craig Klintworth's Mkonto Arms in Johannesburg, handled and shot just like any good modern rifle and offered genuine MOA accuracy. In-line muzzleloaders look like a normal modern rifle with regard to stock shapes etc. Instead of a nipple on the side of the barrel like a conventional percussion guns (and where the flintlock also has its pan), the inline has a nipple directly behind the breech which is struck by a hammer from the rear. It offers more efficient and consistent ignition. As for action types, there are several – guns may have an external hammer with or without break actions (Thompson's Encore). Craig's are of bolt action type (improving an old French design). He makes them in all calibres from .32 to 4 bore. He even does a 'tactical' model with a moderator (which he also manufactures) and a .31 calibre cane gun! Muzzle-loaders do not require a license in South Africa, and, like bows are becoming ever more popular. Many use reproduction percussion pistols for self defence in Southern Africa as well.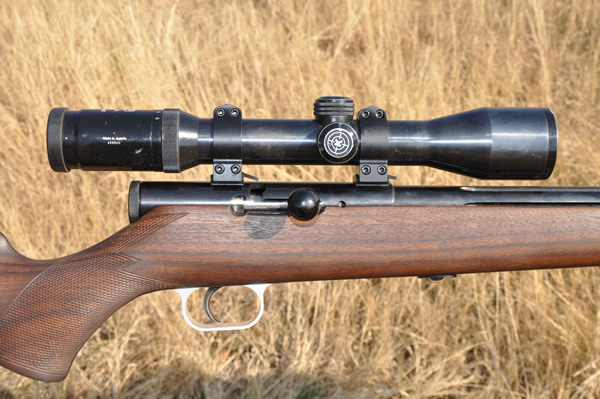 The .50 cal Mkonto with which I became most familiar was made by Craig Klintworth, as noted, but actually belonged to the host on my last African safari, Craig Simms of Oribi Outfitters. He is originally hails from Derbyshire, but spends most of his time blowing things up in the Middle-East these days (he's an explosives engineer for a mining company). As well as the Mkonto, he has a fearsome, slightly cut-down, Pedersoli double also in .50 cal (and regulated by the other Craig). What struck me about both guns was how well they handled and shot. I had no trouble with the Mkonto keeping my shots clover-leafed at 50 yards. Shooting the double offhand at 25 yards both shots were an inch or so apart – and that may have been user error!
Fast forward now, Craig Simms, his wife Amelia, and I hunted in Limpopo for buffalo and Kudu (and a few pigeons, francolin, and guinea foul too). We also went to the craggy vastness of the Karoo and lusher Kwa Zulu Natal. There we met up with Heinz Bunge – Craig's partner in Oribi outfitters – a professional hunter and another great and knowledgeable guy who chairs the Natal hunting association. Heinz is a farmer when he is not guiding and we put in a lot of work in the Karoo to shoot some great beasts, including, to my surprise, a fallow deer.
Heinz was especially keen, though, that we came back to his own region – Natal – and hunted on a property called Lake Eland which neighbours his macadamia nut farm. Having shot more than my fair share of beasts with Heinz using conventional equipment, the idea came up at Lake Eland of shooting (and filming) something with a muzzle-loader. We had the guns and the opportunity – why not?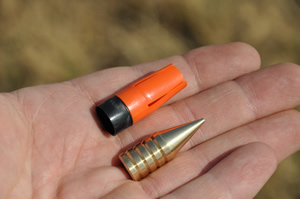 It was a choice between a Wildebeest and an Impala, the Impala won, or lost, the toss depending on how you see it. Impala are one of my favourite African gazelle, they are beautiful animals and I think underrated from a sporting point of view. Like Warthog and spring and blesbok, they can be shot very economically (if you want the African experience on a budget look no further than the Impala - and indeed get in touch with Craig and Heinz). Now, before returning to the hunt, let's get a bit techy. Craig Simms shoots a very interesting load through his .50 calibre guns – a turned .458 copper bullet in a plastic sabot with a 'power band' at its base (see pic). This is extremely efficient and accounts for the accuracy and killing power of his guns. The muzzle velocity is 1,800 fps with 120 grains of black powder substitute.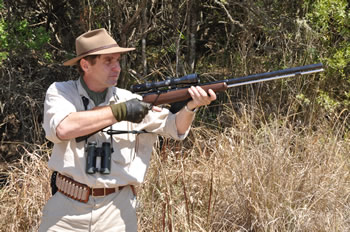 O.K. back to the chase. Starting early, we glassed up a herd of Impala through the clouds at Lake Eland. It was a wonderful place, and the romance of the day was made by this magnificent start. Craig prepped the gun, only leaving me to place the cap on the nipple when I was in position. Because I am a pessimist, I also took my .300 Win Mag Tikka along. It all went like clockwork, though. We worked the wind to our advantage. I got into a comfortable shooting position set my sticks up. The beasts came over the hill to my front on cue. I was, meantime, drinking in the beauty of my surroundings as a decent Impala buck was quietly breakfasting by a tree 100 yards or so in front. I looked through the Schmidt and went for his shoulder (my preferred shot in Africa). I squeezed the trigger and he fell over in a most satisfying manner amidst a small cloud of smoke. I favour the shoulder shot for Africa because it pins things to the spot. One wants to avoid wandering around the bush searching for beasts if possible.
The beast knocked cleanly down, I handed the handsome and effective custom Mkonto back to Craig, and went into it with my Tikka .300. One must never take any African animal for granted, even if you are sure it's dead. My SOP is to approach all game from behind, coming downhill if possible, I proud the eye with the muzzles. I do it everytime – make good practice a habit and you will not get caught out. Dangerous game often gets up once shot and seemingly expired (because of this, one always puts in a final shot when it is downed), but plains game - not to mention Sika and Red stags in my experience - can do it too. Don't take chances.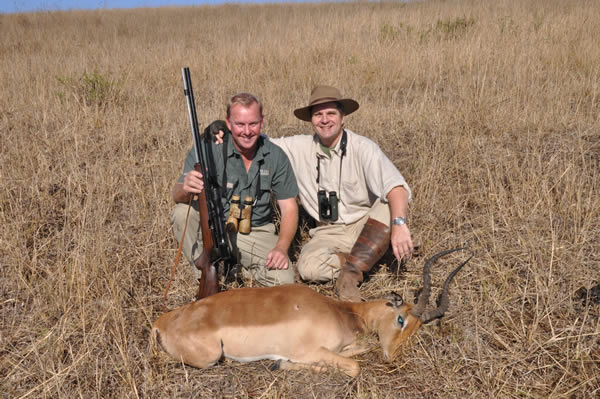 My impala, happily, was stone dead, but after honouring it with a pat (another of my odd habits) I noted that the poor creature had one of the worst tick infections that I had ever seen. They were of the smaller type and they were everywhere on it, especially around the neck and hind quarters. One has to be quite careful when handling such a carcase. This was, all things considered, a most memorable and satisfying hunt. It began in the clouds, there was the added interest and excitement of the excellent muzzle-loader, the kind support of Craig Simms and Heinz, and an ideal conclusion. Every beast shot in Africa, one way or another, soon enters the food chain – meat is a valuable commodity there, I might add. Meat is never wasted, it's just too precious. As for new adventures with muzzle-loaders. I shot a Mkonto 4 bore on range in Jo'burg with Criag Klintworth – it was a (surprisingly accurate) smoothbore throwing a 4 ounce lead balls with 300 or 400 grains of BP substitute behind it. Quite a boomer, and one I hope to shoot a buf with soon.