Miroku MK38 Trap Grade V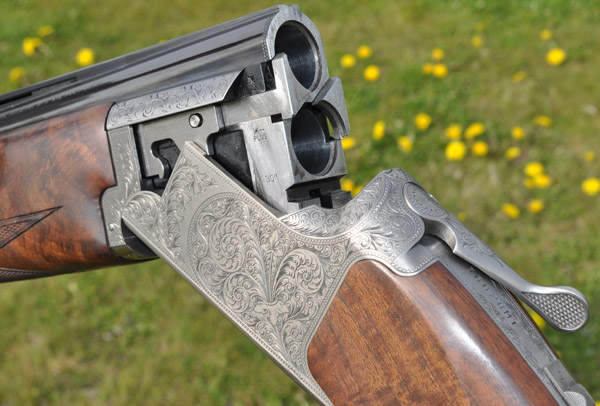 History
The MK 38 is an evolution of the Miroku over and under, itself a near copy of the Browning Superposed B25. The current Japanese gun traces its ancestry back to the old Miroku models 6 and 800 which were similar, but had shorter actions than recent guns (some had V springs too, whereas all the modern guns are coil spring powered). Miroku were making these models before they developed an association with Browning in the 1960s. The 800 was my first serious clay machine, I might add, it morphed into the 3800 skeet and trap which were very similar to the 38.
Now, the MK38 is available in various forms as noted. The quality is as good as ever in all grades, perhaps better than some of the early production. There is more hand work in Mirokus than many guns. Each gun is still carefully pattern regulated before leaving the factory (which by the way is situated on an island and also makes some automotive parts).  All the guns in MK 38 line-up are now back-bored at about .740" compared to the old 12 bore English norm of .729 (now .728 due to metric shenanigans).  Mirokus have been used by some of our best shots including Mark Marshall, Stuart Clarke, Carl Bloxham, John Dunne, Graham Stirzaker, Paddy Howe, Andy Moon, Kevin Mayor, Martin Elworthy, Ian Peel, Kevin Mayor and Pete Cole to name but some. Recently, Olympic hopeful and former European Champion, Steve Scott has been using one for double trap.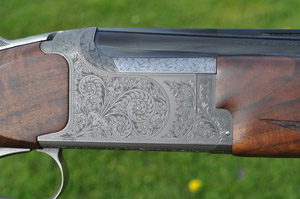 Miroku guns, built in Japan, have a strong following of enthusiastic users. There is a good reason for this, they offer real quality at real world prices. The grade 1 guns are great value, but, I don't think you can buy more gun than the Grade V these days for an RRP of £2,610 for a hand finished gun. I am certainly biased in their favour. You can pay double or triple for less quality. Before moving on the test, I might note the grade one MK 38 trap gun has a recommended price of only £1,350 in either 30 or 32" form, an adjustable stock boosts this to £1,590. Oddly, Miroku trap guns are only available in grade 1 or 5. The sporting stablemate – which has Invector Plus Teague chokes comes in grade, 1, 3 and 5 at £1,495, £2,040 and £2,550 respectively. They're all a remarkably good buy.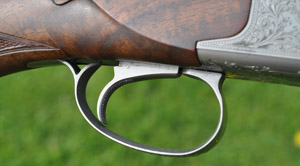 Now, for the test gun. It is a fixed choke, three-quarter, full trap gun with a full comb, large but nice pistol grip and a beaver tail forend. The barrels are 32" long which is my favourite length for this model. The gun looks very good with excellent wood (which might, however, done with a bit more oil), tasteful scroll engraving on the silver polished action and really deep, lustrous, blacking that is up to best gun standard. The trigger is elegantly shaped, solid, and, thankfully, plain steel.  Yup, I really like the look of these guns. If you can afford the extra for the Grade V, it is money well spent. What does this one feel like? Quite big!
When you bring the MK 38 to the shoulder it feels pointable and steady. It is not lightweight, hitting the scales at just over 8lbs. Because of the fixed choke barrels, though, there is not an excessive amount of weight forward – which is why many people choose to 'sporterise' this model (which usually involves comb lowering and opening the chokes or getting Nigel Teague to work his magic on them). When I do this, as I have recently for my shooting buddy, Peter Jackson, I like to taper the comb a little as well (but, not too much – just enough so that it eases into the cheek on mounting and relieves the face slightly on recoil).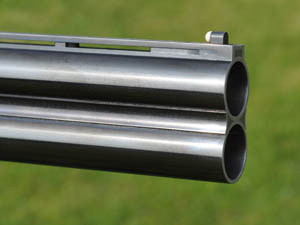 The monobloc barrels of the Miroku are proofed for 2 ¾" cartridges (who needs 3" chambers on a competition gun) and modestly back-bored at .740." The chambers lead to traditional short forcing cones (as both Miroku and Browning prefer). In a game gun, in which felt loads may be used, there might be something to be said for shorter cone. On a cold day with fibre wads big bores and short cones can create pressure/obduration problems. On a competition gun, though, intended for use with plastic wad cartridges, my preference would be for longer cones to smooth the passage of wad and shot as it passes down the barrels. Short cones would, however, be ideal should the gun be used for high-bird work (as a good number of MK 38s are).

The action on the test gun needs little introduction. It is supremely reliable and the last creation of gunmaking genius John Moses Browning (who perfected it in the 1920s leaving his son to develop a single trigger – different to the one in use today - after his death). It is about as well proven as any design could be. It has been in production for over 80 years. The Browning design puts the lumps beneath the barrel and includes a full width hinge pin which emerges from the action face to meet a full width bite beneath the bottom chamber mouth. Helical springs power the hammers. Miroku have only slightly modified the original concept. The action is virtually identical in concept, but does not have the cut-out in its belly for a forend lever as seen in Belgian B25s (but not Japanese made Brownings). The forend on a Miroku (like that on Miroku made Brownings) does not remain attached to the barrels on disassembly.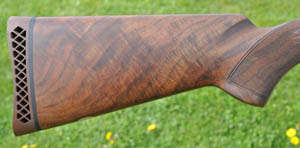 The test gun's stock was made from well figured wood as noted. It was finished with traditional oil, but could have done with an extra coat or two to bring it to perfection (something a proud owner might easily do with a little rubbing). The full pistol grip was excellent and even in depth. I find that this style of grip is one which suits most people and is especially good for those with big hands. Other makers could do much worse than take this standard Browning/Miroku shape as their model. The length of pull was 14 7/8" with a curved ventilated trap pad which was 1" in depth. The comb was quite high as befits a trap gun and had a little more taper to it than some Miroku trap guns that I have handled. There was a smidgen of cast for a right-hander (you never find much on Mirokus and Brownings).  Checkering on the gun was well cut with neat, traditional borders. Combined with a good grip shape, it offered excellent purchase. The forend was adequate, but a little bit big for my taste, I like my hand to be closer to the barrels.
Shooting  Impressions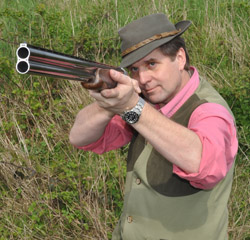 This is good gun to shoot, but, though I have praised it up considerably (and deservedly so) in the text above, I have to say that I have never shot especially well with the big Mirokus myself in recent years (I used to shoot my 800 model trap gun to some good effect, though). This is personal thing, I know a lot of people who shoot them brilliantly. I certainly shoot the modern back-bored guns better than previous models because they feel softer in recoil. I also prefer the 32" model to the 30 because of its increased pointability and precision. I don't why I don't get on so well with them. I always note a slight ringing on firing. Let me make it clear, though, that I recognise and admire the intrinsic qualities of the gun. The MK38 is a great buy for someone who is not as recoil sensitive as I am. It really looks the business in Grade V form, and, as discussed, it is very fairly priced - one of the best buys on the market.

My thanks to Eastern Sporting, Park Street Guns, Browning International, and, Lyalvale Express for supplying the cartridges used in this test.

Tech Spec.

Make: Miroku
Model: MK 38 Trap Grade V
Bore: 12
Chamber: 2 ¾" (70mm)
Barrels: 32 (30" option)
Rib: 10mm
Weight: 8lbs approx.
RRP.: £2610 (£2860 with adjustable comb)