New William Evans St. James 12 Bore Review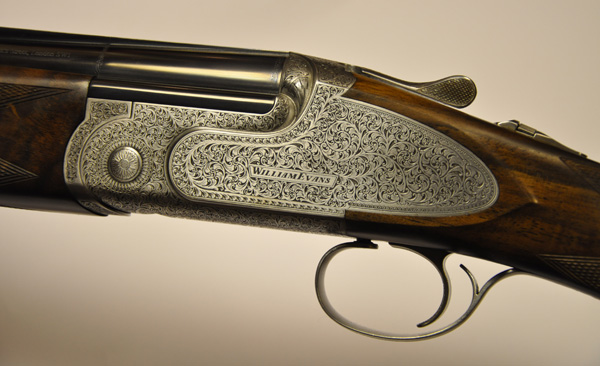 In this article we have a bit of quality for you, the new 12 bore William Evans St. James over and under gun. The 20 bore version was introduced a couple of years back, and, I have to declare a bias, I was a consultant at the early stages of the project. The guns, however, have evolved far beyond my initial input. They are partially built for William Evans by Caesar Guerini in Northern Italy, delivered 'in the white' and finished in the UK to famous London firm's precise specification.
First impressions of the St James 12 are very positive. It is a particularly smart looking gun, with a beautifully engraved, side-plated, action, and an especially elegant stock with a rounded, Boss-style forend, and a well-proportioned semi-pistol grip. The quality of finish is exceptional, and the styling what you would expect of both firms. The pattern for the engraving – which is applied by high tech means and finished by hand – was taken from a gun that we built in 1910 for HRH Duke of Connaught. The bottom line is ten grand plus VAT – so, the St. James isn't cheap, but it's a very smart and rather exclusive bit of kit. And, it's just about within the reach of normal mortals.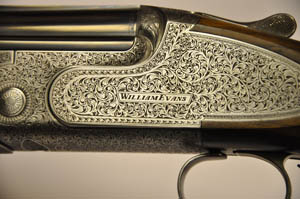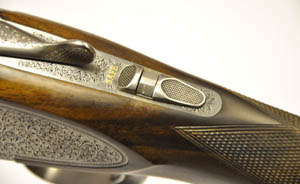 So, it looks good, but what does it feel like? In a word – solid. The St. James in 30" form as tested hits the scales at just over 7lbs 10oz (though a weight range of 7lbs. 2oz. to 7lbs. 12 oz. is possible depending on barrel length and stock wood density). It's not a lightweight as tested, but it has a steady quality as it comes up to face and shoulder well. It is, moreover, significantly lighter than many modern sporters. But, don't forget, it is intended as a hybrid game and sporting clays gun.

As such, it is well weighted (although my own preference would be to knock a couple of ounces off the barrel weight if I intended to use the gun exclusively for live quarry). The just sub 7lb. 30" St. James model 20 bore is near ideal for me, and, I have to say frankly, that if I was looking for a normal game gun, that is the route I would go. But, the 12 bore St. James, will be a better high-bird gun, a much better wildfowling tool, and a better clay buster too.

What about barrel length? These guns – 12 and 20 – are available in 28 and 30" form with the option of 32" as a special order. All are multi- choked, with Teague chokes as an option. I tend to advise 30" as the right length for most sporting shots. 32" guns should be considered experts tools as far as clays is concerned, and for field use, there place is on high bird shoots and wildfowling.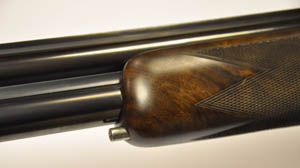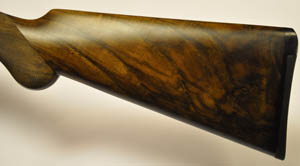 Longer barrels allow one to be more precise on harder targets, but one has to have the skill to use them. One also has to consider the gun in question. If was buying a KM4 Kemen or an MK38, I wouldn't hesitate, I'd always go for the 32" version – those barrels just suit the gun. As far as the St. James guns are concerned, however, I would almost certainly  opt for a 30" 20 bore, I would go for a 30" 12 bore too if I was wildfowling, high-birding, or using the gun for clays as well as game. For normal game shooting, though, I would probably go for 28" barrels. That said, I would love to try a 32" 20 bore, as that is what I normally shoot these days (my normal game gun is a similar 32" Guerini paired with 30 gram Express 5s).

Technical

Looking at the gun on the test bench, the St. James barrels are especially well put together. They are monobloc, beautifully blacked, and have well machined and rimmed 76mm (3") chambers. The bores on the test gun measured 18.6mm top and bottom – ideal in my book. The forcing cones are a little longer than the average (good too), and the bores are exceptionally well presented. Unlike many guns today, the tubes are perfectly straight with concentric shadow circles all the way down when one holds them up to light. I note some manufactures are letting their production slip in this important aspect (and cost is no guarantee of straight barrels these days). The St. James maintains the standard.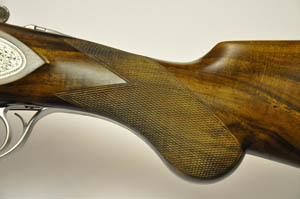 The 10-7mm solid and tapered rib was well down with a file cut surface. This presented an excellent picture to the eye, naturally leading focus to the target. The traditional metal bead is shaped like a little mushroom and perfectly suited to the rib, being brass it is much more durable than a plastic sight.

The action of the St. James is not revolutionary, but it is beautifully presented and well jointed to the barrels. Recesses on the monobloc mate with stud pins near the action knuckle as in a Beretta, Perazzi, Rizzini or Woodward (where they all got the idea). There is a full-width slot bite beneath the bottom chamber mouth, which is engaged by a bolt that emerges from the bottom of the action face in Browning style. This results in a slightly deeper action than one that employs a Woodward or Boss style bolting system. But, in this case, the action looks pretty trim which may be put down to good styling and, notably, some subtle and elegant shaping of the action body itself. The mechanics of the action design may not be radical, but they are well proven. The single, selective, trigger is recoil activated, coil springs power the hammers, and there is the modern style of combined barrel-selector and safety on the top strap.

Stock-wise, the St. James's butt and svelte forend are made from superior walnut which has been traditionally oil finished and are well chequered. I could wax quite lyrical about the shapes and dimensions, but,  as I had a hand in them it might sound insincere. The slim, but not too slim, forend (which Evans have developed themselves) is first class and might only be improved by a metal cap to the release button.

The half pistol stock is superior too. The hand is ideally positioned so that the wrist does not need to be cocked too much (and consequently the gun is easy to control and to hold up at the ready). The taper comb is classically British and also gets an unequivocal thumbs. What about dimensions? Length is 14 ¾" with a thin Pachmayr black rubber with hard heel plate (although stocks can be plugged and chequered to give a traditional all wood butt if the client prefers it). Drop is 1 1/8" and 2 1/8" – my 'shelf' ideal for an over and under. There is slight cast for a right-hander (but, please note a left-handed version is also available).

Shooting Impressions

I have shot this gun in the field – at driven pheasant and partridge at the excellent Mornacott shoot near South Moulton courtesy of Andrew Blowers – and, I have shot the gun on the sporting layouts at Bisley. It impressed on both occasions. It's well balanced and feels refined. I found it quite hard to miss clays with it. Recoil was light, and it was very forgiving and natural to use. As for game, it was good too, but no-one hits everything even with a superb gun. Frankly, I prefer the classically proportioned 20 bore for live quarry – you could not get a much better gun for this purpose. Would I buy one? Would I pay the extra dosh for the extra finish? If I had the money – definitely. I think I would buy a 20 for the field and a 12 for clays.

We like

The style
The engraving
The quality of finish
The forgiving and natural way it shoots.

We don't like

The price! But, quality does not come cheap today.