Purdey Damas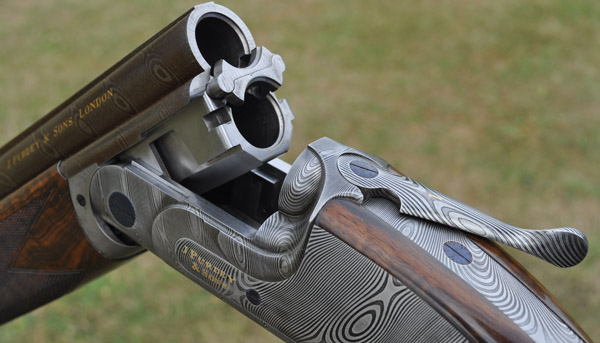 Have you been a good boy? If so, and you are very, very, lucky, Saint Nicholas just might leave a Purdey under the tree this Christmas. If you have been positively saintly, eaten all your greens and never told an untruth, it might be the new Damas steel Purdey Woodward Damas over and under. Bad boys can dream. The gun costs a cool 100K. You may not be able to afford it, but you can still appreciate it. Angelina Joli might not be inclined to accept my dinner invitation this yuletide, but I can still admire her lines and mysterious allure (well it's not that mysterious). With the Purdey, I get the chance for test firing too.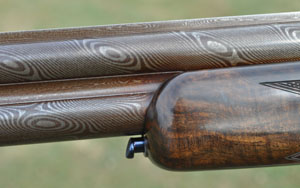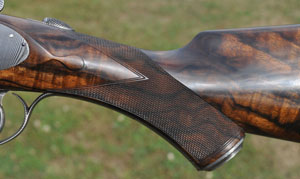 O.K., enough innuendo and titillation, let's get on with the serious business of looking at what must rank as one of the world's most extraordinary sporting guns. This single-trigger, sidelock, is, essentially, a round bar 20 bore Woodward (a design patented in 1913, and, acquired by Purdey when they took over Woodward in the late 1940s). The gun is made by a combination of high tech machining and traditional bench skills. Workmanship is, as one might expect, impeccable. Design and specification are equally impressive.
This most exclusive Purdey hits the scales at 6lbs. 14oz. – an ideal weight for a modern over and under in this bore size. It has 30" barrels – which are browned and London proofed – and a solid, elegantly tapered, sighting rib. The action has no decoration. The patterning of the steel is visually arresting of itself. The stock is both slim and ergonomically efficient with a dainty full pistol grip and an elegantly rounded forend. Finish is classic Purdey Slakum oil. The gun has a recoil activated single trigger (older Woodwards, like older Purdeys, had a mechanical type when made with single triggers).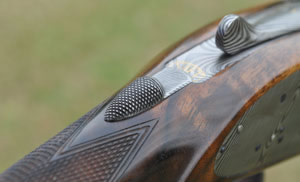 Woodward were famous for best quality side by sides, and an over and under which was judged by many to be the best of all (the test gun is a slightly evolved stylistically, Purdey still make a pure Woodward over and under for those who want it). Unlike the rival Boss – which has rotating bushes at the knuckles – one of the key features of the Woodward is that the barrels pivot on stud pins (as have since become standard on so many over an unders - not least those of Beretta).
Like the Boss (patented 4 years earlier in 1909), under-barrel bolting is achieved by small, square section, bolts coming out of the breech-face and engaging with bites to either side of the bottom chamber mouth. The Woodward also incorporates a tongue and groove system which locks the barrels to the side of the action walls. I don't know of many copies of the Woodward system, it is extremely strong, but very difficult to make, the 'draws and wedges' of the Boss are easier to imitate (and seen in Perazzis and Kemens amongst others).
Damas Steel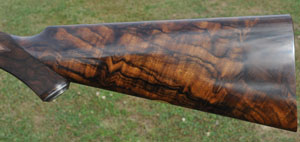 This gun is distinguished by the steel used in the manufacture. It is not old fashioned Damascus, but very new fangled Damas – a combination of two powder steels brought together in a vacuum process which not only creates a Damascus like look but extraordinary strength. AISI 4140 (EN19) and AISI 4340 (EN24), the two constituents, are manufactured by Rapidly Solidified Powder (RSP) technology for Purdey using what is called the Hot Isostatic Process or HIP.
Powder steels have around twice the fracture strength of normal steels. The molten steel from the refining furnace runs into a nitrogen-filled vacuum chamber. In the chamber powerful gas beams atomize the alloy into a fine powder. The AISI 4140 (EN19) and AISI 4340 (EN24) powder is mixed in layers just like a marble cake in a special mould. The mould undergoes a Hot Isostatic Melting Process under vacuum pressure and the powder then welds together.
The material is hot rolled to size in a series of passes on a rolling mill. During this process, it is subject to much higher stresses than normal, so production must be done in small volumes. The final stage before work on action and barrels commence is the twisting process. This not only gives a unique pattern to the steel but also increases its strength.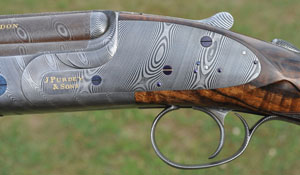 After twisting the chopper lumps and action component parts are forged to shape in a traditional blacksmiths shop (in Sheffield). The forged components are x-rayed and certificated to ensure that the materials used in the Purdey Damascus steel gun are perfect. The process combines the use of the best 21st century steelmaking technology with ancient artisan skill. Needless to say, it is costly and time consuming.
Shooting Impressions
I would describe this as a tight and precise gun to shoot. It points and swings well. Triggers are crisp. I did notice a little recoil when I shot it at West London, on the other hand, I shot 39 out of 40 sporting targets with it (with one second barrel). It shot. But, this is more than just a gun, it is a testament to the skills and imagination of modern British gunmaking. Bravo to Purdey. I hope they continue to make such gorgeous guns for decades to come.
We like
The daring aesthetics
The sensible basic specification
The fact that a best maker is still willing to take risks
We don't like

Parting with £100,000
Tech Spec

Make: Purdey
Model: Damas Steel over and under
Bore: 20
Barrels: 30" (or as you prefer)
Weight: 6lbs 14oz
Price: You know you can't afford it.