Shop
Buy Mike's POSITIVE SHOOTING DVD and get the simple secrets you need need to become a better clay shot. It's perfect for anyone just starting to shoot but more experienced shots will also find it invaluable.
IN POSITIVE SHOOTING top instructor Michael Yardley demonstrates the technique he has taught to hundreds of students. POSITIVE SHOOTING highlights the importance of mental and physical preparation for shooting, and presents the viewer with a simple but devastatingly effective technique for shooting sporting and skeet type targets. Neither maintained lead or swing through, it involves applying three fundamental principles, good balance, good rhythm, and above all else, good visual contact with the target. 

The DVD is packed with material of interest to the shooter. As well as instruction in the POSITIVE SHOOTING technique, there is information on other techniques, tips for specific targets, expert advice on gunfitting, gun selection and not least safe gun handling. One feature of the DVD is that a miniature camera has been attached to the gun for some scenes, so the viewer can really understand the different methods of shooting. 

The POSITIVE SHOOTING DVD sets new standards in instruction. It is not just another shooting DVD, but a professional production which will create a datum by which future shooting videos are judged. Michael Yardley was in a unique position to position to make this DVD, apart from being a highly qualified shooting instructor, he is a qualified experimental psychologist and regular broadcaster on BBC and independent television.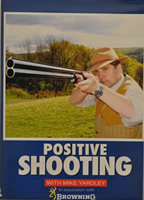 £29.00 £19.99 + £2.99 postage and packaging
WEBSITE LAUNCH PRICE FOR A LIMITED TIME ONLY