Should You Go on Safari?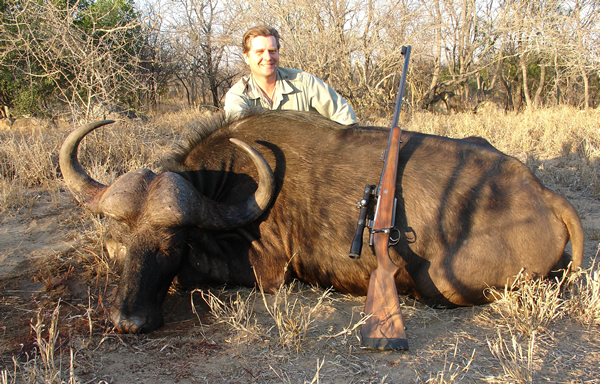 For some shooting in Africa is the ultimate adventure, for others, the ethics of shooting big game (even plains game) are questionable. Well, let me start by pinning my colours to the mast. I do shoot in Africa, and it has been a wonderful experience for me. I have knocked around the 'Dark Continent' quite a lot over the years. I have trekked through Tanzania and Zambia, climbed Kilimanjaro (last year with a team from Bahrain), and I have been on several shooting and fishing safaris. My last was in South Africa. On this I encountered many species of game, and shot a Wildebeest Bull weighing about 600lbs and – after some very narrow shaves – a Cape Buffalo Bull weighing near 2,000. In past, I have hunted in Namibia – for kudu, oryx, hartebeest and springbok – and also harvested meat for butchers when funds ran out on the edge of the Namib desert. I have also enjoyed pulling tiger fish and barbell out of the Zambezi from a camp in Namibia but in sight of Zambia on the opposite bank.
So, I have done my share. BUT, I set clear ethical standards. In my book, Albion or Africa, there are only two reasons for shooting something – because it can be eaten or because it is a pest. I have friends who have shot big cats (and I have stalked a predatory cat on a wilderness farm because it was a threat to livestock) and elephants. Good arguments can be presented for both, but it is not my sporting thing. I have drawn my line, for the moment at least, with buf and antelope. I have no problem justifying what I do. Indeed, I think more people should hunt some of the meat that they eat. It changes your perspective.
Our culture tends to deny death. Too many think that steak or chicken comes in a plastic wrapper from a supermarket. Of course, it does not. It was once part of a living creature that deserves to be honoured in death as in life. Having visited abattoirs, I would much rather eat meat that has been harvested in natural surroundings. Apart from tasting better and being free of additives, it ensures that one is presented with the consequences of one's own actions. One cannot hide from the truth – if you like meat, you must come to terms with the killing of it. Hunting, expertly done, is by far the best means to harvest meat in my opinion.
There are some things that should be deplored, however. There is much talk today of so-called 'canned' safaris – safaris where animals such as lions are shot without 'fair chase' in very dubious circumstances (in some cases animals may be drugged). This is despicable. Much the same may be said of shooting routinely from vehicles at plains or big game (I include the caveat routinely because there may be rare occasions when a shot needs to be taken from a vehicle, for example, when a previously wounded or sick animal needs to be shot at range). Nor, am I an advocate of baiting unless it is to bring in a problem beast that poses a direct threat to livestock or people.
Shooting on enclosed properties – the norm in South Africa and Namibia – should not be dismissed out of hand, however. It need be no more unsporting than a good driven pheasant shoot. It also accounts for the very healthy increase in numbers of many species in Southern Africa (a number of which are at 50 year highs). I have, as well as traditional tracking in remote areas, done considerable hunting on enclosed properties in Southern Africa. On the last two occasions it took several days even to find the quarry species that was eventually taken.
A lot of rubbish has been written and spoken on this subject. What counts is your attitude and the attitude of your professional hunter and his staff. Hunting on an enclosed property can be just as satisfying an experience as hunting on the bushveld. But – like pheasant shooting – greedy people can turn an enclosed hunt into a 'turkey shoot' where beasts are presented in an unsporting manner merely to turn a quick profit and make up for the incompetence of the client. 
I would go as far as to say that enclosed hunting has a very important educational role. It is an ideal place to learn hunting skills that may later be applied to other situations. Fenced areas might, typically, be anything from 500 to 50,000 acres. Even smaller properties can offer real sporting opportunities. Game that is enclosed is typically very wary. It adapts to the environment.