New Beretta Silver Pigeon 1 32" Review by Michael Yardley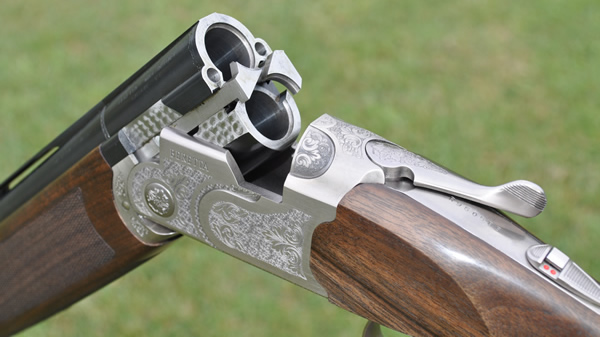 Guns find their way into these pages by different means. Sometimes, one hears of something new from a distributor, or, sees something that especially appeals on visiting a show, or, gun shop. Occasionally, a friend or acquaintance will mention a new gun is especially worthy of consideration. The PR people who work for the big importers are often active in promoting their own product too (as you would expect them to be). Generally, though, I prefer to choose things for myself and by dint of own research and jungle telegraph. Guns are particularly likely to gain my attention if they are the sort of kit that I might use myself. That may not sound very objective – it isn't, and, there are exceptions – but it is truthful. I think you can always make the best job of reviewing a product that really interests you.
This month's gun certainly ticks all my boxes. We recently tested the new Browning 525 30" which was a genuinely outstanding Sporter. Back-bored, with reduced barrel weight, it was clearly a winner, and marketed at an excellent price as well. Well, throwing caution to the winds once again this month, we have another simply stomping gun – a new 32" Opti-bored Beretta Silver Pigeon Sporter.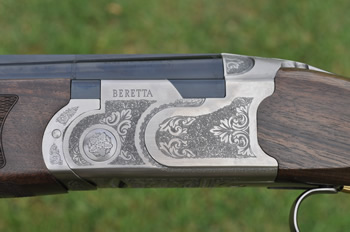 I break with precedent again, giving my verdict early, because it is such a remarkably good gun for the money. Why hold you in suspense unnecessarily? Arguably, moreover, I would say this is probably the best Beretta that I have ever tested when you consider it in a cost:quality context. A big claim. Why am I raving so much about it? Because I shot it! It did the biz. 
It all happened by accident too. I stopped in at West London on the way to the Barbour Linhope Challenge the other day which was happening a little way down the M40 at West Wycombe (and which my some small fluke my team managed to bag). I had some time in hand, and started chatting to friends in the shop. "You should have a look at this new Beretta" "What new Beretta?" "The Silver Pigeon 1" "I've already tested it" "The 32 Sporter?..." "A 32" Sporter?" "Yup, and Opti-bored too" "Show me!"
West London must have had one of the first of these Long Tom Silver Pigeon 1s in the country. In standard form it is an impressive gun offering great value for money, but this 32" Opti-bored, Opti-choked gun is outstanding (like the new and similarly priced Browning 525 as noted). It was immediately evident when I picked the new Beretta clay buster that it was a winner as well. The gun is extremely pointable with light – 1430 gram – tubes and a well proportioned, taper, rib.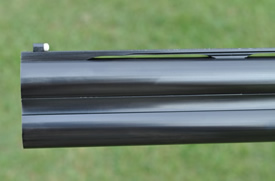 This is the lightest set of standard barrels that I have seen on a 32" Beretta. And, to put that into some sort of comparative context, let me note that Kemens – guns which I have a lot of time for when they are good – typically have barrels in 32" configuration weighing about 1550-80 grams, Perazzi, another brilliant competition tool, tend to be around 1600 grams, even 682 Beretta Gold Es usually tip the barrel scales at about 1450 grams. I am great believer in relatively light-for-length barrels as a means to achieve the apparent paradox of pointability combined with swingability.  
So, our Silver Pigeon has notably light barrels, but they are not too light. Nor is the gun especially light overall. It weighs in at 8lbs 1oz. I would say this was about right for a serious sporter. The barrels weigh 3.2 pounds in 'real money,' minus the forend. They are distinguished not only by a full Opti package – larger bore, long chokes, long forcing cones etc. – but by an excellent 10-7mm taper rip which is as good as anything that you will come across. There are solid joining ribs which extend just beyond the forend tip (they are absent beneath as is the modern Beretta and Perazzi norm).
The sighting rib itself is vented and equipped with a relatively large white bead (my one point of criticism, for the sole reason that this design of bead seems prone to coming loose. The gun has 3" (76mm) chambers and is proof tested at the branch of the Italian proof house within the Beretta 1 factory in Gardonne. Chokes are flush fitting (though you could easily add some extended tubes without over-stretching yourself). The barrels, of course, are monobloc, well up to the usual Beretta standard and have engine turning on the side of the monobloc which always looks good.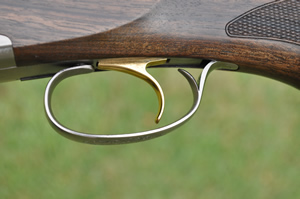 The rest of the gun looks, well, like a Beretta, but there are some subtle differences if you look hard. The action design is classic Beretta 600 series – trunnion hinging on stud pins, conical locking bolts, and, (solid) barrel shoulders which engage in the action walls as per usual. There is a slightly different finish on the receiver compared to Silver Pigeon S model. Older Berettas had a high nickel content on the plating which could make them look a little yellow, this is more steel coloured with a slightly different scroll pattern. It looks as if the engraving may been applied by a new process, moreover. Aesthetically, it works.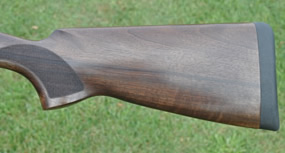 The stock does not present any unpleasant surprises either. Not much new to report - but nothing bad. The grip is fairly open, the comb, showing some taper, comfortable without being too thick, and there was quite a deep, heel and toe radiused, pad fitted, for a length of pull of 15". One could lose ½" of that without gunsmithing with a thinner pad. Drop is a standard 1 3/8" and 2 1/8" at heel. The Schnabel is the familiar Beretta snabel.
Shooting Impressions
I don't think these could be much better.  It was a superb gun to shoot regardless of the price tag. Forgiving and fun. It points well as discussed, felt recoil with 24 gram cartridges was low. It was natural to use and, though quite large, moved well with less weight forward than is the norm in most modern sporters. Trigger pulls were pretty good too (better than a more expensive Beretta I tested recently). Here's the bottom line. For the money, it is probably the best gun that I have yet tested! Taking money out of the equation, you know what? It is still one of the best clay guns tested here in recent years (well, the Kemen Titanium might just pip it – but, it is 40 or 50 times the price). If you need a new clay gun and don't want to take out a mortgage – buy one. There is a 30" version (also Opti-bored) if 32" sounds a bit too much gun, but I would go with the 32, it's outstanding.    

Technical Specifications
Make: Beretta
Model: Silver Pigeon 1
Bore: 12 (Opti-bore)
Chamber: 3" (76mm)
Rib: 10-7mm
Chokes: flush fitting Opti
Weight: 8lbs 1oz.
RRP: from £1495