The Birmingham Proof House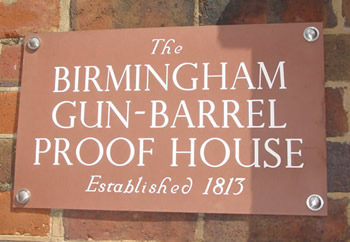 The Birmingham Proof House is a unique national treasure. For anyone with an interest in the history and technology of firearms it is a place that simply must be visited (like the Tojhusmuseet in Copenhagen or the Royal Armouries at Leeds). It is not only a working proof house, but several museums, a centre of research and development and, not least, a most significant piece of British industrial, military and sporting history.
Roger Hancox, 57, is the current Birmingham Proof Master, the ninth since 1868; prior to this date a Proof Master and two wardens were appointed annually.  Before taking up his appointment as Master in 1995, he served for 11 years as a Guardian of this very traditional institution; serving at the end of his tenure as Vice Chairman. He is a cheerful man with evident commercial acumen and a first class scientific mind. His background is not quite the traditional gun-trade norm. Until 1993 (when he sold out to Eley) he owned Accles and Shelvoke manufacturers of humane killers, blank cartridges, riot guns and ballistic equipment for testing high voltage cables.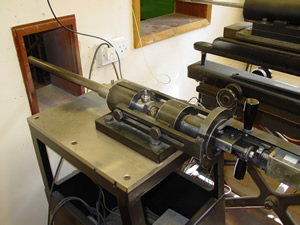 Roger has overseen a considerable programme of restoration and refurbishment in the last half dozen years. The Proof House laboratory has been completely modernised. Computers have been introduced on a wide scale and a data base for arms created. The 'new' master comments with evident satisfaction, "We did not have a record of proof before and only a paper system for certifying deactivated arms." He also notes most optimistically: "We are very busy at the moment, averaging in the region of 20,000 guns a year for testing - excluding de-acs".
 Where do all these guns come from? Some are newly manufactured in the UK, others are older guns being presented for re-proof, many, though, are surplus weapons or imports that must be proof tested before re-sale. Any gun from the USA or Japan, for example (neither of which have a national system of proof or are signatories to the International proof Commission - CIP), must be subjected to proof before being sold in a CIP member state.
 Twenty thousand guns a year is a significant number, but the high watermark for the Proof House was actually in 1862 when more than a million weapons were tested when the Birmingham Trade supplied guns to both sides of the American Civil War. At the height of the Birmingham trade, there were also branch proof houses. BSA had one, for example, and, at its peak, that firm made as many as half a million guns in a year.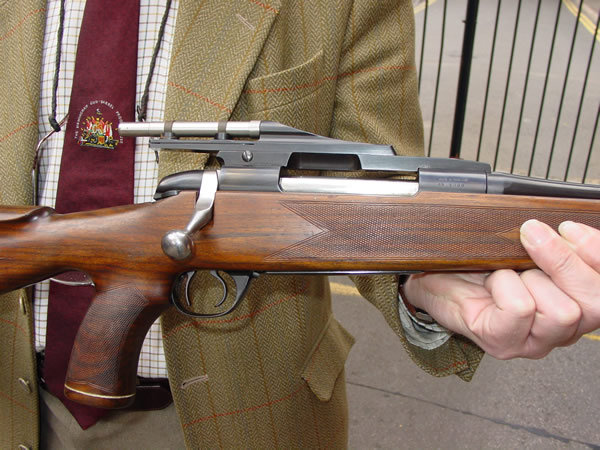 Above - A stalking rifle once owned by the Duke of Edinburgh in the Birmingham Proof House
Roger stresses the diversity of operations at the modern Proof House. "We do a lot of different things today, including ammunition testing, CIP Cartridge Control, deactivation certification and reports on damaged arms [e.g. why did a barrel fail in use]. For the foreseeable future I would like to think that the Proof House will continue to be fully involved in its core activities of proof and ammunition testing. Having said that, it has been the aim of the Guardians to commercially exploit the history and artifacts of the Proof House. To this end we have developed Arms and Ammunition Museums. The intention is both to utilise all unused space and provide additional income. Whether in the next 40 years the museums become larger with a reduction in core activity is a matter of speculation."                          
The Proof House exudes history from the mortar of its bricks, not to mention the barrel of its mortar (once used for  annual powder testing and now fired to mark special occasions). Computers and high-tech testing gear there may be aplenty, but the place seems to exist in a marvellous time-warp (a fact not lost on the resident ghost). The facility was founded by Act of Parliament in 1813 (opening its doors the following year). There had been military and commercial proof houses  in the city before - Birmingham had been a centre of gunmaking since the late l600s - but the Proof House was the result of lobbying by the Birmingham trade who in the early 19th century were being rather bullied by their competitors in London.
At this point, let me introduce Proof House historian and curator, Bill Harding, 59, an ex-West Midlands Police officer who has devoted much of his considerable energy to researching the history of the Proof House and developing it as a museum site. Bill is camera shy (hence no picture here) but he has worked tirelessly to organise and expand the collections. He has a dry sense of humour. When, for example, Roger Hancox told me that most of the old proof house laboratory equipment, now replaced, would have been better off in a museum, Bill instantly quipped "most of it is! He should know, being the man who has exhaustively catalogued thousands of items that might have otherwise been lost.

If you want to find anything out about the history of the Proof House (or indeed of the development of ammunition) ask Bill Harding. He notes, for example, that the proof house was started for three reasons: because proof was not compulsory in the early 19th century (which allowed shady merchants and slave traders to get away with selling dangerous guns made from poor materials); because the Midlands area was the main national centre for barrel production- and because London gunsmiths raised a Private Members Bill in Parliament to make it obligatory on Birmingham gun makers to mark on their arms, their name and the town of manufacture .This last factor, led a delegation of angry Birmingham gunmakers going to the capital to state their case for anonymity and winning control of their own trade. They returned to peeling church bells, the Act in their favour being passed in June 1813.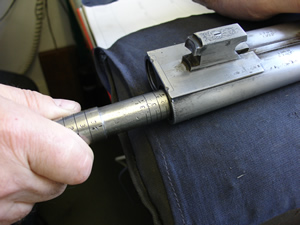 Bill has created one of the finest ammunition reference collections in the world. I was especially fascinated by the Soviet era assassination munitions (including one which could deliver a bullet into a target giving a false impression of the original weapon used) and by the trident firing pin Greener police ammunition (if the wrong people got hold of it, they could not fire it back). But, these are just two examples of thousands. It is also truly amazing to be able to see the entire development of the shotgun cartridge in one place - all beautifully researched and displayed. What an achievement this is. There are other treasures - early breechloaders, patent prototypes, one of Prince Phillip's stalking rifles (equipped with a most unusual low-power telescopic sight). Extraordinary guns, magnificent guns, unbelievably rare guns are all to be found in the collections at Birmingham.
 If you would like to get a party together to see the museums, Bill will gladly accommodate you (a modest fee is charged). Meantime, anyone may take advantage of the services offered by the proof house. Obviously proof testing of guns, but also testing of ammunition at very reasonable cost (home-loaders take note). You can even hire the magnificent board room for a meeting or conference. I will leave you with one memory. Having been taken round most of this fascinating place, I was led to the 'Black Hole' - a grimy but high-ceilinged out-house with sand banks upon which muzzle-loading barrels might be placed in rows and proof tested en mass by means of a powder trail. I suddenly had the most curious sense of deja vu. The taper-dropped, it was the proof chamber illustrated in Greener's famous work, The Gun and Its Development. That picture of a row of barrels jumping at proof was deep in my memory. It had always intrigued me. I never thought that I would get the chance to stand within it. Go to the Birmingham Proof House and get inside history.
E-mail address: info@gunproof.com
www.gunproof.com