Winchester Select Platinum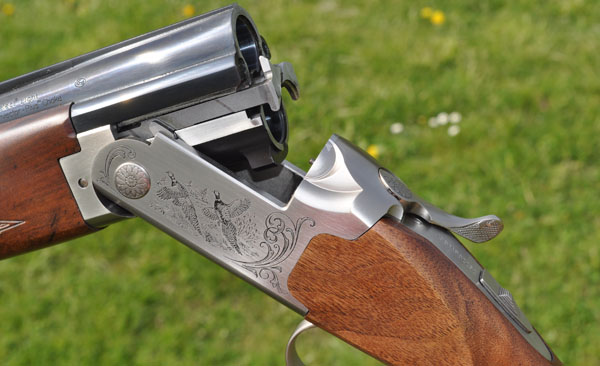 Beretta and Browning dominate the machine made over and under market, but a number of other firms give them a run for their money these days. Miroku - who, of course, make many Browning guns – Perazzi, B.Rizzini, Guerini, Fausti, Fabarm, Krieghoff are all major players, not mention the Turkish firm of Huglu. Winchester (who are owned by Browning) are also well known for their over and unders. Many will remember the 101 which is again available again in the USA but not yet at least in the UK. The 101s were fantastic guns in their day and many readers will have fond memories of models like the Grand European and 6,500 sporter. The late, great, A.J.'Smoker' Smith used one to great effect in the days when he was the man to beat.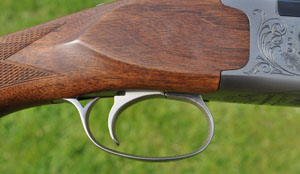 The Select range is the primary over and under product for Winchester in Europe now. Indeed, it's a euro-zone project. Most of the components are made in the high-tech FN plant at Herstal in Belgium (which also makes military weapons on its computer controlled machinery). Assembly, however, takes place at Vianna in Portugal, (near Oporto) where Browning and Winchester semi-automatics are assembled. From my point of view as a gun writer it is quite a complicated task to keep up with who makes what these days! There is a surprising amount of outsourcing and similar just to confuse the issue, and some of the big firms hold shares, or actually own, the smaller players.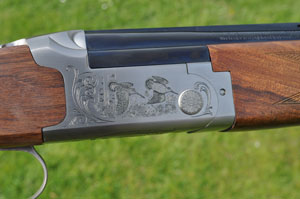 The gun we are looking at here is the Select Platinum, it is an attractive looking gun with fine scroll and game engraving on a silver finished action. You might, moreover, be forgiven for thinking that this was something else other than a Winchester – it has some distinctly Beretta-ish features, not least, its circular bite locking system and stud pin hinging (although it does not have the dovetailed barrel-shoulders of a Beretta OU). There has been quite a lot of development on this new style of Winchester shotgun, and they are beginning to attract considerable attention in gun shops because of a very competitive pricing policy which puts the RRP of most of the Select range around the magic £1,000 mark.

Before moving on to consider the test gun, though, let us look quickly at how these Select guns have developed.  About twenty years ago FN – the parent company – started the development of a new, low profile, design. They had, of course, made Superposed B25s for years, but, great guns though these were and are in both Belgian and Japanese made form, they had been losing market share to the Italians. FN wanted to create a new mass market gun that might become their equivalent of the Silver Pigeon. It first appeared a decade back as the Winchester Supreme. It was very well engineered – one expects nothing less from FN – and included features like bifurcated lumps (i.e. stud pin hinging) and the Beretta style bites as mentioned, but, frankly speaking, the styling and handling could have been better.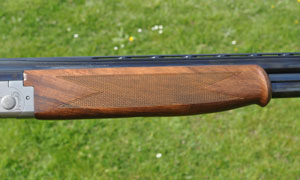 The Supreme morphed into the Select, a significantly better gun, which evolved into the current Select 2 which has further enhanced styling. This is a fast moving story, the test gun, a Select 2 model, is actually now discontinued itself (but you will still find them new and well priced on dealers' shelves). The all singing and dancing  new Select range includes both steel auctioned guns like the test gun and light weight aluminium auctioned models. The full line now includes the Select Light Gold available with 26 or 28" tubes and an aluminium action body at an RRP. of £1239, the Select Light (26 or 28")  at £1106, the Select English Field (26, 28, or 30) at £1,106, the  Select Energy Trap adjustable (30, or 32") at £1,395, the Select Energy Sporting adjustable (28 or 30") at £1395,  the Select Sporting 2 Topcote (28 or 30")  at £1,160 and, last but not least, the Select Sporting 2 (28 or 30") at £1,090. The Topcote sporting model is I am reliably informed the best seller and we will test one soon.

Back to the test gun. It has 30", back-bored, barrels and a single-selective trigger. On the stock front, there is a not too acutely angled pistol grip, a Schnabel forend with a fairly pronounced lip, and comfortable, if rather low comb. The stock dimensions vere from the modern norm in that there is no cast and the drop at heel was just over 2 ½".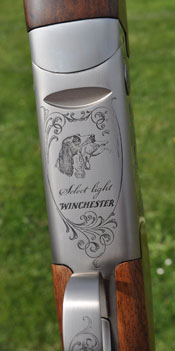 As far as handling is concerned, the gun feels solid but not especially lively. Now, before you think I am damning it with feint praise, let me not I rather like this gun. Winchester/FN are definitely moving in the right direction with it. It is very well made at the price with excellent machining and fitting. The product has bags of integrity. The jointing on the monobloc is exceptional – so good, that I was actually wondering at one point if the gun was monobloc

What of the rest of the gun? It bears steel shot proof marks for 3" (76mm) cartridges – which always inspires confidence and shows the manufacturers belief in the product. The forcing cones are relatively short as is the norm with Browning and Winchester (though my preference would be for 50mm/2" cones). There is a lot of argument about forcing cones. Generally, my experience is that longer cones are good news – they smooth the passage of the shot and wad though the bore and seem to reduce pellet deformation with positive effects on pattern – but there is not enough scientific work on the issue (something I hope to address shortly). The test gun does, however, have wider than average bores – both are marked up at 18.7mm  (which is my own ideal). Joining ribs are solid as befits a game gun, there is a neatly machined narrow and ventilated rib. At the muzzles, there is a sensible plain brass fore-sight – my favourite on a field gun.

Shooting Impressions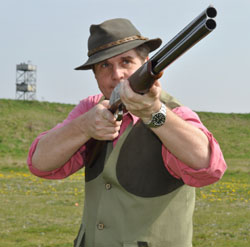 The Platinum surprised me. It shot better than I expected it. Felt recoil was low, and the Select seemed to throw very forgiving patterns. The handling was not especially refined, pointability was average and the gun was a little muzzle-heavy. But, it was a steady and pleasant gun to use. The low felt recoil might relate both to the open bores and the well profiled, if low, comb. The bottom line? The Platinum offers real value and show that Winchester and FN are now getting their act together. It is a quantum leap above its predecessors. Now, I want to try the new Select English Field and Select Topcote. There is no reason why the Selects should not become as good as your average Silver Pigeons or 525s. The engineering is there and the price is very definitely right. With attention to specification, these guns could be very big sellers – especially as we are all counting our pennies at the moment and looking for value.

Technical spec.

Model: Winchester Select Platinum Field
Bore: 12
Action type: low profile, bifurcated lump over and under
Barrel length: 30" (28" option)
Chambers: 3" (76mm)
Rib: 6mm
Multi-choke: yes - 5 Invector Plus supplied
Weight: about 7 1/2lbs.
RRP: £1,000 approx - now discontinued