Beretta A400 Xplor Unico Action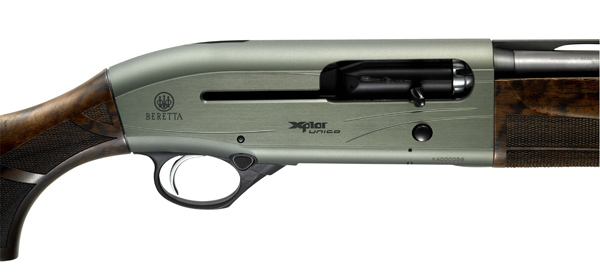 The Beretta A400 Xplor Unico is the new all singing and dancing semi-auto from Beretta, the industry giant who produce more than 100,000 semi-automatic shotguns a year (where do they all go?).  At the heart of the Beretta A400 is a new gas-operated action which has rotary bolt-head (similar to that seen on the Xtrema). There is also a modified feed system, and an Opti-bored barrel made from an alloy Beretta called Steelium for which all sorts of advantages are claimed. The gun will handle High Performance steel shot as well as regular lead – which may become of more significance in the future.

The Beretta A400 Xplor will also handle a huge variety of loads from 24 to 64 grams in case lengths from 2¾" to 3½. This is an impressive capability, though few of us will need it yet (with the future of lead shot being uncertain, though, who knows – long chambers really come into their own with steel). Beretta note, meantime, 36% faster cycling for their new action. They also claim a reduction in recoil of 60% with the new Kick-Off3 hydraulic recoil reduction system. This model features a third hydraulic damper attached to the back of the reciever to further mitigate the recoil and reduce mechanical stress.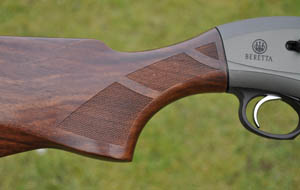 It all sounds extremely impressive, and first visual impressions are good too. The Beretta A400 Xplor has a smart grey action, which is quite compact, with the odd machined-in go faster stripe. It is restrained and looks attractive. The polymer trigger guard was elegant in form. The stock wood was real and had surprisingly good figure in the test gun. The lazer chequering was well cut and set out in interesting panels (although I would have preferred a bit more chequering in the grip area). I even liked the racy and notably slim forend. It's all modern, but in the best sense of the word.

You won't fault this gun on styling, though it is important to note that it is much more than just a styling exercise – it is a whole new semi-automatic platform. Beretta are staking a great deal on the A400. To quote them: "This innovative new gun has passed through three years of development, 8,000 hours of engineering, 2,000 hours of testing and more than 100,000 cartridges. The A400 Xplor Unico represents the Beretta revolution in semi-automatic shotguns and a major advance in technology, innovation and design."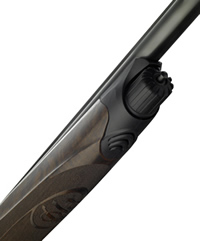 A huge effort has evidently gone into the design of the new gun which not only looks good but has an excellent specification as well. Bring the A400 to the shoulder and it is not as heavy as you might expect, indeed, at 7lbs it might be considered relatively light for a repeater. This is welcome as some semi-autos have been getting too heavy in my opinion (with the notable exception of the Benelli range). The only negative I noted when first handling the visually attractive and evidently well engineered A400 was that there was a harmonic resonance when the working parts were brought forward – more than older, less complex, designs.   

On the handling front, apart from comments on the grip chequering (which was a bit sparse to the top), I thought the stock shapes good. LOP was only 14 3/8" but it did not feel short. Drop was 1 ½" and 2 ¼" – a little low for me but quite adequate as a shelf dimension for a field gun. The slimmer than average forend felt as good or better than those on previous models. The bar type safety forward of the trigger was easy to operate. I also liked the narrow (6mm) sighting rib and the plain metal bead at the muzzles.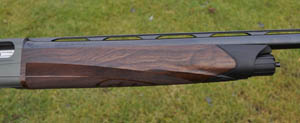 As for the mechanics apart from the features already mentioned there is a new self-cleaning piston which remains in the piston shroud when the barrel is removed (it must be positioned properly in its housing before the gun is assembled). A short steel cocking sleeve runs on the outside of the mag tube and twin steel cocking bars as seen in the Xtrema are welded to this. The tube itself, unusually, has a protective plastic cover (again similar in style to the Xtrema). There is no rat's tail attached to the rear of the working parts. They are brought forward into battery by a large coil spring between the rear of the cocking-sleeve and the receiver itself. The trigger has been redesigned and appears inspired by both the 391 and the Xtrema. A stainless steel carrier has replaced a plated steel one. In case you are scratching your head, that's the silver rail onto which one pushes down when inserting cartridge at the bottom of the action. There is also a magazine cut-off, which is useful for changing loads without unloading the chamber (though I have never make use of such devices myself, preferring to unload completely and then reload with a new type of cartridge when required).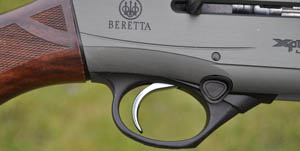 With regard to the barrels, I don't know quite what Steelium is yet, but I have great faith in Beretta barrel technology. No company puts more research effort into metallurgy and none makes tougher barrels. If Steelium makes them even better I'm for it. The barrel, which has a sensibly wide bore dimension of 18.6mm, is made by a combination of deep drilling and hammer forging. There are also some special vacuum processes involved, but I have not yet been able to ascertain precisely what they are. When I do, I will let you know!

Shooting impressions

The gun broke the birds consistently. I'm someone who really rates Beretta semi-automatics, but I can't help feeling that they are getting just a bit too complicated. This gun was quite light. Although some have, I did not notice a significant reduction in felt recoil. This may have been because I was using relatively light (24 and 28 gram) loads. This is not as contradictory as it may sound, I suspect the A400 will really come into its own on the recoil reduction front when you put the heavy stuff through it. There is no question about the design and general engineering, meantime. It is excellent. The gun is very versatile too. But, I think Beretta would have a market for a simpler, older-style, gun as well.

Tech Spec

Make: Beretta
Model: A400 Xplor Unico
Bore: 12
Chamber: 3 ½"
Barrel: 28" Opti-bored with concealed Opti-chokes
Rib: 6mm
Weight: 7lbs
RRP.: £1,700 (£1,615 for the non Kick Off version)