Browning Elite Grade III 12 Bore Game Gun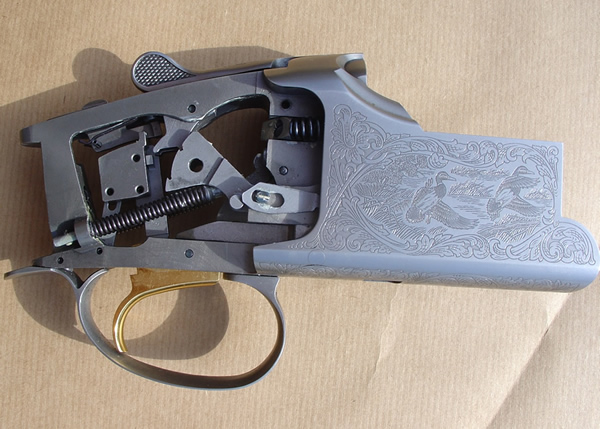 I am always interested to see the latest offerings from companies like Browning and Beretta because the consistency that they achieve in their manufacturing process is simply amazing. One can usually rely on these long established makers to present guns which achieve a level of consistency of product and quality control that others fail to achieve at any price. They are the VW and Toyota of the shooting world.
First impressions of the Browning 525 Grade III 'Elite' test gun, happily, are good. Nothing about it is in bad taste. The scroll and game scene engraved action looks fine (and, notably, less bare than the basic Grade I model). The barrel presentation is excellent. The wood has some marbling to its otherwise straight-ish figure. Chequering is neatly cut (though I would prefer traditional panels to modernistic ones with curved borders). There is nothing wrong with schanbel forend. It is of typical Browning style (although my preference is for a slim, rounded, Boss-type, on any over and under gun). The form of the pistol grip and butt are sound, as is the general form and set-up of the gun.
This 525 has chrome lined, lightly back-bored, barrels. They are smidgen over 30" with steel shot friendly Invector Plus long multi-chokes and a 6mm vented rib and solid joining ribs. The gun weighs in at 7 pounds 2 ounces and is built around the classic Browning action as lightly modified by Miroku (who have made guns for Browning for more than 30 years). The Elite mounts to face and shoulder well with a slight, but not excessive, front-heavy balance (which gives the impression if it being a little heavier than it is). The view presented by the narrow rib and traditional metal bead are excellent. The hands have good purchase on all wood surfaces (a combination of good design and practical chequering), and, the fixed blade, gold-plated, trigger feels especially comfortable.
Looking at the barrels in more detail, we see monobloc construction as became the norm on Japanese made Brownings mid-way through the 425. The chroming is a welcome addition, however (if older Brownings had any fault it was a tendency to rust in the bores). The barrel to monobloc jointing is exceptional as it is routinely in anything that comes out of the Miroku factory. Indeed, I defy you to see the line on the top barrel. The barrels are bored at my personal ideal of 18.7mm (wider than they used to be and better for it) and bear Belgian proof marks for for 2 ¾ and 3" (70 and 76mm) cartridges. This is always useful in an over and under field gun that may be used for wildfowling with non-toxic loads.

The barrels are well made in all respects. They are superbly straight and have long, highly-polished, forcing cones. Indeed, I  have rarely seen a better presented set of tubes at any price. The spec is exactly what I would order from a custom maker if the opportunity arose. So, full marks here. The Invector Plus multi-chokes, five of which are supplied, are of long, concealed, pattern. The barrels are subtly flared at the muzzles to accommodate them (Perhaps the one thing I would modify. If thin-wall type Briley or Teague chokes were adopted this could be easily modified).

The action of the test gun is familiar – a B25 Superposed in essence with a full width hinge pin, wide, flat, bolt locking beneath the bottom chamber mount, but without the hinged forend iron extension as seen in the Belgian made Browning, which also retains chopper lump rather than monobloc barrels. Frankly, I prefer the simpler arrangement as seen here because it allows for easier routine cleaning. In the classic Belgian B25 the forend stays attached to the barrels on basic disassembly which can be a pain if the gun has got wet (though one easily solved by means of a small turn screw).

The action, which is sculptured somewhat differently (and more attractively) compared to the 424, is powered by coil springs (as are the hammer ejectors in the forend). Helical springs are, of course, the norm in most mid-market over and unders. Unlike some action designs, though, there are proper top and bottom straps here – integral with the action body – with the hammers pivoting from the bottom, and sears from above. Beretta and many others today prefer a trigger plate design, but there is a lot to be said for this older way of doing it too. The only thing really against the Browning action design is that it is deeper than some because of its full width hinge pin and bolting system. My own opinion is that it works best in 20 bore - where the proportions are near perfect.

The trigger blade was well shaped as note (though I would prefer plain steel). Trigger pulls were adequate, the non-auto safety catch and combined barrel selector (positioned normally on the top tang) was a good size but a little stiff in use – those this will cure itself very quickly as the gun wears in.

The 525's stock was well designed too. The test gun had a length of pull of 14 7/8" including a black plastic butt plate. The drop measurements were 1 1/2" at comb and 2 1/4" at heel – a little low a standard measurement. I am Mr Average in gun fit terms and can just lose the bead on a 45 degree driven shot. I would crank the stock up 1/8" at heel. Cast was very slight as is the Browning norm. The comb was not too thick as befits a game gun. The pistol grip filled the hand well and promoted muzzle control. There was no palm swell – a bonus on a game gun. The forend was comfortable and a good size, although, my preference, as noted is for those rounded designs without a lip.

Shooting Impressions

Good. This gun is a significant improvement on the 425 aesthetically, and, it shoots even better with its back-bored barrels, long forcing cones, and Invector Plus chokes. I used Lyalvale Express HV 24 and 28 gram shells as usual. Patterns with improved and half choke fitted were impressive. Felt recoil was reduced too – always welcome. This is a hard gun to knock in any significant way. It shoots well, looks good, and represents excellent value for money.

Tech Spec

Maker: Browning
Model: 525 Elite Grade III
Bore: 12
Chamber: 2 ¾ and 3" (70 and 76mm)
Barrel: 30" (28 option")
Rib: 6mm vented
Chokes: Invector Plus with back-boring to barrels and long forcing cones
Weight: 7 lbs 2 oz.
RRP £2422

We like

The barrels
The improved action shape
The Invector Plus chokes

We don't like

The non-auto safety
The curved chequering panels