Beretta Prevail SV10 Sporter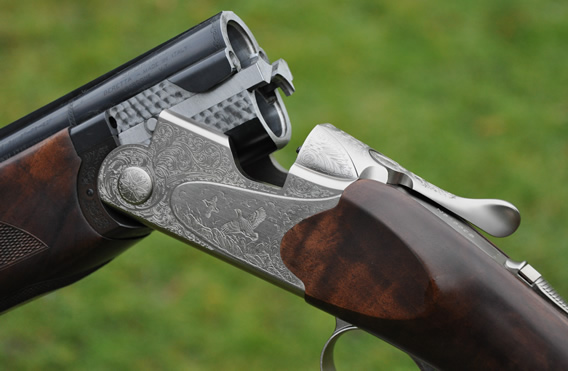 The Prevail is one of the new generation of SV10 over and under guns from Beretta. The first on the British scene was the Perennia game, now, we have the Prevail, designated a sporter. I never take manufacturers descriptions as absolute, though. The Prevail as tested is in 'long tom' 32" form (there are 28 and 30" options). Though billed as a clay gun, it might also be used as a high-bird gun, or indeed, for wildfowling, with that noted, on with the show.
A modernistic design
The Prevail is recognizably Beretta, but there are some very significant mechanical difference between it and the old Silver Pigeon/600 series (which it will live alongside for a while). The barrel shoulders that fit into the top of the action walls near the standing breech are bigger than they were and asymmetrically shaped (as a consequence, there is no option of swapping barrels with your old Silver Pigeon/600 series gun). This asymmetric theme continues with the action panels which are polished in contrast to a matt finished and partially laser stippled action body.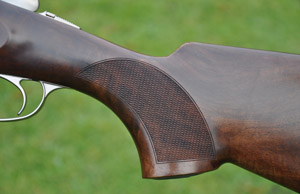 Now, my jaded view is that designers can sometimes get a bit carried away when trying to be different, there is some evidence of that here, but I also have to say in fairness that the Prevail really does look quite smart with all its new curves. The design is not over the top, only modernistic (but not Jetsons). Moreover, I prefer the clean looks of the Prevail to the game scenes and traditional scroll on its game-shooting sibling the Perennia (which are recognisably Beretta, but not especially inspiring). Whatever way you view it, this gun is no make-over project but a completely new design. It is elegant and has some style it.
Some new features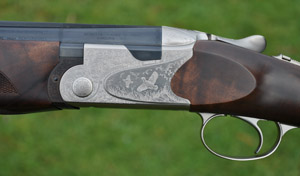 Now, we get to the really interesting stuff. There are lot of intriguing mechanical features on this gun. The best place to start is with the new, very strong, SV10 type action which is significantly different to 600 series guns as noted. There are still stud pins for hinging, and rotary bolts mating with conical bites either side of the chambers, but there is a rather different shape of action body, a detachable trigger group (but you have to remove the stock first), and a new ejection system designed to make function more positive. If you want to collect spent shell cases, the Prevail may be turned into a non-ejector by the turn of a screw on the barrels. The forend iron sports an interesting feature too – it is conceived to wear in rather than out – any slack in the bearing surfaces that might develop is automatically taken up by a clever spring mechanism which constantly tensions the bearing surface of the forend iron with that of the action knuckle.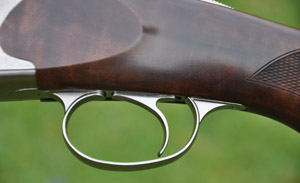 What else might I mention? The fixed (and nicely shaped) trigger blade and trigger guard are made from Titanium (which seems a sexy metal to the gun trade at the moment, though one rarely used in quantity because of its expense). The safety and barrel selector have been redesigned for improved functionality (the barrel selector – which always used to irritate me on cold wet days – is, notably, a bit bigger than it used to be and better for it). The shape of the top-lever has also been changed for better ergonomics.
Barrel and stock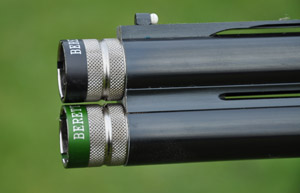 The Prevail's long barrels are monobloc and proved to higher than average pressures (1630BAR) with superior fleurs de lys marks. Clearly, Beretta are considering a new generation of non-toxic cartridges that may be coming along soon. The rib is a tapered 10-8mm design and there is an inoffensive white bead at the muzzles. Both sighting and joining ribs are vented. Chambers are 3" (70mm) and the bore and extended, colour-coded, bores are 18.6mm, chokes are of the new Optima pattern which combine extended forcing cones with modest back-boring and long chokes (a winning combination in my opinion – I have found the Optima guns really do shoot better). The barrel-making is to the usual Beretta standard – excellent. If I was stuck
on a desert island with one gun for life, it would be a Beretta – nothing is tougher in my experience (especially in the barrel department).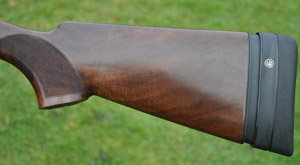 The stock is made from decent walnut, and traditionally finished with what appears to be 'oil' (i.e. the woodwork is not too glossy). I liked the laser cut chequering, but was not so sure about the curved panels that surround some of it. The comb is fairly full but well profiled. The rounded but fairly slim forend style is just the ticket (and much better than the old Schnabel because it does not restrict hand position). The length of pull was a reasonable 14 7/8" (but this was with a substantial pad). Drop was a standard 1 3/8" and 2 1/8". The only thing I did not like about the stock was the thick black rubber pad which was a bit sticky. If I was to keep the gun, I would wrap it with black vinyl tape (as I do to most of my competition guns).
Shooting Impressions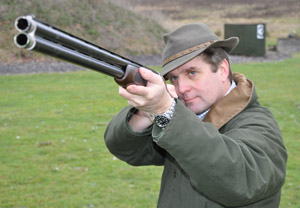 Putting the Prevail up to face and shoulder, one has the impression of a really solidpiece of kit – it feels heavier than its 7.7lbs. The balance is forward. Beretta have re-profiled the barrels to improve handling (these only weigh 1530 grams, but I would have guessed more). Nevertheless, the Prevail 32 is steady and quite pointable. When one swings it, moreover, it feels willing. I thought all the stock shapes were good, too, forend, grip and comb were well conceived and comfortable.
It shot reasonably well, but I did not find that is shot that differently to all the other Berettas I know and love! For all its modifications and 'improvements', it still felt to me like, well... a big Beretta. Its shooting qualities were not unlike an old silver action 682. That of course is no bad thing: many competitions have been one with that gun. But, I cannot honestly say that I noted any great differences (though I have noted superior patterns at the plates with the Optima package). This felt like a solid gun, and it shot like one. Recoil was reasonable. The trigger pulls could have been crisper.
What of the rest? I thought the new Q-fit stock system interesting (one inserts a torque wrench through a trap-door in the base of pistol grip). I would also note that this gun is available with the Kick-off hydraulic recoil reduction system as well as the conventional stock version tested.
Tech Spec

Model: Beretta SV10 Prevail Sporter
Barrels: 32"
Chambers: 3" (76mm)
Rib: 10-8mm taper
Chokes: Optima Multi-chokes
Stock: Oil-finished walnut with standard butt-pad
Weight: 7.7lbs approx.
Price: £2860 (standard stocked model as tested) £3075 (Kick-Off version)