Fausti Windsor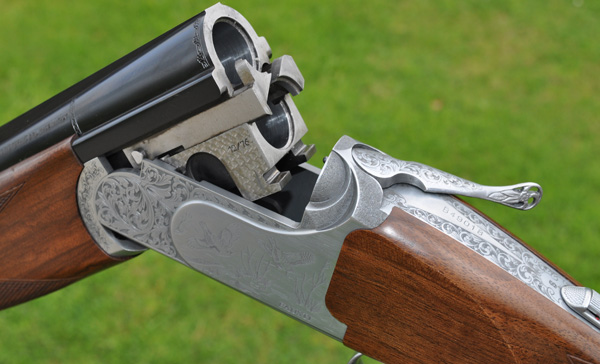 The test gun, a Fausti Windsor over and under sporter taken from the shelves of the Sportsman Gun Centre in Dorset has multi choked, 30", barrels and a silver action with scroll and game scenes.  First impressions are pretty good. It looks quite elegant and the gun feels solid when you first pick it up. It weighs in at 8lbs – a sensible weight for a 30" sporter. The wood has only slight figure but is nicely finished. Wood to metal fit is good. The gun looks business-like. Game scene engraving notwithstanding, it is primarily intended as a clay buster (there is a dedicated game model), but would make a useful high bird gun as well (and has the decoration that would make suitable for the field too). It could also be used for wildfowling; it has chrome lined barrels and the chokes are suitable for use with steel shot.

For more videos on the Fausti factory as well as Mike shooting a Fausti click here
The barrels are constructed, as one might expect, on the now near universal monobloc system. Once billed by Gough Thomas as potentially the strongest of all (which it may be when well executed) it is certainly the modern norm as far as mass produced guns are concerned. Even Browning - who held out for many years - adopted mono-bloc construction half way through production of the 425. [High technology may yet create other options including creating double barrels from a single piece of steel - something that has already been done in fact in the new British Longthorne gun).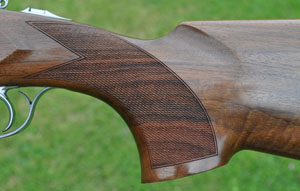 The tubes on our test Fausti are 30" long, as noted, and fitted with multi chokes which always give a gun versatility. 30" is an ideal all-round length. You can do just about anything with it. If people ask me what to buy, I usually say this: "If you are going to do more clays than game go for 30". If, on the other hand, you want to shoot more game than clays, go for 28" in a 12, but, in a 20 bore still go for 30". If high birds or wildfowling are your thing, moreover, 30" will probably be the best bet providing a little more weight and a longer sighting plane." [Though, of course, your eyes should always be on the bird not the barrels when shotgun shooting!]

Back to the specifics of the test gun. The sighting rib is a simple but good 10mm, flat, ventilated design with a fluorescent red rod sight at the muzzles. The side ribs are vented too. The barrels are generally well presented, though it is notable that the bores are quite tight at 18.3mm top and bottom. I usually prefer to see 18.6 or 18.7 (or even 18.8) as a standard dimension. It has been my experience from many tests for this magazine and others that more open bores seem to reduce felt recoil (as does a comb which is not too steeply inclined). I should add, though, that I have known some tight bored guns that did not kick, and, perhaps as intriguingly, some of my Spanish pigeon mates believe that the tighter bored guns penetrate better. I can see it is time for a scientific experiment, meantime, you pays yer money and takes yer choice...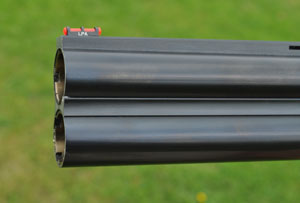 The multi chokes fitted to our Fausti are of conventional relatively short style and flush fitting. They are well machined and removed with the usual key. The balance of the gun favours the front – as preferred by many clay shots. Sometimes 30" multichoke guns can be excessively muzzle heavy, this is not the case here. The mono-block joins and ejector work are all neatly done. The forcing cones are of medium length and the bores are chromed (which must be the preference of any lazy gun cleaners out there like me!).

The action of Fausti is interesting. Let's start with the familiar. There are stud pins near the knuckle for hinging as in your average Beretta or Perazzi (they all got the idea from Woodward). There is the usual long slot bite beneath the bottom chamber mouth, which is engaged by a full width bolt that emerges from the bottom of the action face – not unlike a Browning. This results in a slightly deeper action than in a design that employs a bolting system where the bites are to either side of the chambers.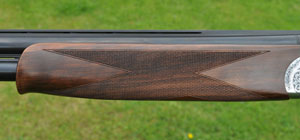 Fausti have managed to make their action look quite trim nevertheless. And, the Fausti has one interesting additional feature - and, it is only seen in their 12 bore guns – the Quad Lock. This is an extra lock up mechanism which consists of broad pegs on the inner action walls which locate within shallow key ways machined into the sides of the mono-bloc. It is unique to Fausti as far as I am aware. It is a sort of simplified version of the Boss draws and wedges but without the need for complex fitting (and with the exception of a true Boss, I have really seen a gun with draws and wedges where they made efficient contact).

Apart from pleasant engraving, this Fausti has separate side panels (to prevent it looking too square) and boasts a perforated top-lever. Machining is very neat – a product of Fausti's huge investment in CNC. I have visited the factory several times and always been impressed not just by the high-tech kit which is in place in surprising quantity, but, its juxtaposition to benches in a next door workshop for traditional handwork. A surprising amount of handwork still goes into every Fausti regardless of its pricepoint. It is still a family firm employing traditional gunmnakers as well as computer savvy engineers.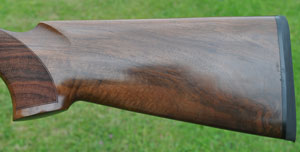 The action of the Windsor is, all things considered, well presented. Fit and finish are fine. The engraving is in good taste. Fausti also offer side plated models which offer a little more space for decoration. The trigger mechanism is of the normal recoil activated type with an internal bob-weight. Pulls were adequate and not excessively heavy (the quality of trigger pulls on a gun as important as gun fit and stock design). I liked the shape of the trigger blade, too, and the fact that it had not been gold plated (good taste is evident across the Fausti range). The safety is positioned on the top strap in the usual place and is combined with a Beretta style barrel selector, as noted. The increased size of the selector is a positive feature for cold or wet days.

The stock does not show a great deal of figure – at this price point one can hardly expect it to – but the design is fundamentally sound. There is a full pistol grip with palm swell, and, a well profiled comb which, like the grip, is quite generously proportioned. The forend is of the snabel pattern – but not exaggerated and so the better for it. My preference aesthetically and functionally is the rounded type, however, as seen on some other guns in the range.

Shooting Impressions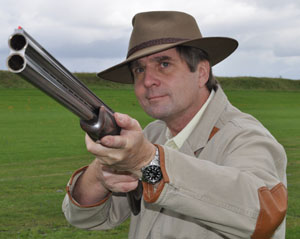 I shot the Windsor at Southern Counties in Dorset (also the location for one branch of the Sportsman Gun Centre). I did not shoot it extensively, I confess, but, I know the gun's pedigree well, and, have put thousands of rounds through many of its stable mates. The Windsor was an attractive gun, solid to shoot, and well-priced. It did not miss a beat mechanically. There is a Windsor Royal with side plates which is a little more expensive, but well worth a look too, as is the Windsor game gun with a similar spec save for a 6mm rib.

My thanks to Lyalvale (Express) for the cartridges used in this test
Tech Specs

Make: Fausti
Model: Windsor
Barrel: 30"
Sighting Rib: 10mm with vented joining ribs
Chambers: 2 ¾" (70mm)
Bore: 18.3   
Chokes: multi
Rrp £1,150