Guerini Impact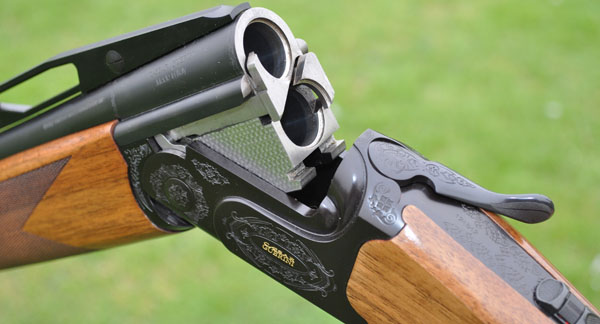 I've tested many Guerini's before but none quite like this one. It is the new Summit Impact with a high adjustable rib, adjustable comb, and a dynamic recoil reducer. It has a registered retail price of £3,250 which does not seem that extravagant these days for a gun which is a veritable mechanic's delight! As well as the Impact high rib as tested, Guerini also offer a conventional fixed rib Summit sporter at £1,992 which shares the same action, but does not offer all the glorious gizmos.
Guerini guns, are made in a high-tech facility in Northern Italy and imported into the UK by Mike Mansfield and ex Olympian Kevin Gill under the banner Guerini UK. You can look at their website www.gueriniguns.co.uk or call 0121-772-1119 for more information. Before going further, we might also note that the marquee has earnt a good reputation surprisingly quickly since being launched in the UK a few years back by Mike and Kevin. I shoot Gueirni guns regularly myself and have nothing but praise for them. They appear to offer value for money as well as good design and specification.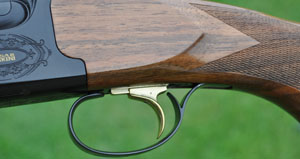 First impressions of the Impact are that it is quite an imposing piece of kit. It has some heft to it and weighs in at 8lbs. 6oz. – quite heavy, but no more than many other higher quality clay guns. The Monte-Carlo stock is adjustable for height and cast at face by the usual allen key method. Guerini refer to this as being part of their DTS (Dynamic Tuning System) package.
The other elements of which are the high adjustable rib (of which more in a moment),a kinetic balancer and recoil reducer which is simply fitted in the butt by removing the recoil pad if you want to use is (there are three weights on a main stem – two of which may be removed if required), and, two very neat, spring-loaded, barrel weights that may be attached to any vent beyond the forend. It's all rather clever. This gun – like all Guerini clay guns – also comes with no less than 8 chokes and is packed in a smart, padded velvet lined Negrini case.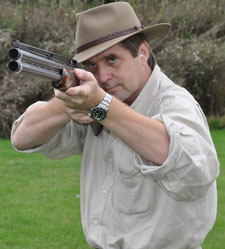 Looking at the conventional stuff. The barrels  of the Guerini are monobloc, chrome lined, and chambered for 70mm (2 ¾) cartridges. Monobloc jointing between barrel tubes and monoblock is adequate. The barrels themselves are internally straight (and better than the average in this respect). Joining ribs are vented as already implied and the barrels are 760mm long (a cat's whisker below 30"). As for internal dimensions, the Impact's tubes have pretty big bores - 18.6 top and 18.7mm bottom – just what one wants in a competition gun.  Many makers are now moving towards larger bores which reduce felt recoil in most cases and may improve pattern performance too (though this is most notable with larger shot sizes).  
Now, let us consider this extraordinary rib. It presents an excellent picture to the eye. It is 12mm or so wide with a shallow centre channel and a brass mid-bead. The foresight is white – one of my preferred patterns. Other firms have made adjustable rib guns (Perazzi, Krieghoff and Blaser come to mind immediately). The Guerini system is particularly neat and requires no more than an allen key at the muzzles to alter the point of impact. This what the makers say. It has a lot of potential for experiment. This is what the makers say: "With the front of the rib adjusted all the way upward...the point of impact will be 60%/40% at 35 yards. When the rib is...all the way down, the point of impact will be approximately 95%/5%." I like the rib and the adjustment system, but would note that one mush take greater care of adjustable rib than a fixed one – it is inherently more fragile.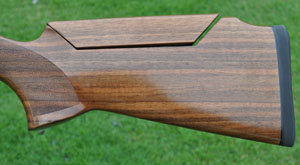 Both internal and external finish of the barrels are good. Blacking was semi-matt which looks right on a competition gun and is practical too – it may reduce some glare from reflected light on very bright days. Generally, these tubes were well put together, the forcing cones were not too sharp (though might have been even longer). The multichoke tubes which are also well presented – all 8 of them! They are black with an 1" or so of knurled extension which protrudes from the muzzles as is the norm. I liked the options of true cylinder and light full which could come in handy (I shoot 95% of sporting targets with a light full constriction – though designation is not everything, only the pattern plates and observation on real targets can tell what patterns are really being thrown). A neat interference fit choke key and thread cleaner is also included.
This Summit's action is familiar. It has the usual trunnion hinging with stud pins mounted on the inner action walls locating in corresponding circular recesses the bifurcated lump barrels. Helical main springs are employed. Lock up is by a Browning style full-width bolt engaging a slot bite beneath the bottom chamber. The trigger is adjustable and inertia activated with a bob-weight to rear as is typical today. The safety/barrel selector is conventionally placed on the top strap. I thought the selector itself a good size – not fiddly like some – and positive in action. The shape of the adjustable trigger blade was good too, as were the trigger pulls themselves.
The blacked action of the Impact is decorated only with some light scroll. A central panel on each action wall has the Caesar Guerini in the middle, and, on the belly of the action the name Summit appears in gold too. I could find no mention of the special model name anywhere on the gun.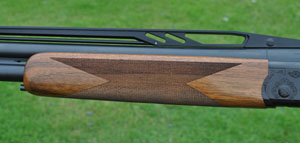 The stock is made from fairly straight grained walnut and has a large, fairly tightly radiused pistol grip (with a well conceived palm swell) and rounded forend which is not too bulbous. The length of pull is quite long – just under 15" with the trigger in the rear position. But, I have to say this suited me "Mr 5' 11" average build" perfectly. Drop – and the dimensions are approximated because of the adjustable rib – are 1 ¾" to the front, 2" to the rear (with comb down and rib in mid-way position) and 2 ½" to heel. Some cast off for a right-hander – a little more than the average – was also evident. I thought these measurement all very sensible. Chequering on butt and forend were good as well. There is a thin Black rubber recoil pad.
Shooting Impressions
This was a good gun to shoot, and notably for its soft recoil and chunky, but very comfortable, grip and comb. I can't frankly say that altering the rib made much difference to my shooting, although i was intrigued by the facility. Kevin Gill told me he tried the gun on a pattern plate and that it made about 6" of difference – I am sure he's right as well, but that 6" did not seem to have any obvious effect on me. The gun was very smooth to fire, trigger pulls were good too. It'a little weighty for s sporter, but this will appeal to some. I tried it on the trap field as well and it shot brilliantly – so well that I may consider a high rib gun and a Monte stock for DTL. One eyed or two, the high rib increases visibility. If you want to experiment, this is definitely the toy for you.
My thanks to Lyalvale Express for using the cartridges used in this test

Tech spec
Maker: Guerini
Model: Impact
Bore: 12
Chamber: 2 ¾" (70MM)
Barrels: 29.9" (760mm)
Chokes: Multi (8 supplied)
Rib: adjustable 12mm
Other special features: adjustable comb, recoil reducer and barrel weights.
Weight: 8lbs. 6oz.
RRP.: £3,320 standard £4240 maxum impact