Miroku MK38 Grade III Review by Mike Yardley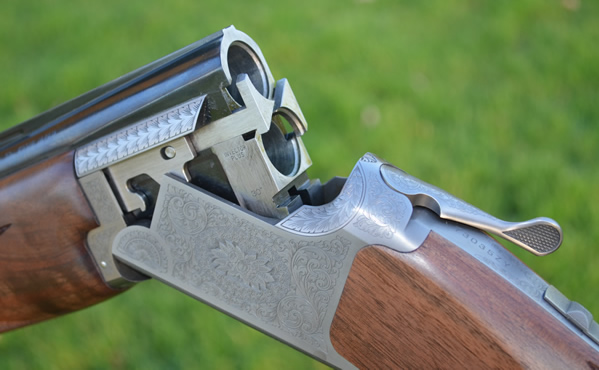 I think Miroku guns offer some of the best buys of anything available on the British market. Indeed, many other guns seem very pricey when you look at the products of B.C. Miroku. And, Of all the Mirokus on offer – and the range is more limited than some manufacturers and probably the better, and cheaper, for it – my favourites are the MK38 30 and 32" guns. They are a good buy in Grade 1 form, and, arguably, an even better deal in Grade 3 (as tested) and beautiful Grade 5 version. The latter is a particular favourite of mine, it is usually especially well stocked in fine walnut and hand engraved, oil finished and hand chequered too. It must surely offer the most gun for the least money of anything on sale in the UK. Happily, the Grade 3 is not far behind. Indeed, our test gun with its pleasant engraving with a rose central motif in the middle of the action impresses from the start.
First impressions are of quite a big gun, even in 30" form, but still attractive with engraving which though less bold than the Grade V is pretty nevertheless. As the great majority of Mirokus that I have handled, this gun is well finished with first class wood to metal and metal to metal fit. The barrel blacking is deep and lustrous. The coin finished action looks good too. Though, why not colour case harden it? That would be something really special. It is rare to see a coloured finish it on Miroku guns (in fact I don't remember ever encountering colout case hardening). The barrels are monobloc and impeccably presented with near perfect (and almost invisible) joints between tubes and monobloc. Internally they show no blemish and are straight (never to be taken for granted). The monobloc joints are better on Miroku and Browning monobloc gun made in the same island factory than just about anything else you see although monobloc manufacture is a relatively new development for the firm.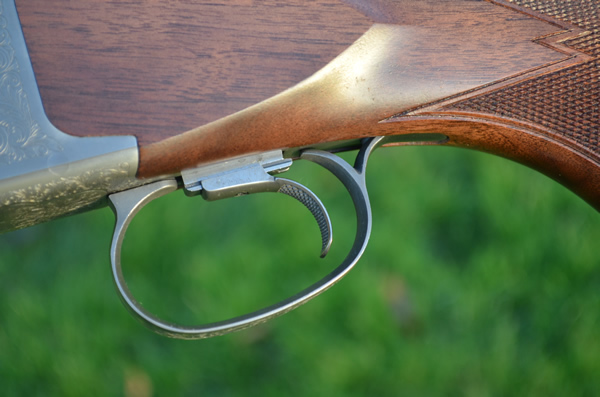 It is also worth commenting here that Miroku are one of the very few companies that still hand regulate their guns. Too many makers today let shotguns leave the factory without thorough testing for point of impact. I shoot a lot of guns each year and I find that many do not come up to my (severe) standard at the plates (among the usual exceptions to this are the products of Perazzi, Beretta and Browning/Miroku). The test gun, meantime, has a well machined 10mm parallel rib with machined top surface and narrow centre channel. The end bead is white as is the mid bead (which I would dispense with on a sporter). The Miroku is chambered for 70mm (2 3/4") loads. Both barrels are marked at 18.7mm for nominal bore. So, it may be described as back-bored. The forcing cones are quite short though.

This is fine. But, put elongated cones together with large bores, and you can get pressure problems with felt wadded cartridges, especially under cold conditions and with light payload cartridges. Plastic wadded cartridges with their expanding skirt seem less prone to obduration issues. I might also note that I have some highly experienced friends in Spain who shoot live pigeons who are absolutely convinced that tighter bores increase penetration (though they may increase felt recoil slightly). It is something that I must test experimentally one day. I'll put it on the list!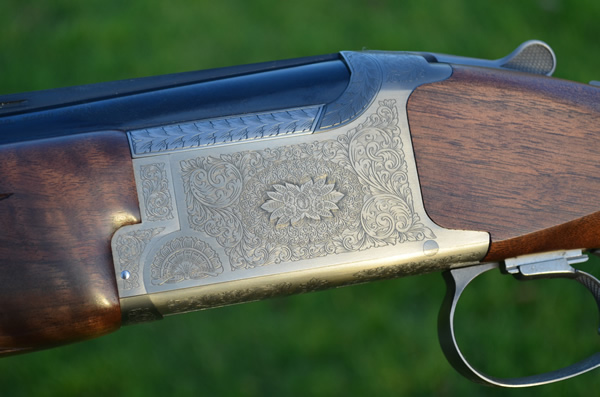 The action of the MK 38 is the typical Miroku, slightly simplified, version of the famous Browning B25 superposed. In original form, it was predominantly the work of John Moses Browning who died at his bench perfecting it. The original single trigger mechanism was then completed by his son Val (the the single trigger on B25s, Japanese made Brownings and Mirokus is rather different today). It is an enduring classic and, despite its full width hinge pin and bolt still looks quite compact. There are lumps beneath rather than the bifurcated plan with trunnion hinging which in the last generation has become more popular. Lock up is achieved by a wide, flat, bolt which comes out of the bottom of the action faces and meets a slot beneath the bottom chamber. There is plenty of bearing surface both on the wide hinge pin and on the bolts and bite. Browning have always claimed this as an advantage over more modern systems.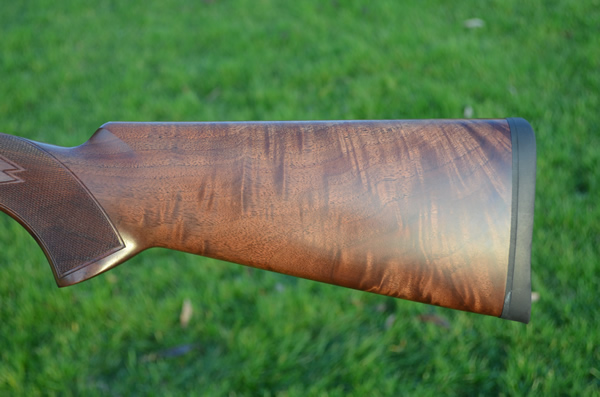 The stock is made from decent walnut (it has some fiddle back figure to it) and is of typical Miroku/Browning style. It was surprisingly long at nearly 15" and finished with a simple but good black 'rubber' recoil pad of about 3/4" in length. It was a good length for me, but might be shortened without difficulty. I like the trend in modern guns towards longer stocks, especially if they have a straight cut to the rear where the pad is fitted rather than a concave – it makes modification in either direction simpler. The grip shape on most Mirokus is especially good, meantime, and this one is no exception. The depth is even throughout, which anchors the hand well and prevents slipping in recoil and provides for good muzzle control too. I liked the comb shape as well, and the snabel forend, although not my favourite pattern, was good of its type and classic Browning/Miroku. As far as bend was concerned, drop was 1 3/8" to thr front of the comb and nearly 2 1/4" to the rear. Ultra reliable Miroku hammer ejectors are carried in the forend. As well as a fundamentally good grip shape, checkering on the gun was well executed with well formed 'diamonds' – not especially fine, it was very functional offering a really good, positive, grip.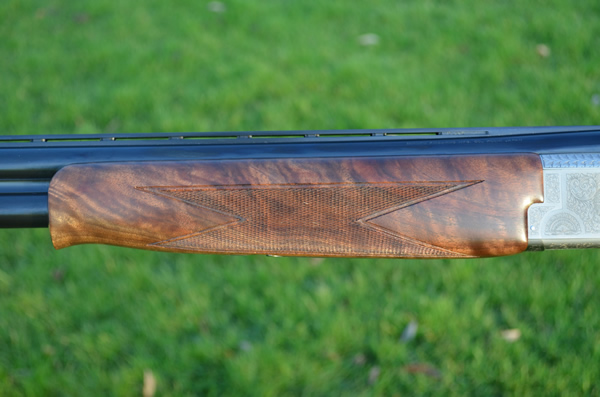 Shooting Impressions
I took the MK38 off the racks of the West London Gun Room and shot it at the School in the company of Joe Harrel (who really could not have done more to help). This was no light-weight but it shot well. Actually, I think I prefer it in 30" form to my usual 32" preference. Handling was good with less frontal weight (though the gun was a tad nose heavy). Felt recoil was a little above the average considering the 8 pound plus weight. But, the gun was predictable and forgiving in use. It shot what you were looking at without quirks or effort. Well designed, well made, and attractive, it is a lot of gun for the money and would be a no risk acquisition – you would get years of service from it I am sure and the extra finish is well worth the cost. I might end by noting that this gun comes with 3 extended Teague chokes too (not used in the test) making it an even better buy.

My thanks to Martin Chapman and Joe Harrell of the West London Gunroom and Lyalvale (Express) who supplied the cartridges for the gun test.
Technical Specifications
Make: Miroku
Model: MK 38 Grade 3
Bore: 12
Chamber: 2 3/4" (70mm)
Barrel: 30" (32" option)
Rib: 10mm
Chokes: Invector Plus (two Invector Plus and 3 Teague extended chokes)
Weight: 8lbs 1oz.
RRP.: £2,250 (standard Grade 1 £1,583 Deluxe Grade 5 £2,740)