Safety Fundamentals (but training from a qualified person is a must too)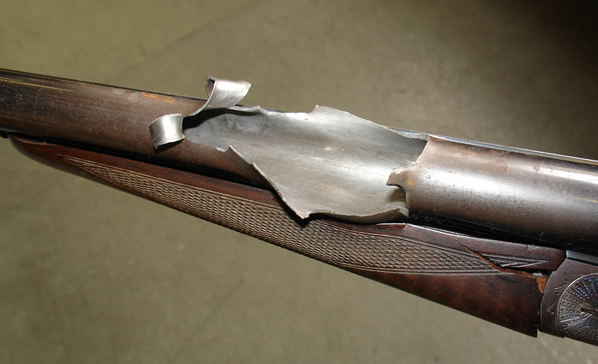 1) NEVER POINT A GUN AT SOMETHING YOU DO NOT WANT TO SHOOT
2) TREAT ALL GUNS AS LOADED
3) CHECK YOUR CHAMBERS ARE EMPTY AND YOUR BARRELS UNOBSTRUCTED EVERY TIME YOU PICK A GUN UP, PUT IT DOWN OR PUT IT AWAY
4) KEEP YOUR FINGER OFF THE TRIGGER AND THE SAFETY ON UNTIL YOU SHOOT
5) CHECK FOR OBSTRUCTIONS BEFORE LOADING AND KEEP YOUR GUN POINTING IN A SAFE DIRECTION AS YOU CLOSE IT UNDER CONTROL
6) NEVER PULL A GUN FROM A VEHICLE MUZZLES FIRST
Safety Fundamentals for Game

7) NEVER SHOOT WHERE YOU CANNOT SEE – DON'T TAKE LOW SHOTS
8) AVOID GROUND GAME ON DRIVEN SHOOTS
9) DO NOT CROSS A FENCE, DITCH OR STREAM WITH A LOADED OR CLOSED GUN
10) DO NOT SHOOT WITHIN 45 DEGREES OF A HUMAN BEING OR CANINE COMPANION
11) CHECK THAT YOUR GUN IS IN GOOD CONDITION AND IN PROOF AND THAT THE CARTRIDGES ARE SUITABLE (IF IN DOUBT SEEK QUALIFIED PROFESSIONAL ADVICE)
12) BEWARE THE INVISIBLE MAN!
ALWAYS WEAR EAR, EYE AND HEAD PROTECTION AT ALL TIMES (WHEN SHOOTING OR IN THE VICINITY OF SHOOTING)
Shooting is potentially dangerous, yet it is a safe sport because the vast majority of particpants take safety so seriously. The first rule is to treat all guns as loaded - always. NEVER point a gun at something you don't want to shoot
The second Golden Rule is to always make sure a gun is UNLOADED and UNOBSTRUCTED (assuming a break-action design) when you pick it up, when you put it down (or away).
This is all common sense stuff, but you would be amazed at how many people break the most basic rules of gun safety and do not realise it because they are not sufficiently 'muzzle aware' (i.e. not aware of where their gun is pointing at all times). One often sees guns being handled carelessly in car parks of shooting grounds, and, I am sorry to say, on some game shoots too. Take pride and care in your gun handling.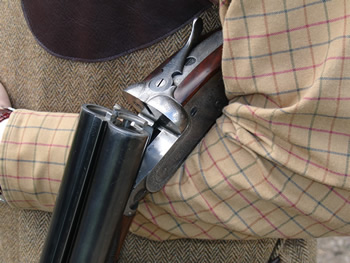 There is something important to be said on the psychology of safety. We all like to think we are safe gun handlers just as many of us may think we are safe drivers. The horrific truth, however, is that there is an accident waiting to happen to you, and, YOU MUST BE ACTIVE IN PREVENTING IT. Never fool around with guns. Always respect them. And, of course, avoid alcohol when shooting. If you can, teach others good habits. When your guns are not in use, make sure they are properly secured. The same discipline and control that will make you a safer shot, will also make you a better marksman or woman. Don't be arrogant. Don't be complacent. And, don't be afraid to tell someone else if you think they are handling their gun dangerously (but do this politely).
You must make sure that your gun is in good condition and in proof too (if in doubt ask a qualified gunsmith, or, the relevant CIP proof authorities). You must ensure you only use suitable cartridges in your gun (if in doubt ask a qualified gunsmith, the proof authorities, or, the cartridge manufacturer).
You must also take the greatest care to protect your hearing, eyes, and, head when shooting (or, if in close proximity to it). If people are in your company when out shooting make sure that they are suitably protected too. To see more on shooting equipment click here
Whilst every effort is made to give good advice here, gun safety cannot be learnt from a website, book, or, film. It requires specialist training from suitably qualified persons as noted at the beginning, and, much, supervised practice. By far the best advice is that you attend a professional shooting school or a training course organised by a recognised national shooting organisation such as the NRA, CPSA, or BASC. Please note the disclaimer below.
Positive Shooting Disclaimer
The information contained in this website is for general information purposes only. The information is provided by POSTIVE SHOOTING LIMITED and while we endeavour to keep the information up to date and correct, we make no representations or warranties of any kind, express or implied, about the completeness, accuracy, reliability, suitability or availability with respect to the website or the information, products, services, or related graphics contained on the website for any purpose. Any reliance you place on such information is therefore strictly at your own risk.
In no event will we be liable for any loss or damage including without limitation, indirect or consequential loss or damage, or any loss or damage whatsoever arising from loss of data or profits arising out of, or in connection with, the use of this website.
Through this website you are (or will be) able to link to other websites which are not under the control of POSITIVE SHOOTING LIMITED. We have no control over the nature, content and availability of those sites. The inclusion of any links does not necessarily imply a recommendation or endorse the views expressed within them.
Every effort is made to keep the website up and running smoothly. However, POSITIVE SHOOTING LIMITED takes no responsibility for, and will not be liable for, the website being temporarily unavailable due to technical issues beyond our control.