William Powell Perseus Gun Test by Mike Yardley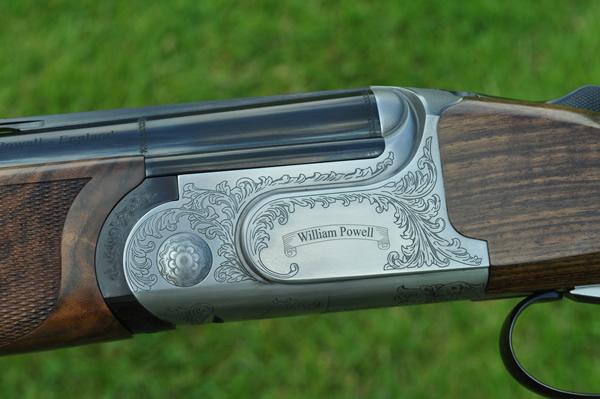 There is quite a trend now amongst some English gunmakers to have guns made abroad to their own specification and have their own name put upon them. There is 'no passing off', everyone knows where the guns originate, and the process has produced some very interesting if typically quite pricey models. Something similar, it might also be noted, has been done for a very long time – 100 years plus – but the trade were not always quite so forthright about origin in the past (many a Belgian and Spanish gun having been passed off as British).

In the modern era, after ASI stormed the British market with AyAs in the 1960s and 70s (frank copies of Holland and Westleys), one may note the likes of Gunmark then importing Sabels, Garbis and Arrietas (and marketing them under their own name), J.Roberts bringing in Arizabalaga and Rizzinis, William Evans with their successful St. James over and under made by Guerini, E.J.Churchill who have a particular success at the moment with their house branded Perazzis, Purdey who make their sporter in Association with Peregrini and Visini (which is 60% UK made but based on a generic Perazzi design), and, not least, William Powell who not only have a long (30 year) association with Arrieta but have also developed a range of over and unders made by Battista Rizzini more recently.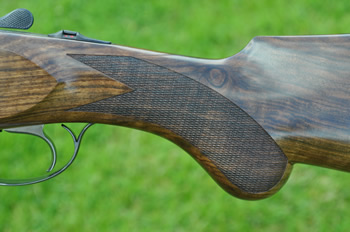 So, we come to the test a William Powell Perseus model, a new British spec.'ed but Italian made over and under. It is interesting though, because unlike many of those mentioned above, it is on sale with an RRP well under £2,000 (£1,795 to be precise). First impressions at the price point are very good. The laser engraving though quite sparse and not especially deep on the coin finished action is attractive (with the William Powell name in a tasetful banner on the panelled action walls and a woodcock on the underside), the semi-pistol grip of the surprisingly well figured stock immediately appealed, the general presentation of the 12 bore gun was impressive (as was the 20 bore version which I had in hand the same day).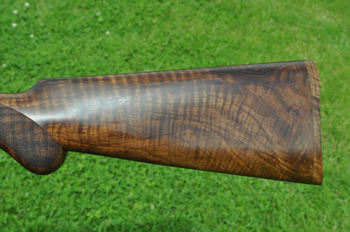 Onto the test bench.... The barrels are monobloc and 3" (76mm) chambered. Proofed in Italy, they have steel shot friendly chokes but are not fleurs-de-lys tested for special steel loads, though this may happen in the future. Meantime, standard steel may safely be fired through them according to Powells provided the choke constrictions are half or less. Bores are of typcial Italian diameter at 18.4mm. Some makers are going for larger diameters now because they are associated with reduced felt recoil (but some still associate tighter ones with improved penetration). Forcing cones are of medium length and well machined (like all the metal work on the gun). The interchangeable chokes are interchangeable chokes are of longer pattern and measure 2 3/4".
The barrels appear well made in all departments. Striking up, blacking and internal finish are all competent. The jewelling on the sides of the monobloc does not achieve anything functionally, but looks good. The ribs are nicely laid too. The 6mm ventilated top rib is one which you cannot go wrong with on a game gun, it is light and presents a good picture to the eye (internally hollowed 'solid' designs are my preference on game gun, but this would be the next choice). Joining ribs are solid as befits a game gun, and there is a good sized traditional metal bead fitted near the muzzles which suited me (it was also well centred - not to be taken for granted).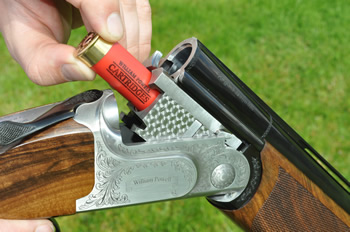 The square bar action design is not radical mechncially speaking. Clearly inspired by both Browning and Beretta, half a dozen Italian makers have been making similar for a generation or more. Studs on the the inner action walls near the knuckle locate in recesses in bifurcated (split) lumps on the barrel monobloc. It creates a fairly low action profile – a little lower than a Browning, but a little higher than a Beretta or Perazzi which have their bolting beside the chambers not beneath as here.
Workmanship on and in the coil spring-powered action is well all up to standard. Controls – safety/barrel-selector, top lever etc.- all are user friendly and function well. The spring loaded ejectors are quite powerful, simple, and well proven in mechanical function. Trigger pulls were not bad at all either. The new Rizzinis actions made by CNC are a quantum leap or two above those that were made previously of similar mechanical design but on less sophisticated machinery. A gun is all about finish, and the computer revolution has made good finish and tight tolerance much more affordable than it was.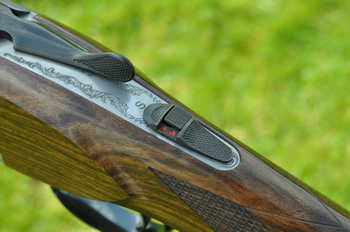 The Persues is made with a standard stock only. The test gun measures 14 5/8" for length plus 1/8"at heel and 3/8 at toe. Guns are being re-ordered, however, with 15" stocks as standard which allows more scope for extension and reduction (my own call would have been 14 3/4" or 14 7/8" as 15" can be quite long for game shooting for many). Drop is 1 7/16" and 2 1/8" which is very close to my ideal shelf measurement (1 3/8", 2 1/8") and may, indeed, be better. There is a little right-hand cast. These are good sensible dimensions, and the form of the stock is almost perfect too. The semi pistol grip could not much be improved upon. The schnabel forend helps to keep frontal weight down (though I like the Boss style rounded type as well). The stock is finished off with a wooden butt plate that might easily be replaced by a pad if more length is required. I liked the oil finish too and the functional and well cut (by laser) chequering.
Shooting Impressions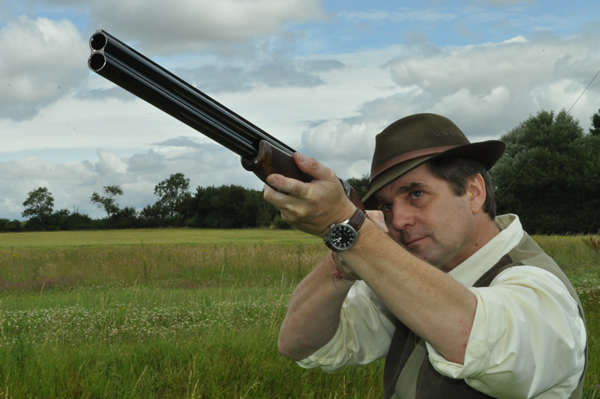 The Perseus, which weighed something over 7 ½ pounds, shot nicely. It was a solid performer, everything working without a hitch. The inertia block trigger was fine, the pointing qualities adequate with 28" barrels. Here I have to come clean though, I also shot, the 30" 20 bore the same day, it was a truly delightful! Some will want a 12, and this was a good one, elegant without unnecessary embellishment, but, for me, frankly, this design of gun really comes into its own in 30" 20 bore form. It was superbly pointable and willing with lightish 30" tubes but controllable too thanks to the excellent grip shape. Meantime, well done to William Powell for bringing such good guns to the market at a sensible price. They should sell well.
We liked

the specification
the finish
the price

We disliked

very little at the price
Make: Willam Powell/Rizzini
Model: Perseus
Bore: 12 (20 available)
Chamber: 3" (76mm)
Barrels: 28" (30 option)
Choke: multi (5 supplied)
Rib: 6mm ventilated
Weight: 7lbs 8oz.
RRP: £1,795
William Powell Ltd. Tel. 01295 661031