Winchester SX3 Red Performance Review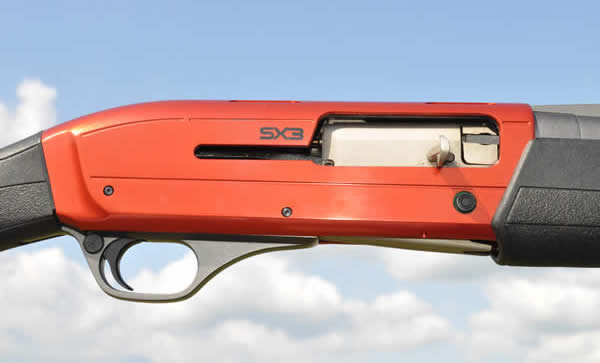 I have shot some very impressive relatively low cost clay guns recently – the new Browning 525 sporter in 30" configuration, the 32" Beretta Silver Pigeon 1 Opti-bore, and now, I have another truly outstanding gun at the right price: the Winchester SX3 Red Peformance. This was previously known as the Flani-Gun in long magazine form after US trick shooter Patrick Flanigan (who was able to shoot five shots in just over half a second with his - Mr Flanigan has now been tempted away to Mossberg)..  
The SX3 reviewed here has a 30" tube and standard 2+1, section 2, magazine to comply with our firearms laws. Well known British clay shooter, Tony Manvell (now a Winchester sponsored shooter too) has done extremely well with his – a special 32" version. In mainstream competition Tony has notched up a string of high-level wins to his credit including the Dutch Masters and German FITASC Grand Prix and a silver medal in the Pan African games last year and a silver medal in Portugual.
This is what he has to say about the SX3: "I think that the SX3 is truly amazing for the price that it is pitched at. It is very fast cycling and extremely reliable. It eliminates the 'clunk-clunk' of many autos which can put some people off them... being lighter than the average is another positive, the handling is great, and the ballistics are excellent as well."
This certainly sets up high expectations. Let us look at the rest of the specifcation of the SX3 in a little more detail. This colourful synthetic stocked gun is back-bored at 18.7mm and has long Invector Plus chokes of Briley Signature pattern (5 of which are supplied). It is fleurs de lys steel shot proofed. And, for the record, it is notable that Tony won in Holland and Germany using mandatory steel shot in with ¾ choke fitted – more than is usually advised though matching my own preference for longer range work with steel (provided the gun is suitable for use with tighter constrictions and steel).
I certainly noted that the chokes really seemed to suit the barrel  – kills (with lead) were most impressive even at forty plus yards. The gun seemed to have that forgiving quality which is seen in other back-bored Winchesters and Brownings, and, which I have also noted in Beretta Opti-bored guns. The fringes of the pattern seem to be more efficient than with more conventionally bored guns when barrels are bored to this sort of plan.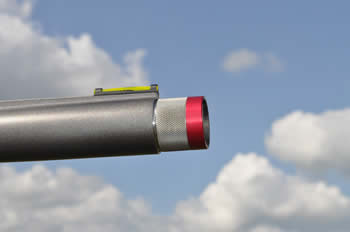 As for the aesthetics – and they could hardly have escaped your attention – the SX3 has a bright red receiver and alloy forend nut with a black synthetic stock. The latter has an adjustable shim system for cast and drop – unlike the Beretta one, though, there is only an interchangeable shim at the front, not at the rear. Nevertheless, it allows for considerable and useful variation (though a little more movement upwards would be welcome).
This gun which so obviously stands out from the crowd is also available in plainer form as the black action SX3 Composite. That SX3 does not, however, benefit from the Briley Signature chokes (standard Invector Plus chokes are supplied). But, the less eccentric model has the same back bored barrel, with slightly raised rib and a similar stock system. I might also mention at this point the excellent Browning Maxus – which came out a little later than the standard SX3 – and which has a slightly (but only slightly) different operating mechanism with a longer stroke and different valve. It is another budget semi offering excellent performance from the same stable.
The action mechanics of the SX3 are quite interesting. It is a gas operated gun, working on the short impulse system developed by Browning Winchester a decade or more back. The piston – and two are supplied with the SX3, one for light loads and one for heavy, (unlike the Maxus which manages with one and can still handle a wide range of cartridges) has especially large gas ports. It is an enclosed design to help bring down felt recoil. The makers claim that this plan also offers improved reliability and cleaner operation (though you would be well advised to keep the piston clean in any semi).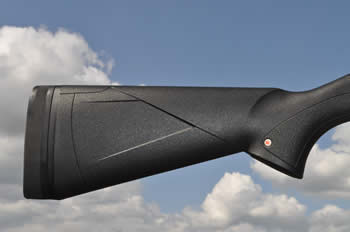 Felt recoil recoil is also helped by the back-boring (18.7mm) barrel. This is  proofed for 3" loads (though I doubt you would want to put them through the gun) and has a slightly raised rib. These are not usually my favourite pattern, but I got on well with the one here. At the muzzle, apart from the red-ringed, Briley choke there is a Tru-Glo front sight (with interchangeable fibre optic 'lite-pipes'). They are not too broad which is a bonus.
Overall, I think that the styling of the gun is great. The red anodised action contrasts with black plastic stock. It's not OTT but most unusual (and I noted several manufacturers are now offering colour anodised receivers on their semis) – ideal for the more extroverted clay shooter! More parctically, I also liked the shapes. The stock comb and nicely radiused grip are very comfortable. The whole gun looks streamlined with a rounded rear to the receiver rather than the hump-back seen on some autos.
Shooting impressions
I could wax lyrical here. Like Tony, I have long enjoyed using a semi. Gas operated semi-automatics are light recoiling and reduce fatigue – especially if they are light to the front as the SX3 is. It weighs in at 7lbs 5 ounces in 30" form and the weight seems ideal for the gun. I found it very instinctive to use. It was lively, pointable and all things good when I shot it with Andy Norris of Browning International (Winchester are, of course, part of the Browning stable now).
Can I fault it? At this price not really. It offers really good value for money. Rumour in the States has it that a similar model will be available next year with an adjustable comb. Meantime, my only advice is buy an SX3 if you are in the market for a semi, I doubt if you will be disappointed – the gun cycles with incredible rapidity, it's fun to shoot, and you will find it a talking point with your friends if you get the Red Performance. It's also nice to know that with a typical selling price under £1,000 it is still capable of winning in serious competition. Finally, with the lack of front weight and low felt recoil it might make a very good gun for younger shooters and women as well.
Winchester SX3 Performance - Technical Specification
Action type: gas-inertia
Bore: back-bored 12
Chamber: 3"
Chokes: Investor Plus (R supplied)
Rib: raised
Weight: 7lbs 5oz pounds
RRP: £1037 (including VAT and ABS case)