TOP TEN CLAY GUNS MORE THOUGHTS - The Best Clay Guns in the World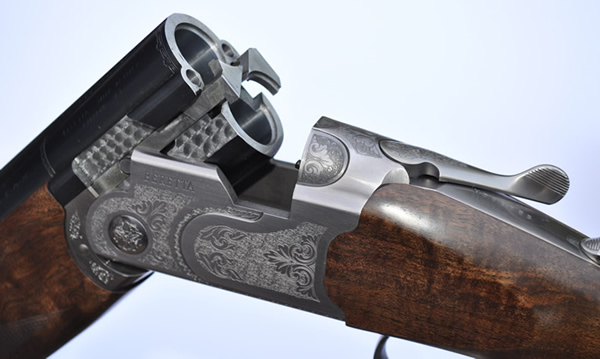 Well, I promised this month to give a few more thoughts on my best top ten shotguns for clays as previously listed:
Beretta Silver Pigeon I 32 – "a fabulous new gun with light weight barrels and a great spec at a great price"
You just can't beat a Beretta for durability or consistency of manufacture. This new gun – which is fantastic in both 30 and 32" form – has Opti-bored barrels and shoots as well as anything on the market. The value is exceptional – Beretta have really got their act together in this respect – but the shooting qualities of the new Silver Pigeon 1s are outstanding too. 

Browning 525 Sporter with the new back-bored, lightened, 30" barrels – "another superb new gun at an excellent price"
Everything I just said about the new Beretta applies to the new 525s which may be visually identified because they have Invector Plus chokes as well as lighter barrels. I prefer the sporter to the game model because of its stock shapes and general handling qualities. I would advise it even if you want to shoot game. Another great gun, though, at very realistic cost. 

Kemen Titanium 32 – "cost no object, this is the gun I would probably opt for".
Jonathan Young and I both agree that this is one of the best guns that we have ever shot bar none. Andy Castle has one, and shoots it brilliantly, he had a few problems with the rimming initially (which should not in truth have affected a gun at this price) but once sorted it became something special. The only guns that I have shot which are as good from a functional break the bird point of view are my old Beretta 32" 303 and the new Winchester SX3 auto (which would have been in the orginal list had I tried one earlier).
Kemen KM4 32 MK II (with action narrowed to the rear) – "always a contender and excellent with barrels around 1550gms."
On reflection I would say that one might go down as low as 1530gms with regard to barrel weight on the 32" tubes. Beware of the choke cones, though, I had a KM4 recently which had ring bulged on the bottom barrel because, I suspect, of the form of the choke cone itself. This was on a tightly choked gun (my preference) but it is a point to be aware of. These are great guns, but they are quite expensive now – more than a Perazzi in basic grade. If you buy one second-hand, check for cracks in the grip, especially around the trigger box for the detachable trigger unit. 

Perazzi MX8 and 12 – "the original long barrelled sporter, still superb for quality and a fraction cheaper than the KM4 – I would specify specify lighter barrels and make sure the stock was not too trappish."
Perazzis are wonderful guns and RUAG, the importer, are a good outfit to deal with – you can easily go over to the factory with them, get fitted and choose your wood, and try out your semi-finished stock. The only problem is that stock shapes are not always to English tastes – On this theme, I have just designed a couple of new stock for sporting Perazzis for myself and will make pictures of them available shortly. I have huge mechanical confidence in this make, meantime and think the guns offer good value for a bespoke product. 

Miroku MK38 32 Grade 1 – "another one of the world's great bargains – great handling, great stock shapes, sensible barrel weight – just asking for Mr Teague's chokes – you can't go wrong with this one."
The MK38 ticks a lot of boxes. The standard grip shape – probably the best in the business – stands as an ideal pattern for others to copy. All the guns are still regulated by hand. I have found than one can add a little taper into the comb with good effect (though the basic shape is sound). If the guns have a vice it is that there is noticeable recoil for a heavier weapon. One day, I would like to try re-rimming one and reducing headspace to see if this has a perceptible effect. Trigger pulls could be improved too. BUT, it is a world class gun at very ordinary money. You could win a world championship with it out of the box. My favourite, and a tremendous buy for the level of finish, is the scroll engraved Grade V. 

Beretta 391 30" sporter semi-auto with wooden stock – "another well priced winner. Still good value and my preference to some of the more recent Beretta semis. A superb soft-shooting gun."
The standard Beretta 391 one remains my favourite in the current Beretta semi-auto line up – it is a great gun with a wooden (or, indeed, synthetic) stock. It is not only soft on recoil, but one notices very little vibration on firing. I often use these guns – more than any other – when I am abroad. I wonder if Beretta would ever consider re-introducing – perhaps under one of its stable of names like Franchi – the old 303? I am sure they would sell tens of thousands. It is brilliantly simple.   

Purdey Sporter – "quite evolved now and something to treat yourself too if the lottery numbers come up, I like both the 30 and 32" guns."
I helped Purdey a little with this gun and have a great deal of time for it. As you would expect the quality of finish is impeccable. Unusually – normally being an aficionado of 32" guns – my favourite is the 30" version. Very few people, moreover, seem to realise that this gun is predominantly made in England (60%). Action, mono-bloc, trigger plate, extractors are all made in Hammersmith not Italy (though Perugini and Visini make most of the rest and stock the guns). They're not cheap but they are the most accessible new Purdey on offer. 

9)      Krieghoff K80 – "the sliding top Kreighoff, based on the Remington 32, has to be on the list because so many good shots use it. I find it a bit heavy, but the quality is there, and the gun seems to work very well..."
I think you might describe the K80 as a 'Marmite' gun. You like it, or, you don't. Those who like it, have done incredibly well with it in just about all disciplines. The sliding top-cover is intriguing as a design too (it wears in rather than out). And, it is good to know that you have the great experience of Alan Rhone behind the gun and it's 20 bore variants. Alan is one of our top gunsmiths, as well as being a very successful businessman in the firearms field now. I have the greatest respect for him. When he does something, he does it well.
Beretta DT10 – "Developed from the ASE, these guns are proven winners. I am not especially fond of the wide fences and extra bolting, but the build quality is excellent and the Opti-bored barrel versions really do the biz. These guns can be an excellent choice for serious lady shots too - as there is typically not too much weight forward."
The DT10 is another gun that works, especially in the Opti-bore versions. I am not especially fond of the bolting arrangement, but, it does not seem to have put off Richard Faulds. I think some of the sporting stocks can be a bit thick and bit too steeply angled, but these are issues that can easily be remedied. Clearly the gun works, and works at the highest level. I put it down to barrel weight and good trigger pulls as well as generally sound Beretta engineering. It is not my favourite Beretta – guns are personal – but it deserves its place in our Top Ten.
My bonus gun in the last issue was the Guerini Summit – "the Guerinis continue to go from strength to strength – the Summits offer value and good shooting qualities and the high-ribbed gun is well worth consideration by those who shoot with one eye as it increases field of vision."
Perhaps, I should have mentioned the Maxum side-plated model as well, not least because I shoot one (a 32" sporter which I use as game gun).
STOP PRESS There are some extra extra guns this month too...
 First, the Winchester SX3 semi-auto. I shot the Red Performance version of this recently – what was known as the 'FlaniGun. ' I was blown away by it in all positive senses! It is probably the best semi that I have ever shot for handling qualities and general usability. Lightweight AND soft-shooting, it is very user friendly and intuitive to use. It has a slightly raised rib which is not normally my thing, but it is another brilliant gun at a reasonable price. 9 ½ ex 10
And, in Ireland, I used a Breda 2000 Ermes auto. This was a real find and not generally available in the UK. It is a very well made inertia action (similar to Benelli ) gun. It is, moreover, a fabulous piece of kit. Inertia auctioned, perhaps, but, again, very soft in recoil. It is a superbly made gun, but the only drawback is that 28" is the longest barrel you can get. Nevertheless, I put a couple of thousand shells though one without any ill effects whatsoever (and did not bother to clean it until the test was complete). Not one stoppage and recoil levels like a gas gun. Someone should import these.