Browning Premium Gold Sporter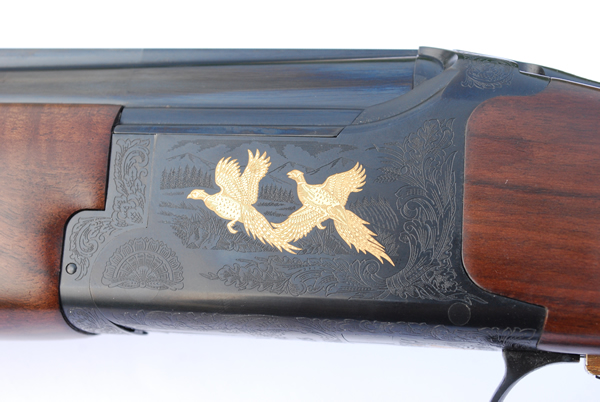 The test gun is a Browning Premium Gold Sporter made for the famous company by B.C.Miroku of Japan. First impressions are reasonable. With its black action and gold inlays, I think this is a bit of Marmite gun. I am not a great fan of gold on guns, but some people love it. The form of the inlaid birds is very good, they're just not my thing. I'm too much of a puritan stylistically – I like Georgian furniture and Joe Manton inspired guns.

Finish, wood to metal, and metal to metal fit are all excellent, meantime, on the Gold. The gun weighs in at seven three quarter pounds, just about right for a modern 30" sporter. It come to face and shoulder nicely too with good stock shapes but feels a smidgen muzzle heavy. Speaking of muzzles, one notes, at the business end, extended, Briley-made, stainless steel, Invector chokes. 5 come with the gun which also comes packed in a useful plastic case with its various bits and manuals.
The well made barrels have ventilated joining ribs and a 10mm sighting rib with shallow centre channel and twin beads (as Brownings tend to have, though many remove the middle bead as an unnecessary distraction) top. They are mononbloc, of course, and have been since midway through production on the 425 (previous Japanese made Brownings were demi-lump as Belgian made Superposed guns still are).

Monobloc barrels as made by Browning are probably some of the best available today. I would not like to make a call between the two Big B's – Browning and Beretta - who both make superb barrels. Perhaps, in the past, Beretta had the edge because of the durability of their chromed ultra tough tubes. 525s now have chromed tubes and chambers too, a big practical improvement (no more rusty chambers). The joining of the barrels to monobloc is especially good, moreover, almost invisible. All things considered, I do not think you will find a better pair of monobloc barrels anywhere (with the possible exception of the screwed in tubes on the new Purdey Sporter).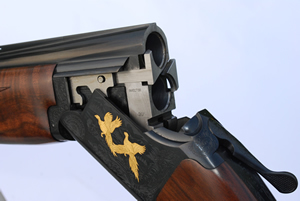 These barrels have short forcing cones as Browning still prefer (.4" as opposed to the 1.5-2" which I would prefer) and bores are a standard 18.4mm in diameter (although many other Browning models are back-bored a few millimetres wider these days). I would favour a longer cone and broader bores, but the practical effects are slight. My impression gun testing is that the bigger bores reduce felt recoil, they are meant to do this by reducing friction (in fact, I wonder sometimes if longer cones and bigger bores just reduce operating pressures). Benefits of both modifications are most noticeable when using large pellets and heavy payloads. In these cases, there can be some significant improvement to patterns as well.
The action of the Premium Gold is the usual Miroku style modification of the Browning Superposed, slightly simplified by dispensing with an attached forend and associated lever work which requires not only a more complex forend design, but an extended keyway in the action. It is a great design though, a little higher than some with a full width hinge pin, but tough as hell. The trigger is inertia operated, the blade is adjustable, and pulls are adequate. There are conventional under barrel lumps and everything is well engineered a sone expects. The Browning design, much copied, also uses a full width bolt which comes out of the bottom of the action face and engages a slot beneath the bottom chamber. It all ends up to a very strong design.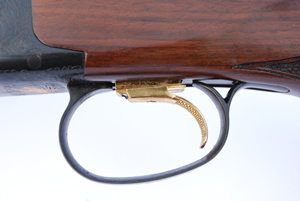 The Gold functioned perfectly when dry tested. The top lever, safety and barrel selector cum safety were all good (as one expects with this manufacturer who have built their reputation on consistent quality in all departments). Hammer ejectors (contained in the forend)were efficient and well timed, the strikers – stuck by coil spring powered hammers – were powerful, and the trigger pulls not too heavy, although not quite as crisp as they might have been. No 'boxlock' - most people would call this gun a boxlock because of the short action style, though, technically, a boxlock must have the springs contained with the box of the action body - using helical springs can match a leaf sprung gun in this respect.

The stock of the test gun was of typical Browning pattern. The basic design was sound and there was a Schnabel forend of classic type. I was not especially fond of the rounded borders to the chequering panels – but that was a personal thing again. The stock was a good shape as noted, and very nicely finished. I did not take the measurements because I knew what they were as soon as I mounted the gun – Length of Pull 14 7/8" (with black plastic butt plate). Drop 1 3/8 and 2 ¼" and very slight right-hand cast. What else is there left to say. The chequering was very good. The oil like, semi-matt stock was just what most people would want. The grip filled the hand well, I thought the comb might have had a little more taper.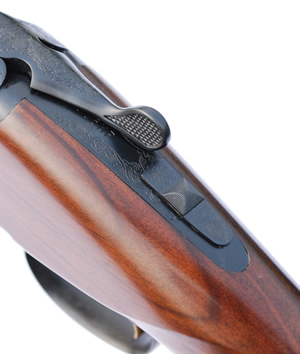 Shooting Impressions

Well, ok, the Premium Gold shot predictably but did not float my boat to the degree that some Brownings and Mirukes do. I am very picky, however. Felt recoil was a little above the average. There was a little vibration on firing. Pointing qualities were nothing special, but many like neutral handling in a competition gun. The gun was very well put together, however, and some people will love the inlays. I also note that standard grade 525s (click here for Browning 525 mini review) now offer splendid value when compared to other guns (as do Mirokus – the Grade 5 qualifying as my best buy – a fabulous guns for the money). At an RRP of £1,700 this gun does not look expensive either. It could easily do double service in a pigeon hide, or indeed, on the driven game field. It might also make a useful skeet gun.


Tech Spec

Maker: Browning (produced in Miroku factory)
Model: Premium Gold
Bore: 12
Chamber: 3" (70mm)
Barrels: 30" (28" option but no 32 in this model – there used to be)
Rib: 10mm
Chokes: Invector extended (5 supplied) made by Briley
RRP: £1,930