Welcome to POSITIVE SHOOTING, website of shooting instructor and inventor of the POSITIVE SHOOTING SYSTEM - MIKE YARDLEY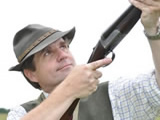 The Top Ten Tips to Improve your Clay Shooting - How to hit more clays by Mike Yardley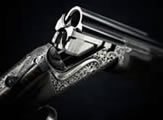 The Boxall and Edmiston O/U - Mike's reviews the gun he had a big part in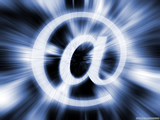 Sign up for our free monthly newsletter, full of shooting tips and news
Hi guys and gals - welcome to PositiveShooting.com we've had a great response to the new site and hope you find lots of interest here. If you're new to shooting check out the Learn to Shoot Page. Latest Articles here Latest Gun Reviews here
We've just launched Positive Shooting Gun Testing. Please support us by subscribing to our YouTube channel
Gunmakers Row at the CLA Game Fair 2013 - Part 1
The Top Ten Tips to Hit More Clays - Mike's top tips
Shooting Attitude - Mike talks about attitudes to shooting
Balance Power and Tension - Key factors of shooting technique
Have Guns Will Travel Column - Part 4 - The Early Years
Shotguns Under £5K - Mike's Top Guns Up to £5K
The Boxall and Edmiston Story - The exciting new British gun company
Boxall and Edmiston 'Yardley Model' Review
Benelli M2 - A gun well worth considering if you are searching for a quality semi-automatic without spending a King's Ransom.
AYA Yeoman - 'The best bargain out there?'
DT11 - 'Simply Fantastic'
Perazzi MX12 - 'Would I choose this or an MX8?'
Browning 725 - 'Outstanding'
Miroku MK 38 Grade III - 'A lot of gun for the money'
John Jeffries HPX 20 Bore 34 inch barrels 'Comes with the JJ experience'
Beretta Silver Pigeon 1 "32" - 'I don't think these could be much better'
What Are You Looking For
Positive Shooting (Clay) - Information and Videos about the POSITIVE SHOOTING SYSTEM which, combining mental and physical processes, has revolutionised the way thousands of people shoot. It can help you too
Instruction (Clay, Game and Rifles) - Shooting articles broken down into different sections depending on your level and interest. Starting to shoot; everything you need to start shooting including how to get a licence and buy a gun. Masterclass; practical, proven, tips for intermediate and more experienced clay and game shots. The section on rifles and rifle shooting will be expanded soon.
Gun Reviews - A selection of gun reviews, including Mike Yardley's regularly updated favourite game and clay guns
Coaching - Find out how you can get coaching with Mike
History - Historical information on shooting, such as early clay targets and the evolution of the cartridge
Shooting Abroad - Adventures abroad, recent trips including a month long safari in Africa, pigeon shooting in Serbia, pig shooting in Poland and chamois in Austria.
JFK and RFK Assassinations - Mike's TV work as a 'sharpshooter' and ballistic consultant. Articles include re-enacting the JKF and RFK assassinations, shooting down the Red Baron, 'Truck Hunting' and re-enacting the Trojan Horse from ancient history.
Links - Some of our other favourite shooting websites
Shop - dvds and books
Contact - how to get in touch with Mike and the POSITIVE SHOOTING team
Recent gun reviews we've just put up include the latest Browning 725 and the new Beretta Silver Pigeon 1 and the DT11. All fantastic guns well worth a look. You'll also find Mike's 10 Best Game Guns and his 10 Best Clay Guns.
We've just set up the start of a Gun Gallery. Loads more guns and captions still to go up. If your looking for shooting tips to improve your shooting why not start by checking your Eye Dominance. You'll find loads of articles in the Masterclass Section.
For those interested in adventure check out Safari in Africa and Pigs in Poland or even some of the re-constructions I made with the discovery channel such as the JKF and RFK assassinations.
Sign up for your free monthly POSITIVE SHOOTING.com E-Newsletter for the latest articles and shooting news. And, don't forget to check the POSITIVE SHOOTING Shop. I've just launched a new game shooting DVD called Natural shooting.
Mike Yardley, one of the few shooting instructors who is also a qualified experimental psychologist, has over 30 years of experience teaching and researching shooting. He's now put his wealth of knowledge online to help you improve your performance. Whatever form of shooting your interested in - clays, game, stalking, target rifle or pistol - Mike has done it. Mike has published a dozen books, written more than a thousand articles and produced many dvds on shooting. Whether your new to shooting or an expert we think you will find this a useful resource.
Although www.positiveshooting.com has been started by Mike there will be articles by other experienced professionals as well.
Positive Shooting Disclaimer
The information contained in this website is for general information purposes only. The information is provided by POSTIVE SHOOTING LIMITED and while we endeavour to keep the information up to date and correct, we make no representations or warranties of any kind, express or implied, about the completeness, accuracy, reliability, suitability or availability with respect to the website or the information, products, services, or related graphics contained on the website for any purpose. Any reliance you place on such information is therefore strictly at your own risk.
In no event will we be liable for any loss or damage including without limitation, indirect or consequential loss or damage, or any loss or damage whatsoever arising from loss of data or profits arising out of, or in connection with, the use of this website.
Through this website you are (or will be) able to link to other websites which are not under the control of POSITIVE SHOOTING LIMITED. We have no control over the nature, content and availability of those sites. The inclusion of any links does not necessarily imply a recommendation or endorse the views expressed within them.
Every effort is made to keep the website up and running smoothly. However, POSITIVE SHOOTING LIMITED takes no responsibility for, and will not be liable for, the website being temporarily unavailable due to technical issues beyond our control.